Click here for TAP's website

TAP Air Portugal reviews & opinions
TAP Portugal (formerly known as Transportes Aéreos Portugueses - Portuguese Air Transportations) is the national airline of Portugal, based in Lisbon and makes most of it's money ferrying passengers from the US to central Europe, via it's Lisbon hub.

An often overlooked member of the Star Alliance, TAP provides extensive European connections from their antiquated Lisbon hub, and also has extensive services to almost all their ex-colonies and the U.S. Besides Lisbon, they also link Oporto with reduced frequency and/or seasonal service to several cities including GRU and EWR. Of all the airlines that have "milked" Varig's demise, TAP probably ranks first by utilizing every market opportunity and serving a plethora of cities in Brazil. It has a medium sized fleet of Airbus-only aircraft.

TAP is generally known for its below-average onboard service, although that depends on your comparison. It is way ahead of the US airlines, but poorer than other European airlines (except Iberia in economy, over which it excells). The quality of food onbard can be better than average, with two mainstream chefs (one Portuguese and one Brazilian) to keep the standards up and there is a unique selection of Portuguese wines and traditional cuisine dishes, adapted to a global culture. Short haul around Europe however, meals are pretty dire.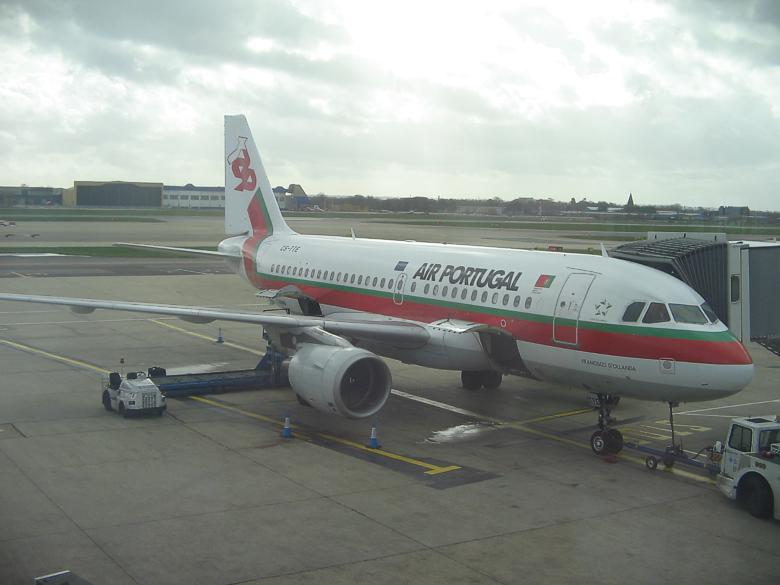 TAP Air Portugal Classes, Seats and Fleet
The airline has only a two-class cabin: What it calls Top Executive (business class) and Economy Class. Short haul there is no difference between the seats, however long haul has flat beds in business class for most planes, although beware. You could end up with one of the older planes, that just recline, and don't got fully flat.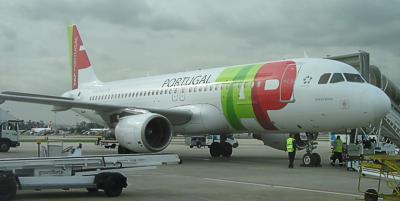 TAP A320 at Lisbon

TAP Airbus A319/320/321
TAP Air Portugal has 19 A319, 13 of the mid-sized A320 and 3 of the large A321.

On the medium-haul fleet (Airbus A319, Airbus A320, Airbus A321), the seats and meal services are similar to most European airlines. There are no special seats gfor business class: instead, the armrest move in to the middle seat, giving a slightly wider seat, but no extra leg room.

The whole cabin features leather seats and there is an IFE system composed by several LCD screens that are extended/retracted from the cabin ceiling.
TAP Airbus A330 / A340

TAP A340 at Lisbon


TAP Portugal has 12 of the twin engine A330s and 4 of the slightly larger A340s, with four engines.

Long haul Business Class is noticably a generation behind some of the larger carriers. Seats are in a 2-2-2 layout, in 6 rows. The older style of seats, still found on some A330s don't recline fully flat. The newer seats on the A340s are the same as used by Air France, and are fine when you are vertical position, but they only go level, not flat, when sleeping, thanks to the cubby hole for your feet, and it gives a continuous sense of sliding down into this hole. There is also a very complicated tray table which you may struggle to open. The newest aircraft recently received from Airbus are equipped with latest trend individual LCDs TV, however the TV is screwed to the seatback in front of you, except for row 1, where it is on the bulkhead.

For TAP's long haul Economy Class seats are in a 2-4-2 layout, and are the standard Airbus seats, with few frills, although you do get a seatback TV.
TAP Air Portugal Entertainment
Shorthaul around Europe, there is no entertainment, other than flip down TV screens which show a moving map.

MediumHaul you're not going to notice much of a change from shorter flights, but at least the flip down TV screens on the Airbus are used for something - a quick run through of news and a magazine programme. Alas, due to a slight lack of planning, there are no headphone sockets in the seats, and so you'll have to watch subtitles. Programming start with a half hour of RTP TV News: A pretty basic News summary from the RTP channel of all the weeks most important events. Subtitles in Portuguese and English. Then comes Guia Update: a run through TAP promos, entertainment and the arts, with Portuguese and English subtitles.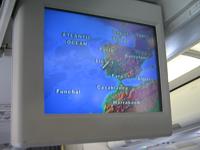 Inflight Map on the Airbus A320

Longhaul, TAP has a right mix of entertainment systems, and it can be a bit of a gamble as to what IFE you'll get. All seats in eonomy and business on the Airbus A330 are equipped with individual LCDs seatback TVs. New seats get a full touchscreen AVOD system, however older seats have a more primative system. On one A330 there is an updated system in business, but an old version in economy.
Equally, in TAP Top Executive class (Business), TAP has the right hardware (clear big screens, great responsive touch-screen buttons, and a keyboard), the software is fairly primative and slow.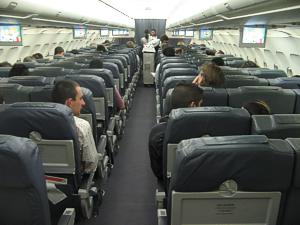 Inflight Service on TAP A320

Film selection is equally poor, as there are only 10 movies and in a typical month none will be in English. And don't hope for English subtitles either.
There are some other shorter programmes. Jornal RTP: Specially-prepared news edition for TAP, updated daily with sound in Portuguese and English. Tech Watch: Monthly show about new technologies. And World of Business: Monthly show about business.
There is also the usual inflight map.
TAP Air Portugal Inflight Magazine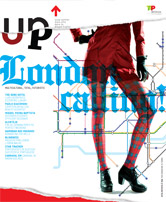 Up TAP Magazine


On all short and long-haul flights, "UP" is the new in-flight magazine, replacing "Atlantis" on TAP flights.

It's OKish, but could really do a lot better. The English translation of the articles is pretty poor, and the sales spin of the articles is stright out of the 70s.
TAP Air Portugal Routes
The main hub is at Lisbon, where there are flights to Oslo, Stockholm, Copenhagen, Paris, Rome, Milan, Amsterdam, Madrid and Barcelona.

From London LHR there are flights at 06:20, 08:25, 12:20 (no Business Class), 18:20, and 19:45 (again, oddly no Business Class is offered on this flight).

From London Gatwick there are also two flights, at 11:20 (arrives in Lisbon at 1350) and at 13:25 (arrives in Lisbon at 15:55).

Airline schedules change regularly.
This information is intended as a guide, but for accurate timetables, please consult TAP.

There is also a flight from London down to Funchal on Madeira.

Despite it being a small country, TAP does have some domestic routes. There is the shuttle from Lisbon to Porto, and down to Faro, plus services to four of the Azores islands, and down to Funchal on Madeira.

Lisbon has most of the long haul traffic, and has a flagship route to New York (Newark) at 1155 each day, as well as Caracas, and a lot of places in Brasil, including Natal, Recife, Salvador, San Paulo, Rio, plus of course Brasilia

Porto has three transatlantic routes, to New York (at 1125) and San Paulo and Rio.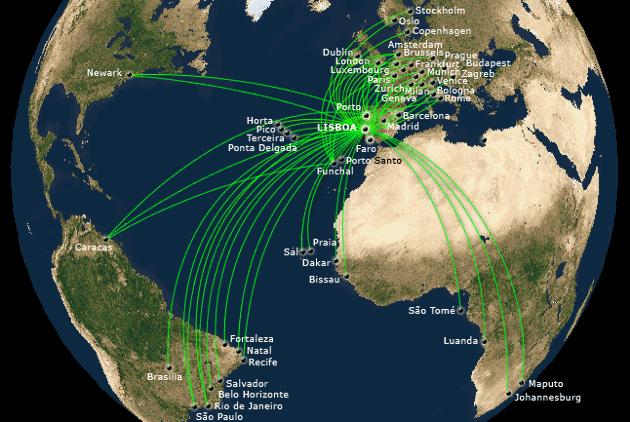 TAP Air Portugal frequent flyer scheme - Victoria for Winners

TAP's Frequent Flyer scheme is called, with a stunning lack of any real meaning, purpose, or indeed intent "Victoria for Winners" and it is part of the Star Alliance.

TAP A321 at London Heathrow

You earn 10% of miles on a discount ticket, 50% (or 100% long haul) on a basic ticket, 100% on a classic, 125% on plus, and 200% on TAP Executive. Lisbon to Madrid earns a flat 500 Miles, except in business where there is a flat 1000 miles. There are three different membership levels: Miles Winner (your entry to the programme), Silver Winner, and Gold Winner.
Joining is easy; it's possible to do it online. And indeed, this seems to be the most efficient part of the programme: if you join you get a plastic card in the post within a week (even if you are in the UK).
TAP's policy is that miles expire within 3 years of posting to the account, with the only means of extending the expiration date being the booking of a ticket in that 3 year period for travel within the next year.
TAP Air Portugal Business Class Lounges
TAP has lounges at Lisbon and Porto.

At London Heathrow the bmi master Star Alliance lounge in Terminal 1 is used, in Paris there is the ADP VIP lounge in Satellite 3, in Frankfurt the Lufthansa Senator / business Lounge in Level 3 is used.
Lisbon - Tap Business Lounge
After security, up escalator, in far left corner. Open 0630-2200
Access is given for Gold and Star Alliance gold members, plus business class passengers.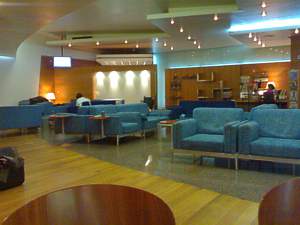 Lisbon Tap lounge


This small lounge is actually at the heart of the TAP Air Portgual route network, and so it can get pretty busy at times, and finding a seat can present problems.

It's square, with small glass partitions at the far end boxing in a sleeping area.
Lisbon Tap lounge bar

The Bar is in the far left corner, and it's very good. There are a dozen or so bottles of sprits on the top glass shelf, and three bottles of port next to them. To the right of this there are two fridges, one of which is just rammed with cans of coke, and the other has cans of beer, and three types of white wine, plus Cava (but no Sparkling Wine) on the bottom shelf.
Food is equally snazy, with lots of canapes on trays on the bar top, and some sandwiches, plus lots of bags of nuts and rasins.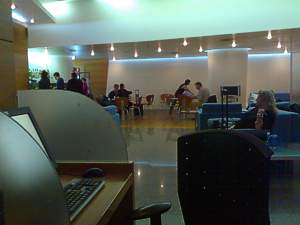 Lisbon Tap lounge

There are two computers in the lounge, but they are woefully slow, and trying to get any work done - let alone read your Emails - is very much a challenge. A quick reboot before starting to use them can solve some of the problems.
There is a good newspaper rack, with all the main Lisbon papers, plus some English language ones like the FT. There is also a magazine rack, with piles of mags like GQ and Mens Health (but only in Portugese).
London Gatwick - LGW Servisair Ashdown Lounge
South Terminal, after security, left beside "World Duty Free", Lower Level.
Open 0500-2130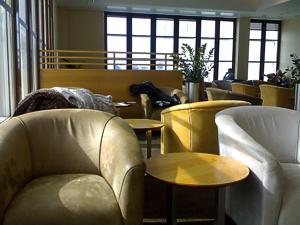 Gatwick Serviceair Lounge


This is the generic Servisair lounge. TAP passengers looking for a haven of peace before their flight will probably be less than impressed to be in the Servisair lounge. State-of-the-art, this lounge is not, but it's better than sitting among the mass of bucket and spade types outside.

Make sure you head for the lower level. The upper floor is the preserve of the buy-ins, and often crowded. Once past the front desk (not hard, as it often isn't guarded) there are large squashy armchairs and low coffee tables. The view - if you squint over the tin roof - is of the distant runway. There are a few newspapers (mainly the Mail and Express for some reason) and a TV screwed to the wall (normally on a sport channel). There are business facilities including a writing desk, a telephone (car operated) and a fax machine, but no computers.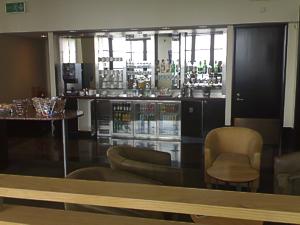 Gatwick Serviceair Lounge

Servisair describe it as having "an exclusive bar area". Well, that's as may be, but at the bar beer comes in just one variety (heiniken) and the wine is dreadful (with just one type of red and white). However there are quite a few spirits and mixers. Hence, the main reason for this lounge: package tourers intent on drinking the bar dry. Food is equally basic, with just a few peanuts and olives.
TAP Air Portugal History
The airline was founded before the war finally came to an end, on 14 March 1945, beginning commercial service on 19 September 1946 from Lisbon to Madrid with a Douglas DC-3 under the name Transportes Aéreos Portugueses (TAP). On 31 December of that year, it began its Linha Aérea Imperial, a twelve-stop service including Luanda, Angola and Lourenço Marques (now Maputo), Mozambique.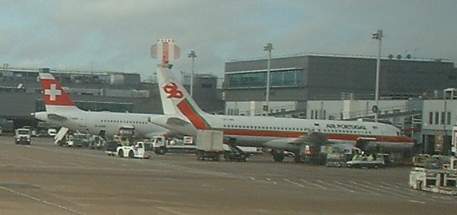 TAP A320 at London Heathrow

1947 saw the inauguration of its domestic service from Lisbon to Porto. Service to São Tomé and London began. In 1953, the airline became a private company and began service to Tangier and Casablanca in 1949.
The one millionth passenger flew on TAP on 19 June 1964, 18 years after the airline began operations. In 1969, service to New York via Santa Maria Island in the Azores began. Boston was added to the New York service the following year. In 1975, TAP was nationalized, becoming a state-owned corporation (Empresa Pública) and changing its name to TAP Air Portugal in March 1979.
In 1977 the airline had its only major crash, with the Flight 425 disaster. En route from Brussels to Funchal Airport, after two unsuccessful attempts to land the aircraft, the Captain and Co-pilotdecided to make one last try to land the plane, before they would have to make the decision to divert to the Gran Canaria Airport. While on final approach to runway 24 in heavy rain, strong winds and poor visibility, the aircraft touched down half way down the runway and started hydroplaning. The aircraft slid off the runway and plunged over a 200 feet steep bank hitting a nearby bridge and crashing on the beach; splitting in two pieces and bursting into flames. Of the 164 people aboard, 131 were killed.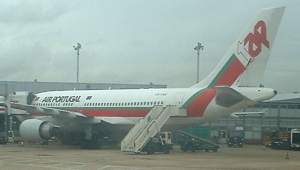 TAP A320 at London Heathrow

TAP purchased the Boeing 747 during the 1970s, replacing their Boeing 707s; but the 747s were eventually sold due to lack of demand. They were replaced by Lockheed TriStars and Airbus A310s on long-haul routes. By the late 1990s TAP had expanded its fleet by selling its older Boeing 727s and Boeing 737s and had replaced them with Airbus A319, A320 and A321. The TriStars were sold to Air Luxor and were replaced by more capable Airbus A340s giving TAP a large fleet of Airbus-only aircraft.
In 1989, service to Newark, New Jersey was introduced and in 1991, service to Berlin started. Also in 1989, TAP became a publicly-traded company (Sociedade Anónima). In 1993, TAP began flying to Tel Aviv. In 1994, TAP signed for a code sharing arrangement with Delta Air Lines for North Atlantic service. This agreement ended in 2005.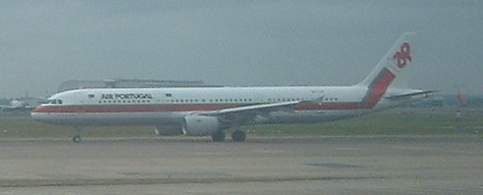 TAP A321 at London Heathrow

1996 saw the introduction of service to Boston via Terceira Island in the Azores, the inauguration of service to Macau and the launch of TAP's Website. In 1997, service began to Punta Cana and Bangkok. Flights to Bangkok and Macau were discontinued in 1998.
In 2005 TAP Portugal became the sixteenth member of Star Alliance. TAP Air Portugal was re-branded as TAP Portugal in February 2005, employing 9750 staff. TAP also ended its code sharing agreement with Delta Air Lines and began a new agreement with United Airlines as part of its membership in Star Alliance. Under this agreement United's code is placed on TAP Portugal's transatlantic flights and some African flights, and TAP Portugal's code is placed on United flights. In 2006, it started a code sharing agreement with US Airways on all routes between Portugal and the USA and connection services out of Newark and Philadelphia.
TAP Air Portugal hints and tips
Onboard upgrade
TAP will allow passengers to upgrade to TAP executive (business) class, on board its aircraft. This facility is available on all medium and long haul flights operated by TAP aircraft, with the exception of flights within Metropolitan Portugal and also those to and from Madrid.

On board upgrade is subject to the availability of a seat and a meal, on payment of:
€250 - one way, on flights to the Autonomous Regions of Madeira and the Azores, and destinations in Europe, Cape Verde, Senegal, S.Tomé and Bissau. €750 - one way, on flights to Fortaleza, Recife, Natal, Salvador, Belo Horizonte and Caracas. €950 - one way, on flights to São Paulo, Rio de Janeiro, Luanda, Newark, Brasilia, Maputo and Johannesburg. Payment to be made by passengers' respective credit cards - Visa, MasterCard or Euro card.
TAP Air Portugal website
The Website has a major bug - quite often it will "lock" into one type of fare class, and then never mind how often you search for different fares, it will only display this fare class.

Main website: www.flytap.com
UK version: http://www.flytap.com/UK/en/Homepage/
Business Class
TAP Frequent Flier: Victoria for Winners
TAP inflight Entertainment

Note that all reviews and opinions on TAP (TP) food, service, seats, planes, upgrades, lounges, the Red Carpet Club, and the Frequent Flyer scheme is soley at my judgement. No legal liability is accepted if you take my advice.