TAP Drinks
Wine, beer and spirits, are Free. All wine in economy comes in 187ml bottles.
Business Class Sparkling Wine

Sparkling Wine Piper-Heidsieck Brut
Great Sparkling Wine
A really good Sparkling Wine, its pricey on the ground... so you might as well get the benefits of paying a fortune for your ticket, and enjoy this proper French stuff from Reimes.

The Piper-Heidsieck is only available long-haul.

12%
White Wine
King Estate Pinot Gris 2001
From Oregon, US
Pretty sweet, with the aroma of apricots and peaches. Very good.
11.5%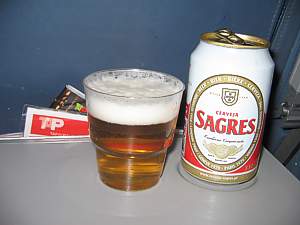 Beer
Beer comes in just one variety - Sagres.

It is the usual tame stuff you get on the ground, in a 275ml tin.
4%.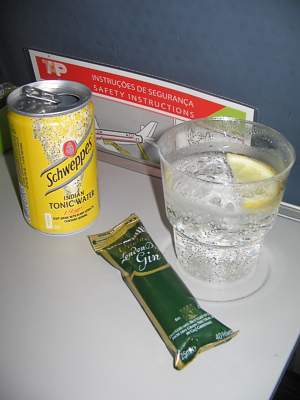 Gin and tonic
Gordon's Gin. Schwepps tonic.

This a wacky one - the tonic is in the usual size can, but the gin... it's in a packet. Weird.
28%.