Singapore Airways lounges are large and good quality. There's normally a good selection of booze, often some good nibbles, and a lousy collection of newspapers.
Singapore Airlines are well known for their dislike of using common Star Alliance lounges, or lounges of partner airlines, and so will open lounges at outstations, even when their are other lounges it could use. This works to your advantage: if you don't like the Singapore lounge, you can often find another Star Alliance lounge in the same airport.
A totally unreported perk, which few people know about, is that Singapore Airlines passenger traveling in First or Business Class, holding Solitaire, PPS Club or Krisflyer Elite Gold membership cards who are traveling in Economy Class with Singapore, can get into the Virgin Atlantic Clubhouse at London Heathrow, Hong Kong, Washington Dulles, New York JFK, San Francisco, Johannesburg and Tokyo Narita. The clubhouse at Heathrow is particularly impressive, but no guests are permitted. The same perks apply if you have a bmi Diamond Club Gold Card at Heathrow only, but no other Star Alliance cards. Further details are in the Virgin Atlantic Lounge Section.
Singapore Airlines Lounges at Singapore Changi
Singapore Airlines operates flights out of two terminals in Singapore. It has First and Business lounges in both the new Terminal 3, and the older Terminal 2, which are open to both Singapore premium fliers,
and passengers on Star Alliance flights in First or Business
although this is not advertised. Star Alliance Gold members in economy are not permitted into these Singapore Airlines lounges, but are entitled to use the SATS Premier Club at Terminal 2 and Krisflyer Gold Lounge at Terminal 3.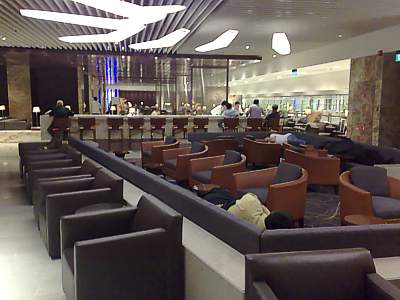 SilverKris Terminal 3 Lounge

Singapore Airlines SilverKris Lounge - Singapore Terminal 3
Terminal 3, Train Stop A, by gate A5, Third Floor
Open 0530-2330
No access for Star Alliance Gold Members in economy.
When you have finished being wowed by the brand new Terminal 3, and going gaga over the shops, the forest, and the waterfall, you can have a look at the lounge. Rather like Singapore itself it looks pretty impressive (and it should be - it was brand new in 2008), but it is let down by some of the facilites, but it's still up there with some of the great airline lounges of the world. In the middle of Terminal 3 (by Gate 5) you go up the escalator, past the big sign saying Kris Lounge, go left at the top, and have your boarding pass checked by the two lounge dragons. On the right is the checkin area, and past this the internet café. Straight ahead on the right is the first lounge, while to the left, past the half wall of pillars is the business class lounge (which would be called the Raffles lounge, if only Singapore still used that name).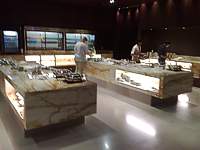 SilverKris Terminal 3 Food area

The business lounge finally looks like a proper flagship lounge, with high ceiling and natural flights and new mood lighting. There is a marble floor with brown coloured carpet, marble walls, and lots of black leather armchairs. The lounge is huge - and it needs to be, because this place gets very busy with all the Europe to Australasia transfer traffic. There is just about a view of the tarmac (on the left, if you squint down low, and look through the rest of the terminal), although this isn't great, but at least there is some natural light. Admittedly however all the seats are pretty much the same - there isn't much variety, no matter where you sit. On most of the walls there are huge plasma TVs, showing CNN or Singapore TV, with the sound down. Alas the sound isn't out around the lounge - there is annoying music. This gets really loud - ironically - at the quiet section at the back, which is a phone free zone - presumably so people can't speak on their mobiles. There are no slumberettes or sleeping areas.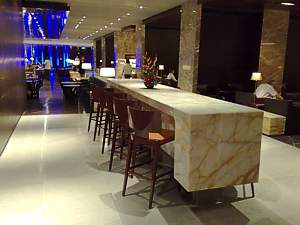 SilverKris Terminal 3 Lounge

The new Dining area is large, with three rows of many different types of hot and cold food. Much of this is made up of different types of curry, laksa, dumplings, and fishball noodles in vast silver tureens, along with a rack of salads (dressing is in the big jars on the right), chicken wings, and plenty of cheeses and yoghurts. There is plenty of bread (including a Singapore flag made out of bread dough) and some very bad sandwiches tightly wrapped in clingfilm. Around here there is a long cafeteria type marble table with high wooden chairs, but this feels isolated and drafty - few people sit here unless the lounge is really crowded. The bar is notably poor - much worse than the one in Terminal 2 - and passengers often nip over to the other terminal for a drink. There are a couple of bottle of wine on the counter top, and just Bacardi, Smirnoff, Gordon's Gin, Jack Daniels, Black Label, Campari and Zinzano to keep you happy. Singa beer is in the fridge.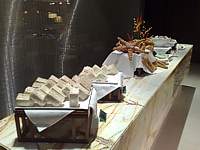 SilverKris Terminal 3 Sandwiches

The
bar
is OK, but nothing special. There is a sign which says "please approach our staff for wine or Sparkling Wine", and that Sparkling Wine is decent - normally Charles Heidsieck.
The shower area is very nice, lots of white and marble - indeed, its blindingly light, and there are only 4 showers, but with very trendy huge showerheads. Back in the internet café (shared between First and Busines) there are twenty new Mac computers, which are fast and virus free - although there is just one printer, and getting access to it can be a problem. There are plenty of power points, with a UK design of plug. There are no monitors in the lounge showing the status of your flight - you have to go to the entrance to check on this, which can add some stress to your visit - hardly the point of popping into the lounge.
Singapore Airlines SilverKris Lounge - Singapore Terminal 2
Terminal 2
Open 0530-2330
No access for Star Alliance Gold Members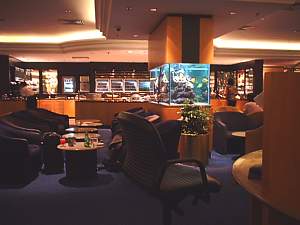 Singapore SilverKris Lounge

The vast mother of all lounges. This lounge gets a lot of traffic, so it needs to be big, but even so as you enter past the very stubbon girls on their little podium on reception you realise you're entering another realm. There are two big fish tanks, in the centre of the room, and little circles of chairs and tables, in the standard Singapore style. There are also plenty of orchids growing between the chairs. Lighting is kept very dim in the room, and there are no windows, but the plus point is it's very good for sleeping.
On the left as you go in is the business centre, with 8 internet computers, all with very fast connections. The whole lounge is also equiped with Wireless Lan. Then as you go around the lounge on the extreem left behind the glass screens are 8 leather sleeping couches. Further round is a TV on the wall, showing Reuters. The loos are a delight, with free razors and toothbrushes (the same as on the planes). There are also 4 showers, and 3 phone boxes.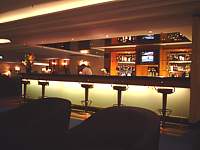 Singapore SilverKris Bar

There is a dedicated bar (open 1530-2330) with a few stools and a rather surly barman, who mixes a very good Singapore Sling, and come to that anything else you ask for. However when the bar is open all the alcohol in the food area disappears. Before that point there is a good Sparkling Wine, and Tiger beer on draft in the fridge by the food.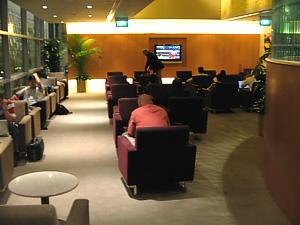 Singapore Premier Lounge

Food is very good, with a decent selection of cheese and vegitable dips during the day. In the evenings (after 7pm) there is a full dinner service, with two tubs. One contains hot chicken and beef curry. The other has rice and noodles. On ice is a salad bar, with potato salad, green bits, slices of tomato, and lots of cheese.
Singapore Premier Lounge Terminal 2
NEWS: SATS has introduced a totally new lounge at Singapore. The old SATS lounge is (thankfully) no more. The new lounge is next to the MH lounge, and is a vast improvement. There is a good bar, a long rack of newspapers, and lovely pink seats.
Terminal 2
Open 0630-2300
The designated Star Alliance Gold lounge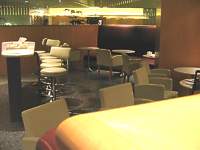 Singapore Premier Lounge
Woe betide you if you arrive at Singapore after a 14 hour flight hoping for a decent rest in a quality lounge before your ongoing flight. While the SIA SilverKris lounge is top quality, if you are a Gold member of any Star Alliance Frequent Flyer scheme you get stuck in the SIA Premier lounge. While it is brand new, and vastly better than the old offering, it is still one of the worst on the network.
Tucked away under the eves near to the Sunflower garden, you take the escalator up to the Raffles lounge close to the food court, and then take a sharp turn right, as if you were to be heading to the Malaysian lounge. As you walk over the hanging walkway this really emphasises to you that you are not going to be in a Raffles heaven.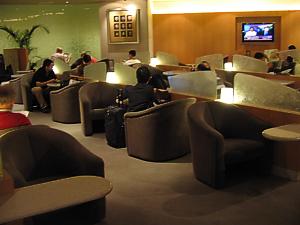 Singapore Premier Lounge Main seating area

The lounge can get very crowded. Seats are hard and uncomfortable. Thankfully there are windows, but even so it seems claustrophobic. The lounge is divided into two, with a sort of TV viewing area at the far end, while in the main area there is a TV screwed to the wall, although it is impossible to watch it without disturbing other people. It does however have BBC World. Newspapers are on the rack as you walk in the front door, although these consist only of the Straits Times and the FT.
There are three Internet computers which are brand new and quite fast in the business centre which is at the far end (and then turn right). Get the log on password of the day from the main desk. Beware that the machines are virus ridden and full of advert malware.
Singapore bar & food fridge

The
Bar
is ok. The wines come from Willowglen and Carpia, with two whites and two reds of each. The two whites are in an ice bucket which is tepid for most of the day, and the two reds are behind them, but there is no Sparkling Wine. There are nine bottle of spirits (Smirnoff Vodka, Gordon's Gin, Black Label Vodka, VSOP, and Baccardi among others), beer (Tiger, Carlsberg & Heiniken), mini pots of water, and a fridge with some fruit juice, including a terrible tomato (but no Bloody Mary mix). Ice is under the tin lid in the worktop. There is a Nescafe machine, giving a decent cup of coffee, and a capochino machine next to it. There is also a most impressive array of tea bags.
Food is pretty limited. Early in the morning there are packets of Cornflakes and Rice Crispies, with full cream milk in the fridge. During the day on the left hand side is a fridge with packets of sandwiches - there are three types, all wrapped up tight in cling film. There is a small heated cabinet with some baked pastries in it, including miniture crossants (but not butter) and Dainish pastries. Late in the day fish soup appears. Meanwhile on the bar counter there are Pot Noodles and Pringles.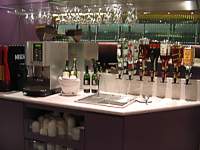 Singapore Premier Lounge bar

There is two showers - often with long queues. Ask at reception for a towel. The hot control on the shower has at last been fixed, so it is no longer the "refreshing" experience it once was.
There are no screens in the lounge to tell you the status of your flight, nor announcements; instead you have to exit the lounge, and run across the bridge to the other side of the hall to see the screen. This bad piece of planning has resulted in many passengers missing their flight; alas Singapore also make a "final call" for their flights about 20 minutes before passengers start to board; the only fix for SATS cronic lack of foresight is to note the time your flight is due to push back, calculate how long it will take you to walk to the gate, subtract one from the other, and aim to be at the gate 15 minutes beforehand. Normally this works, although it tends to make the crew at the gate jump up and down.
Beware that the lounge is only open from 0630 to 2300, so fails to meet and greet the early morning or overnight flights. All in all its a waste of time, however there is plenty of Tiger beer in the fridge, so I often just swipe some of these and go and sit beside the open air swimming pool on the roof.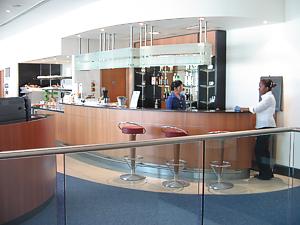 SilverKris Lounge - LHR Terminal 3

London LHR Terminal 3 - Singapore Airlines SilverKris Business Class Lounge
Terminal 3, near Gate 6a
Open 0715-2200
Access for First & Business Class, KrisFlyer Elite Gold, PPS Club, Star Alliance Gold
NEWS: Singapore Airlines are planning to keep this lounge open until SQ opens its new lounge in Terminal 1. Singapore have announced they are going to be the last Star Alliance airline to move from LHR Terminal 3 to Terminal 1, probably in 2013.
The LHR Lounge has recently undergone a major transformation - it's got a lot smaller, and yet is still looking pretty tired. The change is due to BAA making considerable changes to ensure that there is separate arriving & departure access for passengers at gate 6, This is a great improvement, as the temporary wooden partiton outside the lounge, and all the access hassles, have gone. Alas space has been sacreficed - no longer is there a wrap around bar; this area has gone, as has the TV lounge and the sleeping area.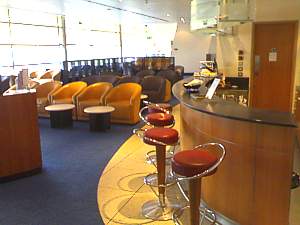 London SilverKris Lounge

There are usually two people on the front lounge desk (who are fairly friendly, but can't help with ticket details - these have to be done at the ticket desk by check in). First class is to the left and downstairs, Raffles passengers go upstairs to the Silver Kris (Business) lounge, as do Gold Star Alliance members. Follow the stairs past the waterfall (!).
The Silver Kris lounge has great view of the apron around gate 6 where most SIA flights leave from (a few leave from gate 18, a 20 minute hike up the other end of Terminal 3). If you lean over, you can see the southern runway & Terminal 4.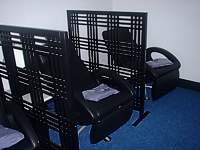 London LHR SilverKris Lounge sleeping area

Even though SIA have only 3 flights a day from LHR (at 1200, 1800, and 2200), this lounge is open from early in the morning until the last flight leaves, to allow passengers on bmi codeshare flights to sleep before the trek to Singapore.
There is a small stand with newspapers (only a few from the UK, like the FT - the rest are from Singapore) and magazines, such as Wallpaper. There are two TVs. One is a small TV screen in the recess where the sleeping area once was. Watching this TV is a problem - many people end up standing. There is also a larger TV flat widescreen TV in the main body of the lounge, with Freeview.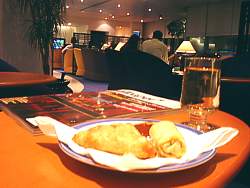 London LHR SilverKris Lounge food

There is a business centre with four computers, which have just been replaced and are fast, with free Internet access, and flat screens. Alas, the singapore airlines lounge at London Heathrow always seems to have a virus problem, and the computers still use IE6! There is of course free wifi.
The bar is good, and infact is a real bar - there is even a barman at the LHR SQ lounge, who will mix cocktails for you. On the bar top (in wine coolers) are two of Singapore's white wines of the month. Tasting notes for these are on the small stand beside them. There are reds at the back of the bar. Alas the bar no longer serves Sparkling Wine. To the left of the bar is a fridge, which has beer, including cans of Fosters lager and Guinness.
London SilverKris Lounge

Food is served in variants thoughtout the day, with sandwiches available all the time. There is some breakfast in the mornings, including cornflakes, while there is Chicken Satay for the early evening flight, and hot samaosas and vegitable rolls in the late evening. Under the food counter there is a fridge with cheese and yogurt. The loos are good, with showers.
The lounge is pretty good, but it is small and tired. Note that at Terminal 3 at LHR BAA have abandoned fasttrack for Gold card holders - you can now only use fasttrack if you are in a premium cabin.
If you were in Business of First Class you used to be able to access the Virgin Atlantic clubhouse close to the SAS lounge. This was a real perk, however Singapore found that very few people used the SQ when they discovered the Virgin version. Alas, lounge access to Virgin on Singapore has been suspended (even if you are in the Virgin codeshare on Singapore metal) however access is still possible on occasions. NEver the less, if you can access the LHR SilverKris lounge, you can still also get in to the SAS lounge, which is OK and may be worth it for a change of scene. The computers and the TV room are better in the SAS lounge.
Brisbane - Singapore Airlines Business Class Silver Kris Lounge
Past duty-free.
Open 1000-1350 & 2100-0000
Access for First & Business Class, KrisFlyer Elite Gold, PPS Club, Star Alliance Gold
The SilverKris lounge in Brisbane is pretty small, however it underwent a revamp in 2008, and is a combined Raffles and First lounge, so the food and drinks are slightly better. It is located tucked away under the main concourse, so you have to double round on yourself, and then walk past the duty free, and along the corridor past the tax reclaim office, and the Emirates lounge.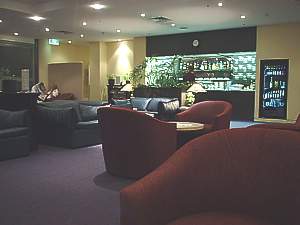 Brisbane SilverKris Lounge

Seats are big and comfy, but there are no slumber seats. There is a TV which you can control (and a video under it), with CNN (Ch15) Cartoon Channel (Ch16) and Sky (Ch17) although reception is poor. There is one shower at the far end of the loos.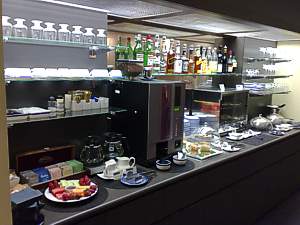 Brisbane SilverKris Lounge bar

There are four phone boxes on the right as you go in - in two there are internet terminals which are brand new and fast, however it has "Netnanny" which tries to stop you from looking at almost every site. There is a photocopier at the far end of the lounge, to the left of the bar, past the newspaper rack. The newspapers normally include the Australian and the Courier Mail. Alas the window only overlooks the road, so you can't look out at planes.
Food was improved in the 2008 revamp. For the lunchtime flight there are two bowls of salad (Ceasar and Greek) with hot meat pies in the heated cabinet. There are plenty of sandwiches in tight plastic wrapping, and lots of Sushi on the island bar opposite the main one. Late in the evening there is hot food, with bowls of pot noodles, lots of sandwiches and a heater with chichen satay (peanut sauce is on the table below the heater) and spring rolls, which are very good.
Melbourne - Singapore Airlines Business Class Silver Kris Lounge
Airside, T2, International Satellite, Ground floor
Open Summer 0810-1110, 1345-1645, 2205-0105 (winter one hour earlier for each open/close)
.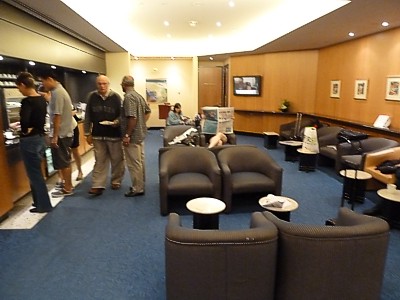 Melbourne Singapore Airlines Business Class Silver Kris Lounge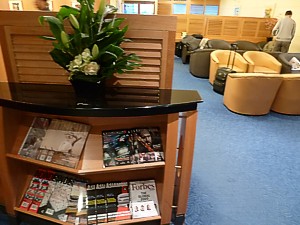 Melbourne The newspaper rack
Once you are through customs and security, walk to the end of the international pier, and then take the stairs or escalator to the ground floor, where the Singapore Airlines lounge at Melbourne Airport offers a lovely (if decidedly compact) haven down in the basement floor, where the other dozen or so lounges are situated.
There are two separate sides to this lounge, with First on the left (seating 25) and Business Class on the right (seating 75), where Gold Star Alliance members also go. Greeting at reception is decidedly curt, particularly for economy passengers using a Star Alliance Gold card on a cheap economy ticket with another carrier.
On the Business Class side, the lounge takes the form of a three armed cross. There are sockets to plug laptops into. The loos are next, which are very good, and there are 2 top quality (and clean) showers at the end of this corridor.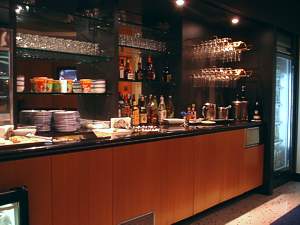 Melbourne SilverKris Lounge Bar

Alas there is no view of the runway. The main part of the lounge has standard Singapore seats, and two Fujitsu Plasma flat screen TVs, with channels which you can't change. One shows channels 7, the other channel 9. Both are at low volume, so you'll have to sit up close to listen (and get a kink in your neck) to avoid it being drowned out by the pretty loud lift music (Abba and instrumental variations) being played in the rest of the lounge.
Newspapers (The Age & The Australian) are placed in the small magazine rack in the middle of the lounge, along with magazines like Wallpaper, and the Australian Aviation review, Forbes, and Asia Money.
Food is pretty good. There are sandwiches all the time - Salmon and Cream Cheese is really nice, while the beef is a bit dodgy. There is a fruit bowl, and two types of Pot Noodle which are better than you might expect. There are two types of cheese, and biscuits on a tray with fruit cake. Ice Cream is in the fridge. Two hours before takeoff, the kitchen staff come out with hot meat pies and sausage rolls. Although these are "mixed meat" so there is no way of knowing what is in them, they are very good with a tinny of VB.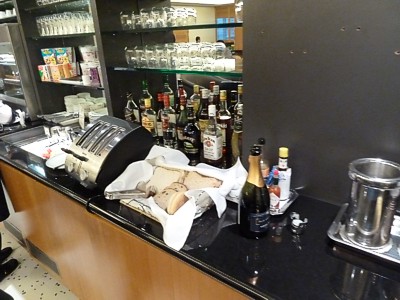 Melbourne - Singapore Airlines Lounge the bar at breakfast time
The bar is pretty decent too. It has one white, one red, and is one of the few Singapore lounges to still stock Sparkling Wine for business. There are bottles of VB, Crown, Tiger, Hahn, Carton Draft and even Boags in the fridge. The spirit collection is worthy of note, with 18 different types, including Red Label, Gordons' Gin, Campari, Smirnoff, VSOP, and Baileys on the worktop.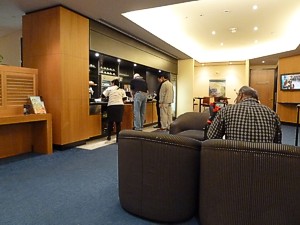 Melbourne - Singapore Airlines Lounge
Alas, business facilities are pretty poor. There is just one table in the middle of the lounge, with two seats, and sockets for you to plug your laptop into. There is also a small business centre by the main reception, in what feels like a corridor. There are 2 computers which were very fast in 2004, and are getting a bit dated now, and there is also a printer.
Incidentally, if you fancy Star Alliance lounge hopping, Melbourne is the place to do it, with a plethora of lounges to keep you happy for hours before a flight. Not only is there the Singapore Airlines Silver Kris lounge in Melbourne, but you can also visit the United lounge right next door (only open in the morning), although to do so is a bit of a waste of time as it's pretty poor. You can also visit the Air New Zealand lounge on the Basement Level, down one more floor from the Silver Kris lounge. The Air New Zealand lounge is great, a really good lounge, with an excellent bar, lots of comfy seating, a much better view of the gate, and even a pool and football table, and decorated in a Kiwi Bach style. More details are here, in the Air New Zealand lounge section. It is well worth a visit, and you can gain access with a Singapore Airlines business class ticket, or as a Star Gold. <!—- Old Images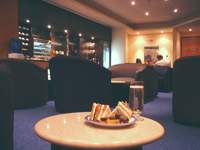 Sydney SilverKris Lounge

Sydney - Singapore Airlines Business Class Silver Kris Lounge
Pier C, level 3.
Open 0600-1530
Access for First & Business Class, KrisFlyer Elite Gold, PPS Club, Star Alliance Gold
The Singapore Airlines SilverKris lounge in Sydney is up the stairs (or via the escalators) on the far side of the terminal, on the same upper corridor as the Air New Zealand lounge (which is actually a better bet if you want Sparkling Wine and salad, rather than the SQ offerings).
The lounge is split into two, with First on the right, and Business Class on the left past the desk. There is a great view of the airport runway, and of gates 57 and 58 which Singapore commonly use. At Sydney, unlike Singapore, final call really means that, but thankfully there is a Tannoy in the lounge for when it is time for Raffles passengers to get on board.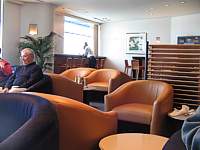 Sydney SilverKris Lounge

The Business Class Singapore Airlines lounge in Sydney has a pretty good Bar. Until a few years ago there was a barman in the lounge for the afternoon flight, but that has since been cut back, and the bar area turned into extra seating, however the self service fridge is still pretty decent. The fridge is large and well stocked. True, there is only one type of white, and an Aussie sparkler, however there is a vast, sprawling, beer collection with everything from Guinness (and chilled glasses) to Crown. There is no Bloody Mary mix, but there is Tomato and Orange in jugs in the fridge.
Food wise the lounge is pretty good too. For the early morning flight there is a good breakfast selection with plenty of fruit salad, and a basket of bread with a toaster. There is a selection of cheese, but only one type of biscuit to go with it. Fresh sandwiches appear every half hour. Soup appears during the day, but only for a short time. For the afternoon flight to Singapore there are meat pies in the food heater above the soup, plus some chicken and Pot Noodles.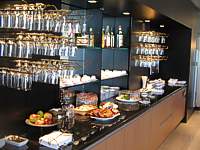 Sydney Raffles Lounge bar

There are two TVs in the lounge, one above the "almost" bar, and the other on the other side of the lounge. Both are big screen TVs, and yet both are annoyingly locked onto CNN. There is also a telescope in the far right corner of the lounge, but strangely, the windows are just slightly too high up for you to use it.
There are two showers in the bathroom section, which are on the far side, bearing left as you enter, however this part of the lounge is pretty pokey. There are a few Oz Newspapers are on the rack on this side, plus the usual Straits Times. There is also a small business centre, on the left as you walk in. There are 3 computers here with free Internet access, a photocopier and a fax machine.
The lounge often gets packed just before the main A380 departure: at these times it is often easier to walk next door to the Air New Zealand lounge, and stay here until close to the departure time of your flight.
Hong Kong - Singapore Airlines Silver Kris Business Class Lounge
Airside, level 6, root of main pier
Open 0600-2230
Access for First & Business Class, KrisFlyer Elite Gold, PPS Club, Star Alliance Gold
The Singapore Airlines new Silver Kris Lounge at Hong Kong International Airport (or HKIA, Chek Lap Kok airport) is a bit hidden away – you almost get the impression that SIA aren't particularly fussed about the Hong Kong lounge, which seems odd as the lounge was rebuilt in 2009, and is clean, quiet, dark, and a tiny bit soulless.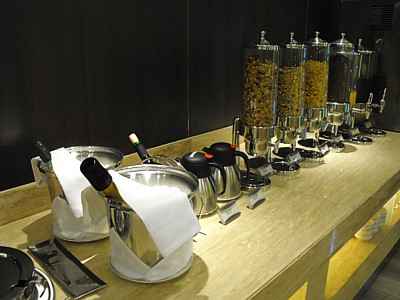 Hong Kong Singapore Airlines Silver Kris Business Class Lounge

The Singapore Airlines Hong Kong Silver Kris lounge is combined First and Business Class – a real change from just a few years back when there were two long thin sides, with business on one, first on the other, and showers in between. Now, it's a common lounge for all classes and Star Alliance Gold. Singapore Airlines boasts that the new Lounge is nearly twice the size of the previous one, with ample resting & dining space for more than 210 customers.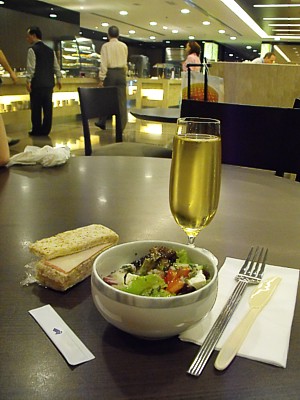 Hong Kong Singapore Airlines Silver Kris Business Class Lounge

To find the lounge, once through security, go down the stairs to level 6, and just before gate 15 where the windows open up, on the wall side are the sliding glass doors for the SQ lounge. It is convenient for most of the boarding gates commonly used by SIA flights at Hong Kong, but it is a very long walk indeed from the A380 gate at the far end of the pier – to get here, you might be better off taking the train. As you walk in, you walk past the giant computer room, then at the far end of the corridor there is a small holding lounge & the bar, left is First, while right is another smaller long thin lounge, and at the far end is the dining room.
Food in the Dining room is comprehensive and extensive: there is no danger of going hungry before the 4 hour flight to Singapore. There is hot soup, noodles and rice in heated tourines, while meat dishes are under the lids, although some of them are for very Chinese tastes. Diced eel anyone? In the central fridge there are sandwiches tightly wrapped in cling-film, and small pots of Greek salad. Ice-cream is in the small table-top freezer.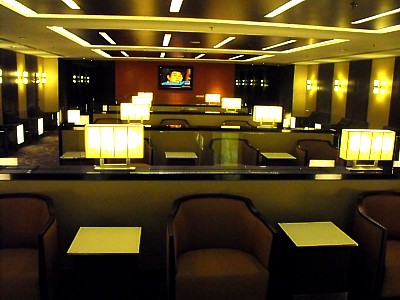 Hong Kong Singapore Airlines Silver Kris Business Class Lounge

Next to the food counters there is a small bar with red and white wine, however for a decent bar you have to go out into the main T section of the lounge, where there is a full self-service bar, with different wine, Sparkling Wine (yes, really, the French stuff) and spirits on optics. Beer is in the nearby fridge (Guinness, Carlsberg, Tiger, San Miguell & Heiniken), along with plenty of cans of mixers, coke and tomato juice. Near this bar there are also trays of olives, and oddly, the breakfast cereals are placed here in the mornings.
Hong Kong Singapore Airlines Business Class lounge has four flat screen TVs which seem to be permanently on CNN – and with no way of changing them. There is actually a pretty good selection of newspapers; mostly from Hong Kong, but you can also pick up a Straits Times & even a USA today. Alas there are no papers from the UK. Magazines are very disappointing, with little other than the usual inflight magazines. There is free Wifi in the Hong Kong Singapore Airlines lounge, along with the 16 internet computers (12 PCs and 2 Macs) in the front lobby area. There were originally bathrooms in the lounge, but these have been closed for a while, and now everyone has to traipse out of the lounge and around the bend to find facilities: an odd feature for such a luxury lounge.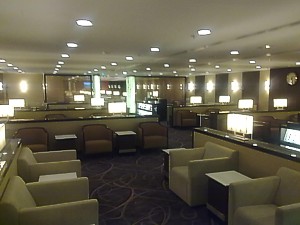 Hong Kong Singapore Airlines Silver Kris Business Class Lounge

There is one other odd feature about the lounge. Some flights to Singapore still have First Class: for these flights a section of the lounge on the left, in the second room, is roped off and a sign proclaims that this area is for the exclusive use of First Class or Suites passengers. There isn't anything else in this room: no food, no extra drinks, nothing. But you can sit there in splendid isolation, being gawped up by the great unwashed who are only sitting in Business.
The lounge can get packed before one of the A380 flights at 3pm, or even one of the five other daily non-stop flights from Hong Kong to Singapore, particularly if they coincide with one of the daily non-stop Singapore Airlines services between Hong Kong and San Francisco.
An obscure perk, which few people know about, is that if you are flying on Singapore Airlines in First or Business Class, you can unwind in Virgin Atlantic Clubhouse at Hong Kong. Further details are in the Virgin Atlantic Lounge Section.
Bangkok - Singapore Airlines Silver Kris Business Class Lounge
Airside, concourse A, level 3
Open 0515-2300 (Thursday to 1900)
Access for First & Business Class, KrisFlyer Elite Gold, PPS Club, Star Alliance Gold
The Singapore Airlines new Silver Kris Lounge at Bangkok Suvarnabhumi International Airport for Business and First Class passengers is brand new, and a vast improvement over the old lounge in the old Don Muang airport.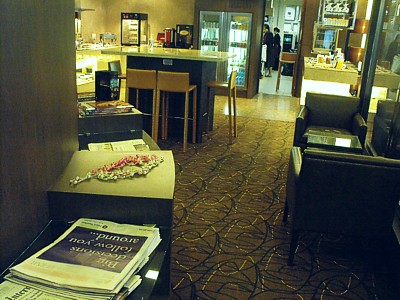 Bangkok Singapore Airlines Silver Kris Business Class Lounge

It's on the upper causeway, level 3, in concourse A (above the domestic gates) and just after the Bangkok Airways lounge. From outside, all you can really see are bland white marble walls. Inside the lounge is designed in modern-contemporary style, with walls decorated in rich Thai hardwoods, with full-height fabric-laminated glass panels to enhance privacy, and create a rather maze like feeling as you wander around.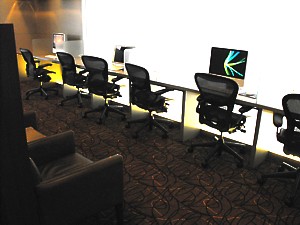 Bangkok Singapore Airlines Silver Kris Business Class Lounge

There are high ceilings offering a sense of space, and full-length windows allow views of the garden outside, our through the end window, the Thai domestic lounge. The 102 seats are pretty nifty, upholstered in nature-touch fabric or rich leather. At the far end of the SilverKris Bangkok Lounge are a couple of 50-inch plasma televisions, stuck on CNN, and a small business area and a WiFi network for wireless Internet connection. Alas there are only three computers and they are Macs. Power-points are located next to most seats (UK/Singapore design) so you can plug in a laptop.
Food is OK, with less variety than in the Thai lounge in D, but with better choices. There are Singapore delicacies, including assorted dim sums and noodles. Sandwiches are just cheese or ham, in tight plastic packets. Hot pies are in the heated cabinet. There are a few very good sweet pastries, fresh fruit and Haagen Dazs Ice Cream in the fridge on the wall.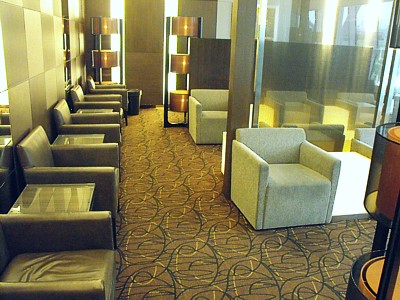 Bangkok Singapore Airlines Silver Kris Business Class Lounge

There is a very small bar, with one red and one white on the sticking out worktop, and five spirits (Gin, Vodka, Whisky, and 2 Campari). Singa beer is in the fridge. Oddly, fresh coconut juice is in the jug in the trough, along with orange juice.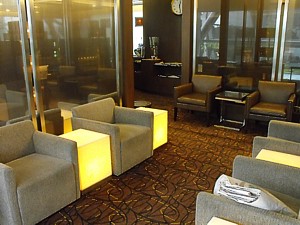 Bangkok Singapore Airlines Silver Kris Business Class Lounge

Incidentally, there is a bit of a back story to this lounge. For the first couple of years after Bangkok's new international airport opened, SIA shared the Thai run lounges, under the so-called "move under one roof" policy of Star Alliance, which aims to just have one lounge at each airport. Singapore Airlines however always likes to do things differently, and following complaints by passengers, built its own lounge, at a cost more than 28 million baht. So now, when you're lounge hopping around BKK, you can at least get some variety & get away from the Thais. The lounge is a full Star Alliance gold lounge.
On the round central part of the lounge there are newspaper racks. Bad news however if you want visit a bathroom – there are none in the lounge, and the nearest one is outside and 50 yards down the corridor.
San Francisco - Singapore Airlines Business Class Silver Kris Lounge
Airside, Concourse G, to right of Red Carpet Club
Open Summer 1030-1330 & 2130-0045, Winter 0930-1230 & 2030-2345
Access for First & Business Class, KrisFlyer Elite Gold, PPS Club, Star Alliance Gold
NB: No access to United Red Carpet Club members and Star Gold members on wholly domestic itineraries.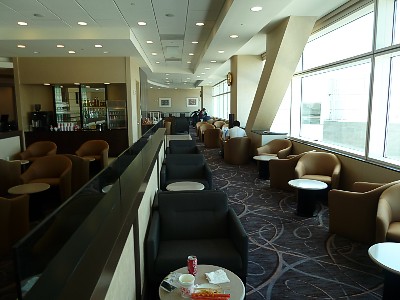 San Francisco Singapore Airlines Business Class Silver Kris Lounge
This is a decent, small lounge, at one of Singapore Airline's most remote locations. It was revamped as recently as 2011, when Singapore Airlines started flying direct to San Francisco, using the business class only A340. At this time the dividing wall between business and First Class was demolished, leaving a much lighter more open lounge, and at the same time stopping the overcrowding problems caused by having over 100 business class passengers in the lounge at any one time. However, other than new chairs, the lounge remains the same.
Getting to the lounge is a struggle - turn right after security, right again at the entrance to United's lounge, along the corridor, through the fire escape door, left up the small stairs, through another fire escape door, and the lounge is on the way to the Eva air lounge at the far end. There is a small reception desk, and First was on the left, although now it doesn't really matter.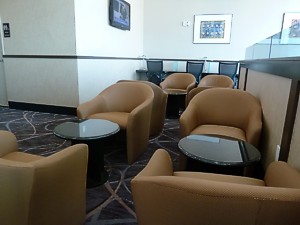 San Francisco seating in the old Frist area
Inside the lounge, standard pattern Singapore Airlines creamy leather armchairs are by the window, with the more uncomfortable blue ones inside, separated by high glass dividers. There is a great view of the gates, the runway, and the far distant San Francisco bay, with strange angled girders over the windows. There is the obligatory Rolex clock on the wall.
Food is good, and vastly better than in United's offering. In the ice trough there is a There is a selection of vegetable dips (cucumber and carrots with ranch dressing), plus a small tray of fruit. Under the glass dome there are some really very good sandwiches and croissants, with ham, cheese and turkey, although these sandwiches go very fast. Under the metal cover around the corner to the right in the evening are rice and a curry, however in the morning are very weird egg and spinach omelettes, sliced in two. There is also the famous 'Chinese-style' hot soup. Throughout the day there are a host of pot noodles and packets of cereal on the counter.

San Francisco - Singapore Airlines LoungeThe small but adequate bar
The bar in most other lounges would be considered mediocre, however with the poor bar facilities in San Francisco, they are actually quite good: it is self service on the old Business Class side. There is alas only one type of red (on the glass shelf) and one type of white wine (in the ice trough). You have to ask for Sparkling Wine, however it is brought over on request. Beer is only Tiger beer, and Heineken, in bottles in the fridge. However, spirits are great, with Chivas, Black Label, Crown Royal, Smirnoff, Absolute, and Beefeater gin.
There is a TV screwed to the wall, in a position which is difficult to watch. Never mind, you can't change the channel anyway, and it is always on CNN. There is a newspaper rack on the old first side, however there are very few magazines or newspapers; in effect only a local San Francisco daily, and the in-flight magazine of Singapore Airways. There is however a well stocked newsagent downstairs.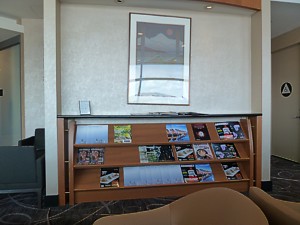 San Francisco the minimalist newspaper rack
The old business centre has gone, to be replaced by four workstations at the far end of the lounge, however there are no computers in them, and there is no photocopier or fax. There are two showers in the lounge, however you can only use them if you are a genuine Singapore Airlines business class customer. Towels are with reception, and there is a wall container with shower gel.
Incidentally, the lounge has one of the most unusual lounge access policies on the network. Technically it is still a Star Gold lounge and you can access this lounge even if travelling domestic, but there is no access on purely domestic itineraries (you need to connect internationally) or for paid Red Carpet members. International connecting to domestic as Star Gold (on anything other than United) is fine: but with only limited rights to use the facilities (no shower access). If you are on domestic, remember there is a small airside corridor linking the United domestic gates to international. It isn't marked, but go right as soon as you pass through domestic security. Also there is an (airside) shuttle from the Continental gates over to G92 on the United side and vice versa.
Another totally unreported perk, which few people know about, is that if you are flying on Singapore Airlines in First or Business Class, you can unwind in Virgin Atlantic Clubhouses at San Francisco. It opens at 3pm (or 4pm some days), but at SFO it is landside. Further details are in the Virgin Atlantic Lounge Section. <! Los AngelesTom Bradley Terminal, North side, 5th FloorOpen Summer 1100-1500 & 1930-0130. (Winter 2 hours earlier) Combined First and Business lounge. No access for Gold Star Alliance members. Wide selection of refreshments, including individually wrapped sandwiches, hot chicken macaroni soup and an assortment of fresh fruit. Beverages, including freshly brewed coffee, draught beer and a variety of wines and liquors. Foreign and local newspapers. Variety of magazines. Dedicated television-viewing areas . Free high-speed internet facilities. Phone/fax line ports for modem access. >