Qantas inflight drinks
Qantas has added a new selection of beers across the network. Ballantine's Finest Scotch Whisky will also become the new whiskey in economy. Beer now includes: International First: James Squire Golden Ale, Heineken, Crown Lager, Little Creatures Pale Ale, Cascade Premium Light. International Business and Economy: James Squire Golden Ale, Heineken, Hahn Premium Light, Victoria Bitter. Domestic Business: James Squire Golden Ale, Crown Lager, Hahn Premium Light. Domestic Economy: James Squire Golden Ale, Heineken, Victoria Bitter.
Qantas have a typically Australian attitude to the bar. It's there, its well stocked - and if you want a drink even on a short flight you can have one. However, at least on internal domestic flights - you're going to have to pay for it. Beer and short drinks come in at A$5. Wine is A$6. The exception is for Qantascityflyer where there is now a free wine or beer service in economy on weekday departures after 4pm, or anytime after noon on the Perth flights.
All drinks on international flights are free, including sparkling wine.
All wine comes in 187ml bottles, so you can take the stuff off the plane. These will be opened for you unless you ask. The selection on the plane can be a bit random according to whatever the crew picked up at the start of the day. By the end of the day the bar can be running seriously short of pretty much everything.
All drinks on all international flights are served with one small packet of Qantas peanuts, regardless of whether you ask for them.
Qantas White Wine
It's worth noting that Qantas have a total obsession with Chardonnay, and rarely stock white wine of any other type. Sparkling wine is once again carried on domestic flights, and it's free.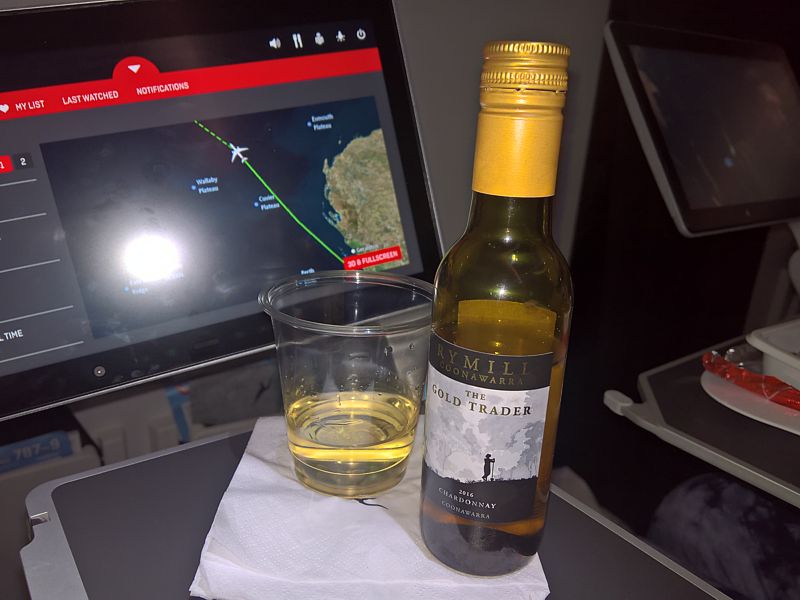 Qantas Inflight wine
Rymill Chardonnay
A fresh, crisp and vibrant sparkling white wine made from the traditional blend of Chardonnay, this is Coonawarra's pre-eminent grape variety.

The Rymill family has a rich history in Coonawarra, dating to Scottish-born John Riddoch who braved the harsh climate and trekked hundreds of kilometres, to establish his vineyard.

Lovely wine.

12.5%.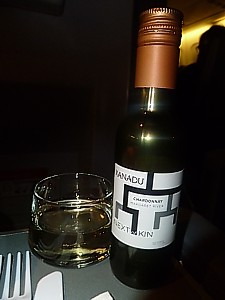 Xanadu Next of Kin
Margaret River Chardonnay
Xanadu Next of Kin Chardonnay has a mélange of fruit characters, with a bit of peach and pear, plus some delicate hints of tropical fruits just in hidden away. There is also a touch of oak giving the wine a touch of complexity. On the palate, the fruit follows through, with a light delicate creamy texture, although stuck at the back of a 747 you may not notice this. The great aspect of this wine is although there is some subtle oak treatment, this chardonnay is quite lean and structured, with a mouth-watering minerality and acid structure to ensure a well-rounded and balanced wine.
Xanadu is a vineyard only five minutes from Margaret River, set in the lovely Boodjidup Valley. It's rare to be able to track down their wines, and as such it's a delight to be able to find it on Qantas.
12.5%.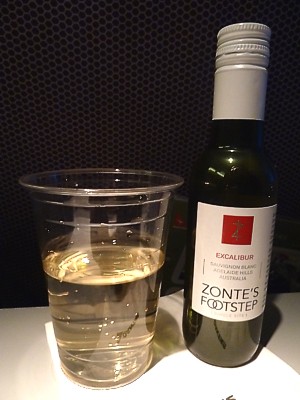 Zonte's Footsteps Excalibur
Sauvignon Blanc
Excalibur Sauvignon Blanc is fairly good and decent drinkable fresh white wine. It is a little tart, with a very noticable trademark Sauvignon Blanc acidity, added to the lemon/lime peel and gooseberry fruit crispness. It isn't quite of Arthurian legend, mainly thanks to the rapier-like cut of the cleansing acid, however this Sauvignon Blanc is very welcome in economy.
Zonte's Footstep is a vineyard in the Adelaide hills, and has been on the up for about a decade since a group of farmers from SA pooled old white 'utes' and new-ish tractors to grow the best grapes from the best vineyards.
12.5%.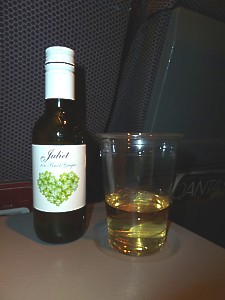 T Gallant Juliet
The wine of choice
Pale gold in colour. Lifted aromas of musk, pear and salt air, vibrant and delicious. Has a clean savoury palate suggesting green olive and wild honey.
As pioneers of Australian Grigio and Pinot Gris, T'Gallant have become known as a committed creator of unique wines much influenced by regional European styles. T'Gallant winemaker and viticulturalist Kathleen Quealy believes the Australian cooler climate Pinot Grigio lends a point of difference to it's Italian counterpart. Juliet offers a delectable and romantic option for those seeking a boutique white wine that's a little different to the norm, well suited to delicate cuisine. Juliet is a nectar of love, both in its production and in the final result. Fermented at 15°C to 20°C and treated to a delicate and minimal vinification, without adding any acid or wood maturation to ensure freshness and softness on the palate.
12%.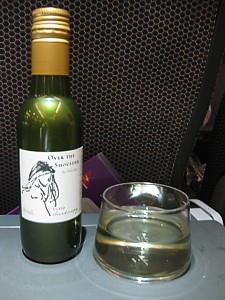 Oakridge Over the Shoulder Chardonnay
The wine of choice
Take a second look at the Over the Shoulder label with its excellent wines of pure, varietal expression. This is a pretty decent Chardonnay from the Yarra Valley Oakridge concern. Flowers, citrus peel, grapefruit and nectarine supported by pain grille in a seamless integration of fruit and artefact. A strong mineral thread runs through the length of this elegant wine leaving a pleasing natural acidity.It describes itself as an easy drinking everyday wines for all occasions.
Incidentally, a decent bottle of this from the vineyard comes in at $22. Get it while you can at Qantas.
13%.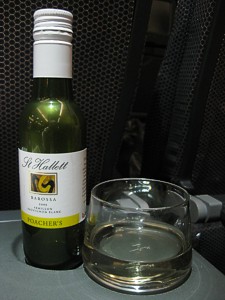 St Hallett Poachers Semillon Sauvignon Blanc
A brilliant Sauv B
St Hallett Poacher's Blend is a daringly fun and light-hearted blend with a twist in its tail! Undeniably fresh this unpretentious young wine is blended predominantly from Semillon and Sauvignon Blanc with a special proportion of Riesling added each vintage giving it an unusual twist and a crisp, citrus finish.
13%.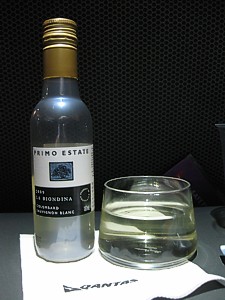 Primo La Biondina Colombard Sauvignon Blanc
One wine that won't give you a hangover
Primo Estate on the Adelaide Plains has for some years flown the flag for the usually lacklusture colombard variety. These days there's some Sauvignon Blanc in the mix but Colombard still dominates. The result is zippy and fruity with a nose of passionfruit sauce and lightly grassy notes. Its tastes of fruit salad, clean and lip-smacking. It is delicious.
13%.
Jacob's Creek Chardonnay
The wine of choice
A pretty decent Chardonnay. Regular flyers complain that the South Australian Jacob's Creek is a bit bland and like something a bit more unusual. However this stuff is exactly what you'd get in any Tescos and does down nicely.
13%.


Richmond Grove Chardonnay
A lighter Chardonnay
Another South Australian Chardonnay - indeed its difficult to find any other type of wine on Qantas - but regular fliers prefer this one as a decent alternative to the blander Jacobs Creek.
13%.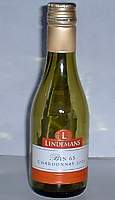 Lindemans Bin 65 Chardonnay
A quality Chardonnay
This Chardonnay comes from Victoria, and Lindemans have done the grape proud. It goes very well with the Qantas cooked breakfast.
12.5%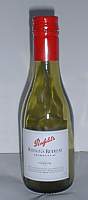 Penfolds Rawson's Retreat Chardonnay
A punchy Chardonnay
A Chardonnay with a kick, from South Australia. Penfolds go for the real acidy grapes, to bring up the alcohol content. Using the same vines that Dr Christopher Rawson Penfold planted in 1844, this wine still comes from the family cottage of the period.
13.5%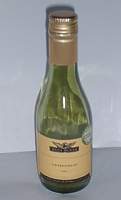 Wolf Blass Chardonnay
A mellow Chardonnay
Yet another Chardonnay, from South Eastern Australia. Wolf Blass are proud of this one, which has peachy and melon characteristics with a creamy soft texture and fruit flavours.
13%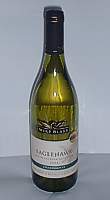 Wolf Blass EagleHawk Chardonnay
Business Class mellow Chardonnay
In domestic Business Class wine is served from full sized bottles, however the wine is identical. Another Chardonnay, from South Eastern Australia. Wolf Blass love their Eaglehawk. Infact the winery is called Bilyara - the aboriginal word for Eaglehawk. Peachy and melon characteristics with a creamy soft texture and fruit flavours, this has a beautifully balanced palate. This goes great with Qantas many pasta dishes in business.
13%
Qantas Red Wine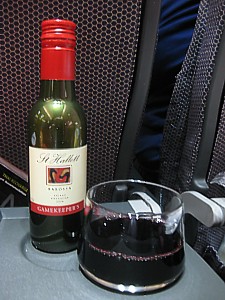 St Hallett Barossa Gamekeeper's Shiraz Grenache
The wine of choice
An inspiring cuvée of Shiraz and Grenache with Touriga Nacional (a traditional vintage port grape) Gamekeeper embraces the spectrum of ripe and savoury Barossa fruit, delivering a wine which is so much greater than the sum of the parts. "Dark cherry and poached plum, red licorice and worn leather with a gentle grip of toasty tannins. Over delivery is the wine industry buzz word, and the Gamekeeper really does live up to the concept of in-flight wine.
13%.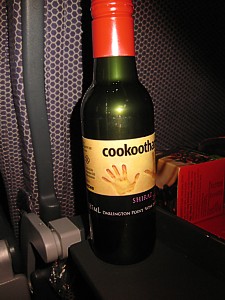 Cookoothama Shirza
The wine of choice
This wine is sourced from the Cookoothama Vineyard on the banks of the Murrumbidgee River at Darlington Point.
There are aromas of ripe berry, plum, milk chocolate and light vanilla and toast oak. Attractive smells and nicely done. On the palate medium to full bodied with plum, spice, milk chocolate and vanilla flavours. Gentle but appropriate tannins provide good shape. Good balance and a spicy vanilla plum aftertaste. It's a top wine.
14%.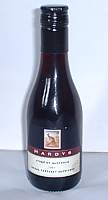 Hardy's Shiraz Cabernet Sauvignon
Australian, and full blooded
A tough one to describe, because this, one of the mainstay of Hardy's stable, is rich in fruit flavours and yet ends with a neat soft finish. It goes particularly well with beef or lamb dishes, when Qantas serve them.
13.5%.

Wolf Blass Cabernet Sauvignon
A mellow red
Cabernet Sauvignon is Qantas wine of choice for red. This one is from South Eastern Australia. Wolf Blass complement their white offering with this. Has an attractive bouquet of fresh red mint balanced with oak flavours. Soft, fruity, and full of flavour.
13.5%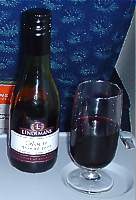 Lindeman's Bin 50 Shiraz
A smooth red
One of the better reds from Victoria, and Lindemans are very understated with this one. Tangy, rich, with good tannins and yet lovely and smooth. Some feel its a little sticky and plum-pudding rich, but I love it.
13.5%
Qantas Sparkling Wine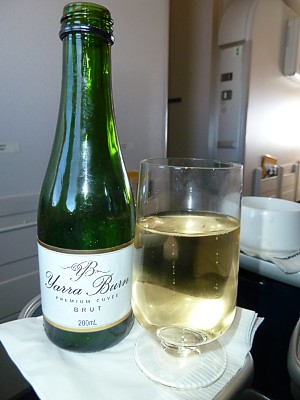 Yarra Burn Sparkling Cuvee Brut
Victorian bubbly
Yarra Burn Sparkling Cuvee is a pretty standard blend of a bunch of wines (Pinot Noir, Chardonnay and Pinot Meunier) from vineyards in Victoria. This is of course a cool area, and so the wine has a lot of depth, with a hint of citrus and toasty complexity.
It is, lets face it, a pretty standard Aussie sparkler, however it has some surprises, with the grapes coming from premium Victorian vineyard, harvested in the cool of night and gently pressed. At height, restricted growth and slow ripening lends itself to intensely flavoured fruit of rich complexity.
12.4%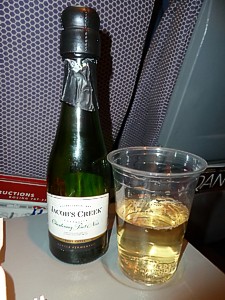 Jacobs Creek Pinot Chardonnay Sparkling
Domestic bubbly
Generous citrus fruit flavours.
This Sparkling Chardonnay Pinot Noir is a premium bottled fermented wine made from selected Chardonnay and Pinot Noir grapes, displaying classic citrus flavours with a delicate crisp finish. Now that this is the wine of choice on domestic, I tend to have this as an aperitif before the main meal - if there is one, on Qantas.
11.5%

Sparkling Carrington Brut
Decent bubbly
There is just one choice of Sparkling Wine in international economy, and Qantas give you this stuff. South Australian Carrington Vintage Brut is a nice, delightful, sparkling white, which goes well on its own. Note that this is no longer carried on domestic flights.
Have it with beef, and you'll never live to regret it. Still not bad for toasting crossing the equator.
11.5%


Piper-Heidsieck Sparkling Wine Brut
Fanstastic Sparkling Wine in Business class
In Business class get the Piper-Heidsieck Sparkling Wine Brut and your mouth will love you. A really good Sparkling Wine, its pricey on the ground... so you might as well get the benefits of paying a fortune for your ticket, and enjoy this proper French stuff from Reimes. The Piper-Heidsieck is also available in economy, if you pay for it.
If you're feeling bored, take a look at the cork - its a screw top with a strange plastic moulding made to look like a Sparkling Wine cork.
12%
Qantas Beer
All beer comes in a 375ml tin, which will be opened for you unless you ask.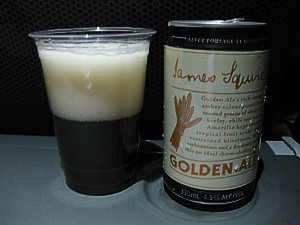 James Squire Golden Ale
Never Forsake Flavour
This stuff is just amazing. James Squire Golden Ale's rich orange-amber colour comes from toasted grains of wheat and barley, while new season Amarillo hops create a tropical fruit aroma with restrained bitterness. Mild carbonation and a dry finish make this an ideal thirst-slaking beer. It's great on the long flights to Perth.
4.5%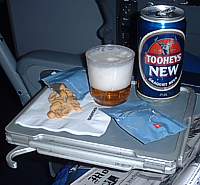 Toohey's New
Great lager
What we in the UK call lager, and what the Ozzies would call beer. This is cool and clear with little aftertaste. Just beware on opening that it has a huge frothy head.
4.2%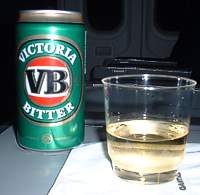 VB
Terrible beer
Beer comes in just one variety on some Qantas internal flights - VB. The Victoria Bitter is foul, with a terrible aftertaste, and should only be used as de-icing fluid. Pretty strong though. Yuk.
4.9%.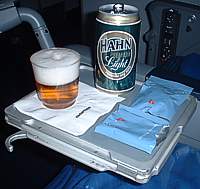 Hahn Premium Light
Good taste, poor alcohol
The concept of a light beer seems odd, until you realise you can spend 26 hours on a flight from LHR to SYD drinking for free. Now with that length of flight, you're either going to end up with a serious beer buzz, or you'd have to slow down. Hahn, from the XXXX brewery, is great. Lovely clear beer with a soft delicate flavour. Alas, the alcohol content is so poor, its rarely worth touching on internal flights.
2%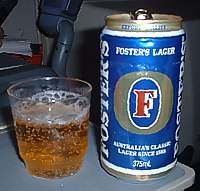 Fosters larger
The amber nectar
Think of Oz, and if you're British you'll think of Fosters. Sold as the Amber Nectar in the UK, its requested by all Pommies until they get to recognise real beer. Still, its ok, in a very sweet treacley kind of way. Only carried on Qantas international flights.
3.2%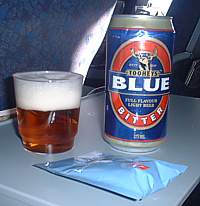 Toohey's Blue Bitter
Internal flights only
The only bitter carried by Qantas, this is also only found on a few domestic flights, operated by Qantas as opposed to Citylink or Qantaslink. Its got a moderately good taste, rather similar to London Pride. Popular in the far north, the name is however rather off putting. I mean, blue?
3.6%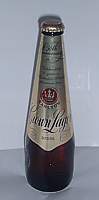 Carlton Crown lager
Fantasticly smooth beer
In Domestic Business Class there is the rare treat of being able to get Australia' finest premium beer. Carlton Crown is great on the ground, and its amazing to be able to get it in the air too, even in the original bottle.
4.9%
Qantas Spirits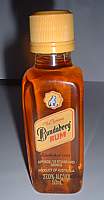 Bundaberg Rum
An unusual treat
Nothing makes dinner go down faster than a sip of this before hand. The Queensland town of Bundaberg is famous for its rum, made from the nearby cane fields. And so, not suprisingly the old Queensland and Northern Territories Airline carries its product on all planes. And pretty good it is too. 50ml. 37%.
Beenleigh Rum
The one to go for
If you're not so keen on rum, the Beenleigh's is better. Its got a much less sweet taste, so many people prefer it. 50ml. 38%.
Hardy's Brandy
Very rare
You know Hardy's, the wine maker? They don't just make wine, they also make Brandy. Virtually impossible to get on the ground, its happily available at 35,000 feet. Just be prepared for some headscratching when you ask for it. 50ml. 35%.
Next: Passenger reviews >>>
All images and content copyright airreview.com