Air Canada History
Trans-Canada Airlines was created as a subsidiary of Canadian National Railway in 1937, based in Winnipeg, and moved to Montreal in 1949. In 1953 with the development of the ReserVec, Air Canada became the first airline in the world to use a computer reservation system. By 1964, TCA had grown to become Canada's national airline and in 1965 changed name to Air Canada.

Montreal Air Canada Bombardier CRJ 705

In July 1970 a McDonnell Douglas DC-8, exploded after an engine hit the runway in Toronto on landing. All 109 passengers & crew were killed. There was another disaster in 1983 when a DC-9 exploded in a flash fire, with 23 passengers killed. In July 1983 a Boeing 767-200 (C-GAUN), made an emergency landing in Gimli after running out of fuel, due to an inability of the crew to convert from imperial to metric. No one was injured. This incident was the subject of the TV movie, "Falling from the Sky: Flight 174".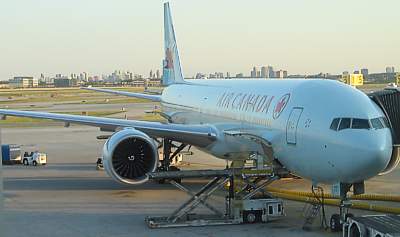 Air Canada 767 at Toronto

In 1987, Air Canada became the first airline in the world to have a fleet-wide non-smoking policy, and in 1989 became completely privatised. In 2001 Air Canada acquired Canada's second largest air carrier, Canadian Airlines, subsequently merging the latter's operations into its own. As a result Air Canada became the world's twelfth-largest commercial airline.
In April 2003, Air Canada filed for bankruptcy protection, emerging from this protection in September 2004, 19 months later, after considerable debate about changing the airline's pension plans. In October 2004, the last Air Canada Boeing 747 was retired.
In 2005 Air Canada entered into an agreement to renew its widebody fleet with Boeing by purchasing 18 Boeing 777s, and 14 Boeing 787-8s, which have still to be delivered.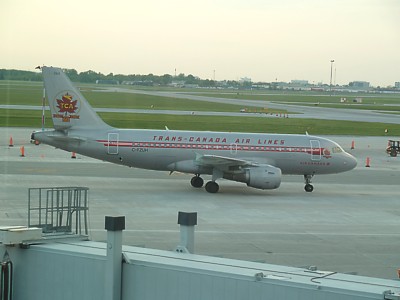 Historic livery Air Canada Airbus A319 in historic livery
Later Air Canada also took delivery of 15 Embraer 175s and 45 Embraer 190s. It holds options on an additional 60 Embraer 190s
Project XM: Extreme Makeover kicked off in 2006. It was a project to install new cabins on all aircraft, and cost $300-million.