Food on All Nippon is pretty good - don't worry about being on a Japanese airline, with worried about what just-killed fish you'll get, there is a full Western menu on all international flights. The route to London LHR is particularly good, with a selection of different types of both Japanese and UK meals in both economy and business.
Plastic clear see-through knives & forks are used on all flights to LHR. Elsewhere they are metal.
Business Class - ANA All Nippon Airlines inflight food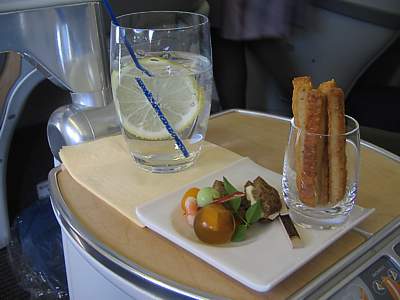 Japanese: Canapes
Cod's eyeball in jelly ball, prawn dippers, marinated blowfish skewer.
Breadsticks.
Ummm. Right. Where to start with this weird lot.
The simple rule on All Nippon is, if you aren't up for Japanese food, then don't ask for it. Full stop. This is enough to send you running to the galley with the collywobbles.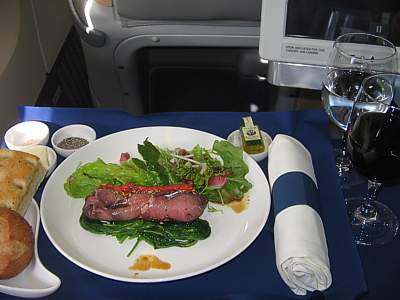 Western: Starter, Beef
Cold beef in oil & pepper, lettuce.
Garlic bread. Olive oil.
Well, the western diet on All Nippon seems to comprise of cold, dead, cow, on most flights.
You get a decent bottle of olive oil to sluce over your salad. And then some bread to enjoy. Weird.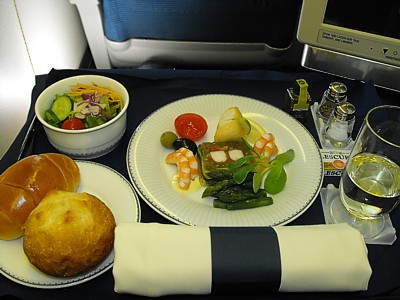 Western: Starter, Shrimp & Scallops Ratatouille
Ratatouile aspic terrine, Smoked scallops with lime garnish, and marinated shrimps with mustard sauce.
Asparagus logs.
Two bread rolls. Butter. A small salad. Olive oil.
Ah, here is a bit more variation, but alas this variant has cold, dead, seafood, and the weirdest Ratatouile you've ever seen (since the film, at least).
To be fair to ANA, this is actually not bad, with the Ratatouile having a lot of flavour. Alas, the Asparagus are like treetrunks cut down well past their prime, the shrimps are striped prawns, and the scallops have spent a long time frozen before being reheated, put on a tray, and frozen again before the flight. And reheated.
The salad is better than on many airlines though.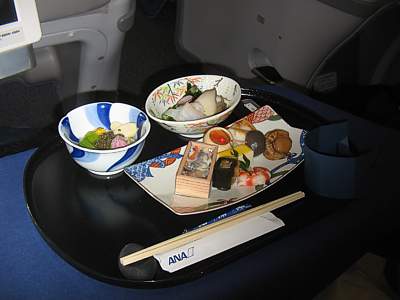 Japanese: Maincourse, Suchi
A square tray with a dead tuna in a box. A prawn. A shitacke mushroom. Compressed cold dead fish in a tart.
A bowl with just killed cod (cold).
A bowl with over ripe dead undisclosed fish.
If you are into fish which is just about dead, but still twiching, at 35,000 feet this is a delight. If not, you may want to order the steak.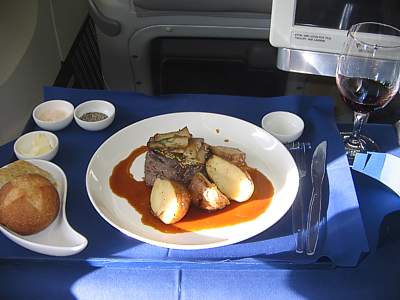 Western: Maincourse, Beef
Prime steak, well done, with potatoes and roasted asparagus in gravy.
A roll.
Yet more dead cow, but this is good. Really good. Tender, with flavour, and with the odd plastic knife you can almost, almost, cut it.
Admitedly the roll is cold and comes in a hospital sample tray but you can't have everything.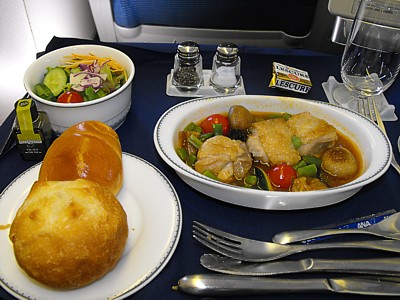 Western: Maincourse, chicken
Pan fried chicken with wine vinegar sauce.
Mixed vegetables, with beans, tomatoes, and a couple of shitache mushrooms. A roll.
Take the chicken option, and you end up with this mysterious bowl, washing over with something that looks like gravy, but isn't. Equally, you do wonder what happened to the chicken, as it's got so much skin, bone, and other stringy bits on, you have to hunt for the meat.
It comes in a hospital sample tray, again. Really, pretty poor of ANA to serve this in business.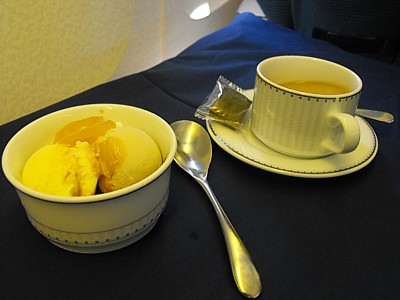 Western: desert
Petit chestnut and vanilla sundae.
Coffee.
Pretty much the sort of stuff you'd expect - ice cream with a bit of chestnut sauce dribbled over it.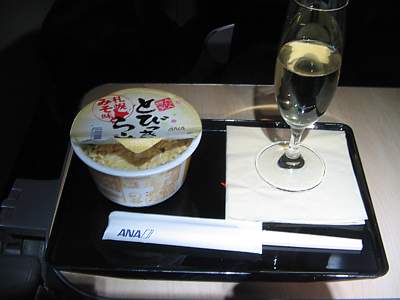 Japanese: Overnight snack
A pot noodle with shitache mushrooms.
Get hungry overnight in business? If you pop up to the inflight snackbar the delight of a pot noodle awaits.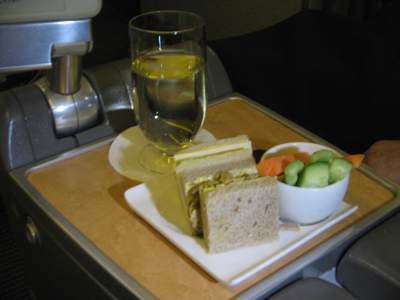 Western: Overnight snack
Beef sandwich, cheese sandwich, coleslaw sandwich.
Salad dippers, with carrot and cuecumber sticks and garlic dip.
Not bad at all, this is vastly better than Singapore's efforts at midflight snadwiches.
Nice drip, good flavour.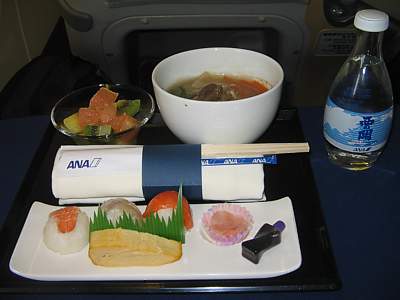 Japanese: Breakfast / dinner combo meal
Suchi plate with dead cod, trout, blowfish and shitache. A tube of fish oil. Sliced lettuce on dry bread.
A bowl of hot rammen fishhead soup. A plate of kiwi and grapefruit.
This is either fantastic, or the worse thing to ever be presented, depending on your athetic bent.
The problem is that on some flights ANA has no idea whether to serve dinner or breakfast, as it has no idea where your body clock is at. Accordingly, it tried to serve both. This is not a good idea.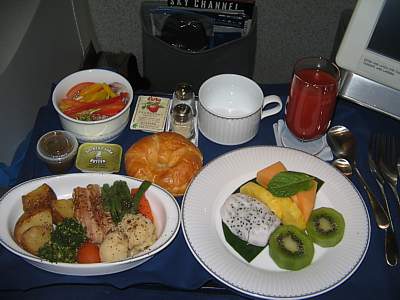 Western: Breakfast / dinner combo meal
Roast dinner with turkey steak, potatoes, brocolli, tomatos and gravy.
Fruit platter with Kiwi fruit, grapefruit and melons. Hot chilli bowl. Crossant, jam, cerial.
Wow, this is weird. A full dinner and breakfast served at the same time. The problem is that on some flights ANA has no idea whether to serve dinner or breakfast, because for some flights passengers are either starting or ending their day: so it serves up this lot.
Nice dinner: come to that, nice fruit platter... umm, together, it might be a good idea to ask customers what time their minds think it is.