All Nippon try hard to provide a joint Western and Japanese experience for passengers on their planes, but because most of the crew - and indeed most of the passengers - are from Japan, sometimes it can be hard to get a member of the crew who speaks English.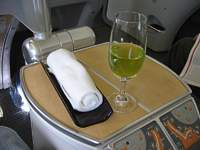 Business Class ANA hot towels

All long haul flights in all classes carry both types of meal, but if you are towards the back in economy, you may end up stuck with a meal choice that means you can end up sampling a different cultures food when you don't expect to. On a long flight from the UK via Japan, this can get a bit wearing.
In Economy it's pretty basic. Long-haul in the 777, service starts at the front, and halfway down the isle. However there is a separate service, which starts first, in the mini cabin (rows 27 to 31) on the 777-200, and in the Premium Economy cabin (rows 17 to 19) in the 777-300. There is a drink service, and then a cart with the meals. You will be left alone for most of the flight, until you wake up for the breakfast service (or the late afternoon snack on the Narita to LHR service).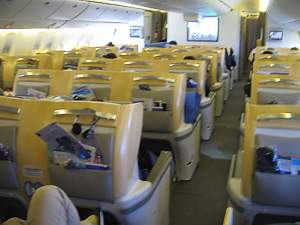 Business Class Cabin with the flat beds on the 777-300

In Business things are a lot better. Before takeoff longhaul you are given a menu and a drinks card. As soon as you are into the cruise, hot towels come around, along with a strange green drink. I have never worked out what this is.
Then there is the first drinks service, with canapés (not on shorter long haul flights, such as to Singapore) and breadsticks. You then have the main meal service, with another drinks run. Mid flight there is the chance of a pot-noodle snack. And then there is the end of flight meal, with service starting two hours before landing.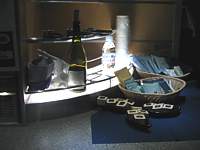 Inflight snack bar on Boeing 777-300s in business

In Business if you get peckish at any time you can visit the inflight snack bar, which is at row 15 on the 777-200, and behind row 20 in the 777-300. Here there are nuts, chocolates, sandwiches, and water. There is a bottle of red wine, but for white and Sparkling Wine you have to press the call button.
ANA All Nippon Airways Longhaul amenity kit
It can be a bit of a shock, but ANA has no amenity kits in either economy or business. Economy gets nothing, as you may now expect, but in business, you get a pair of slippers, that come round, and you expect a bit more - and no, that's it.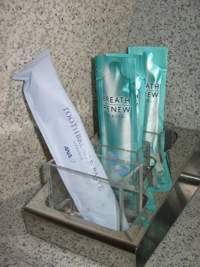 ANA toothbrush

The slippers are actually pretty good, in blue with a sealed ANA wrapper, however if you want so much as a toothbrush you have to go to the Business Class bathroom where there are very cheap ones, sealed in plastic. Here there is also moisturiser, and strange "Breath Renew" sticks, which are very much an acquired taste.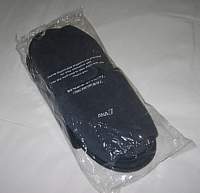 ANA Slippers in business

ANA All Nippon Luggage Allowance
ANA All Nippon has a pretty standard baggage allowance for each flight.
Cabin Bags: All passengers can take hand luggage of one bag weighing up to 10kg (22 lbs) into the cabin. They must be no larger than 55cmx40cmx23cm (22x16x9 inches). Rules on contents (such as liquids) apply.
Check in luggage: On all routes except to the United States economy class can check in one bag weighing 20kg (44lbs), business class can check in a total weight of 30kg, and First class can check in up to 40kg (88 lbs). Routes to or via the United States have economy with two bag allowed to 23kg each, business / First class with two bags (32kg max each bag).
As always, these rules can change. ANA's website has details of exactly what you can take onto a flight.