NEWS: You can currently earn a great mileage rate on cheap economy fares. This will end soon. ANA mileage club members in Europe, the Middle East and Africa currently benefit from a special 100% mileage accrual rate of Economy Class fares (Y2/B2 fares, booking class B) departing from the UK. However, this offer will end. Then a 70% mileage accrual rate will be applicable to these fares.

ANA's Frequent Flyer scheme is called the ANA mileage club, and is part of the
Star Alliance
.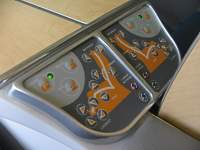 ANA 777 business class seat controls

ANA have a fairly standard mileage system for their Frequent Flier club. In the ANA mileage club you essentially earn 1 mile for each Platinum Point that you accrue (see below) and one mile for actual flight miles multiplied by your Elite Bonus level.
Joining is easy; it's possible to do it online.
ANA's policy is that miles expire within 3 years of posting to the account, with the only means of extending the expiration date being the booking of a ticket in that 3 year period for travel within the next year. Quite simply, if you earn points on ANA, keep them active by flying on an ANA flight once every three years.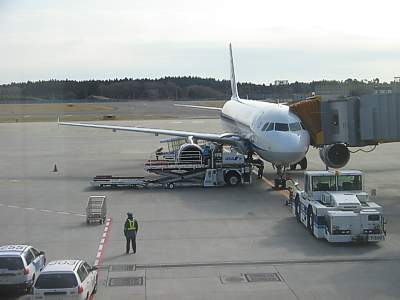 All Nippon Airways Airbus A320 on a domestic departure at Tokyo

Earning ANA Miles
On ANA flights, putting the miles on an ANA card, in
First Class
(F/A) you get 150% of the miles, in
Business Class
(C/Z/J/D) 125% and in
Economy Class
or Premium Economy Class (Normal Fare Y/E) 100%. Other Economy Class (ANA Value Fare / Eco-wari / PEX Fare or B/S/M/K/H/L/W/G) there is a 70% earning rate. Bargain basement T class fares earn 50%. You earn no miles with booking classes O/I/R/X/N, and these are to be avoided. It can sometimes cost only a few thousand yen to get out of these booking classes.
Note that if you are aiming to achieve status on ANA, ANA Premium Points have a fixed year - they run from January through December for every member, regardless of your spending habits. Other Star Alliance schemes, such as bmi, which do not have a fixed year, may be better for you if you have an intense period of flying with an aim of achieving status.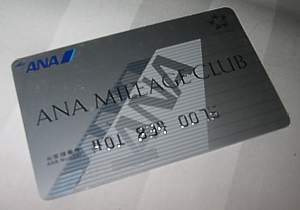 Mileage Club ANA Silver Card

ANA Silver (Base) level
This is the basic mileage earning level. You can earn miles, but that's about it. Counter-intuitavely, this card does not have any Star Alliance privaliges.
ANA Bronze level
Bronze is equivalent to Star Alliance
Silver
Level. It can be achieved at
30,000
Premium Points over the fixed one-year period.
You get to check in at the business class checkin desks and use lounges in when travelling on ANA domestic flights, at Haneda, Osaka (Itami) and Narita (Lounge for Domestic flights) Airports. "signet" at the Chitose, Sendai, Komatsu, Kansai, Hiroshima, Matsuyama, Fukuoka, Kagoshima and Okinawa Airports. Centrair Airline Lounge at Nagoya (Chubu) Airport.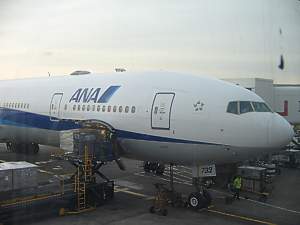 All Nippon Airways Boeing 777-300 at London Heathrow

ANA Platinum level
ANA Platinum is equivalent to Star Alliance
Gold
Level. It can be achieved at
50,000
paid Premium Points over the fixed one-year period, but in a highly unusual move you only get the benefit for one year from the following
April
.
You get to check in at the business class checkin desks, and you also get lounge access on all economy tickets, on all Star Alliance services, and can invite one guest. You get an extra luggage allowance on some Star Alliance operated flights.
ANA Diamond level
ANA Diamond has no equivalent in the Star Alliance, but it carries Platinum (Gold) benefits. It can be achieved at
100,000
paid Premium Points over the fixed one-year period.