Virgin America is a very new airline Ė but despite this it has a very complicated history and birth, as various pressure groups have tried to stop the airline from flying.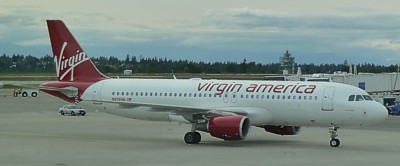 Seattle A Virgin America Airbus A320
Itís birth can be traced back to early 2004 when Virgin Group announced it would like to create a new US based airline to link up with Virgin Atlantic, giving it a network of domestic routes to feed itís trans-Atlantic and (later) trans-Pacific routes. At the time it has a working name of Virgin USA, and expected flights to begin by mid-2005. Soon the name changed to Virgin America, due to branding hassles.
San Francisco was chosen as a rather unlikely first hub: unlikely because there was only one flight a day to London feeding traffic from Virgin Atlantic, and also because the legacy operator United had a hold on traffic, with stiff completion from itís slightly more upmarket competitor Alaskan airways.
Investors however fought shy of having yet another new airline in the US market, and the launch was pushed steadily back. By late 2005 it filed a licence with the U.S. Department of Transportation, however opposition from Continental Airlines and the union the Air Line Pilots Association, who among many arguments suggested that it would be illegal and a dangerous precedent to have a US airline under UK control.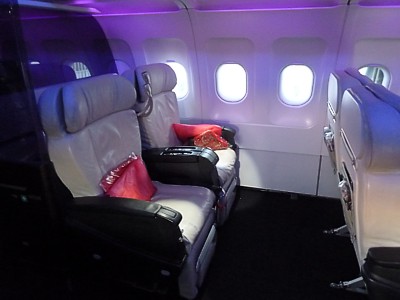 First Class Seats on Virgin America Airbus A320
All US airlines can only have a maximum of 25% foreign ownership in the US (bizarrely, security concerns are cited as one of the reasons), and this led to a change in the airlines structure, meaning that voting shares are held by a DOT-approved trust and only two Virgin Group directors are on the eight-person board. It finally got clearance after it was agreed that the Virgin Group CEO would stand down, and it made its inaugural New York and Los Angeles to San Francisco flights in August 2007.
Immediately after launch the airline ran an operating loss for three straight years, but despite this started many new routes and innovative in flight products. In 2009 it started offering Wi-Fi access via Gogo Inflight Internet on every flight.
The airline looked at international destinations, and by 2010 applied to fly to Canada. It started flying to Toronto from Los Angeles and San Francisco, however loads were very light, and the flights were axed after nine months, switching the aircraft to Dallas/Fort-Worth.
By the end of 2010, the long start up slog looked as if it was worth it, and the airline reported its first quarterly profit, of US$7 million.
In the spring of 2011 Virgin America moved terminals at its San Francisco hub to Terminal 2: oddly, this is a real pain for customers, as the Virgin Atlantic lounge is a very long walk (airside) from the new terminal.