Airline schedules change regularly
This information is intended as a guide, but for up to the minute timetables, please consult US Airways at www.usairways.com
NEWS: US Airways has axed the service between Philadelphia and London Gatwick, and closed the US Airways club at LGW, however the Charlotte flight remains to LGW.
US Airways operates 3,130 flights a day to 200 destinations in 30 countries from its hubs in Phoenix, Charlotte and Philadelphia.
US Airways' routes are concentrated along the East Coast of the United States, Southwestern United States and the Caribbean, with a number of routes serving Europe and primary destinations along the U.S. West Coast. The airline's western U.S. presence has increased following the merger with America West.


US Airways Route map to Europe
The new flagship route is between the US and the UK is between Philadelphia and London Heathrow Airport. There is just one a day, leaving LHR at 1204, getting to Philadelphia at 1530, and then returning overnight, leaving 2110, arriving at 0925. It uses the A330-200, with the better Cirrus seats in Business. There is also the older nonstop daily service between Charlotte and London Gatwick, leaving at 1030, and landing in the US at 1440. It is only an Airbus A330-300, with poor Envoy seats in Business.
There are also other flights to the UK. An A330 leaves Manchester for Philadelphia at 1055, arriving at 1350 daily, and returns at 2045, arriving neatly at 0845 in the morning. There is also an occasional seasonal flight to Glasgow.
Other mainline international routes from Philadelphia include Madrid at 1825 (A330-200), Brussels at 1815 (on a 767 – and not really recommended) and Dublin at 2100 (on a 757).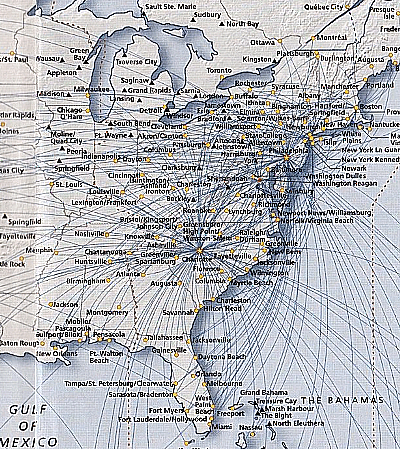 US Airways Route map from Charlotte
Zurich at 1810, Rome at 1820, Munich at 1840 (A330-200 and 300 models alternate on this route: check carefully or you could end up on a dodgy seat)and Frankfurt at 1625 using an A330-300 (plus a Lufthansa code share an hour later).
Amsterdam at 2050 on a 757, and Paris at 1820. There is also the really very long trek to Tel Aviv, leaving at 2115, and arriving at 1515, using an A330-200.
There are now very few international flights from Charlotte, although the London Gatwick flight remains, as does Frankfurt at 2010, arriving at 1050 using an A330-300, and Rome at 1810 on a 767. US Airways has also started year-round service between Charlotte and Rio de Janeiro, leaving at 2230, landing at 1115, on a 767 with very poor seats.
Phoenix doesn't really have any international stuff, except to Canada and Mexico, although there are some flights that technically go to Frankfurt, but in reality you have to stop in PHL or CLT and change planes.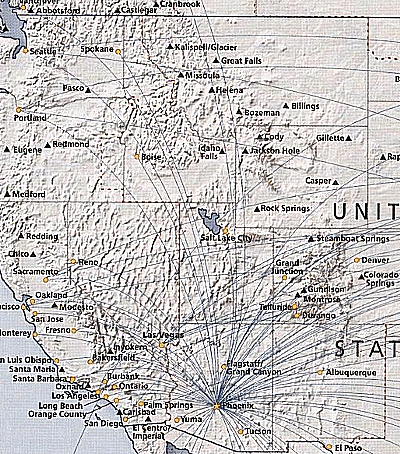 US Airways Route map from Phoenix
Domestically, there are some ultra-long routes. One of the longest is between Philadelphia and Anchorage in Alaska, although this is very seasonal. The record holder, is Philadelphia to San Francisco. At 4,058kms, and 6 hoursh 10 minutes long, it is the world's longest A321 flight.
Las Vegas and Pheonix are still the base for the older American West flights. Some of the flight from here go half way across the continent, with non-stops to places like Philadelphia, Washington, and Boston.