WARNING: This page has not been updated since 2008. Some of this information may be very out of date. It will be updated shortly.
South African Airways (often shortened to SAA, or 'South African' on their aircraft), is South Africa's largest domestic and international airline company. South African Airways is one of the few profitable African airlines. It is also known in Afrikaans as
Suid-Afrikaanse Lugdiens
(or, as sold by some Travel Agents, SAL), although this version of the name no longer appears on the aircraft's livery.
The airline delivers an above expectation service in all three cabins, although reviews and opinions are mixed about South African Airways. A full-service airline, the quality can bit a bit hit or miss: certainly in premium classes, the seats and the lounges are just a generation behind that of the latest airlines. The staff, both on the ground and in the air, really can be woeful on occasions. However the food and drink on board is pretty good. Often a flight can be a bit random: there is no way of knowing if you'll get a new plane with all the frills and good cabin crew, or an older version with dodgy seats and entertainment.
The Frequent Flyer scheme is good, and availability at short notice to European destinations is pretty decent (although getting poorer of late). Some of the planes can be old and tired, but on the whole it's a pretty decent airline that'll get you to Africa and back reliably and with some style.
The airlines main international hubs are at Cape Town, Durban and Johannesburg. It has a flagship route to the UK, which it flies three times a day.


South African The long thin A340-600 at Cape Town

South African Airways Classes, Seats and Fleet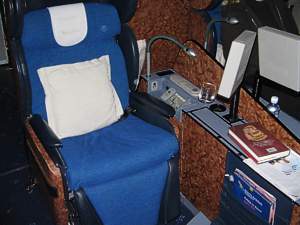 First Class South African 747 seat

In
First
there is a totally flat-bed seat with a pitch of 83", and 29" wide. They are actually called suites, with in-seat power supply for laptops and an electrically controlled ottoman. There is a private television with large, 8.6" screens, and AV on demand. The armrests lower to make the bed wider and allow more shoulder room. There are buttons to put it into the 4 common positions. The Table is very large - and very heavy. You have to lift the catch to release it.
In Business there is a lie-flat bed seat, with a pitch of 78", and 20" wide. In bed mode it comes in at 6ft 6 inches long. There is the same 8.6" screen as in economy, and AV on demand.
Economy seats are a standard 31" - although on the upper deck of the 747 there are premium economy seats, with a generous 35" pitch. Preference for these seats is given to Voyager card members, and Star Alliance Gold members. There is a seatback TV, with a 6.8" screen, and featuring SAA's AV on demand system, called P@ssport. Even in economy, you'll still get a blanket and pillow.
South African Airways Boeing 747-400
South African Airways has 8 Boeing 747-400, which are used for the ultra long haul routes to London and Washington. Despite this - it also has 3 different seating plans.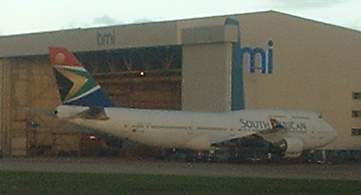 Heathrow South African 747

The main layout (flown by the planes named Durban, Bloemfontein, Kempton Park & Vulindlela) has 11 in First, 35 in Business, AVOD and flatbeds up the front. Other variants have 10 in First.
The First Class section is right in the nose - with an excellent view forward through the front seats. There are just three rows of suites, with row 1 the most favoured, just having seats in 1A,D and K. Row 2 and 3 have a kind of double suite in D and G. Seat 1D is missing in two aircraft, and instead there is a kind of vast open space in the nose. Exactly why there is a missing seat in unclear.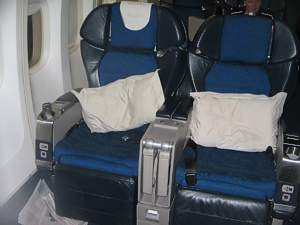 Business Class South African 747 seat

Business Class seats in are a 2+3+2 layout. There are two rows at 15 and 16 (and 17 in one aircraft) - although these are sandwiched between the loos and the galleys. There are three more rows at 27, 28, and 29 (or four rows up to row 30 in two aircraft, that are missing seat 1D). It is this row that is the most quiet, and is strongly recommended. On the Boeing there are old style seats. Controls are under a flap in the armrest with the table. The other armrest has the telephone under it - and the channel controls visible.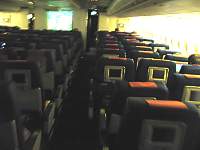 Economy South African 747 - the back of the bus

Economy is just that - in 3+4+3. The exit row at row 45 is very popular, as is the bulkhead behind the galley at row 62. Pitch is a standard 31", which is larger than on many airlines, however it can still feel very crampt due to the long overnight flights. Upstairs in the bubble behind the cockpit are some economy seats too - which are lovely and quiet, with a lot of extra room beside the window seats. These are premium economy seats, with a generous 35" pitch, but you'll find it hard to get one at checkin, as they are normally given to premium Voyager card members. They are in two banks or 5 rows of 3+3. Row 84 here is particularly favoured, with lots of extra legroom.
South African Airways Airbus A340
There are 6 Airbus A340-200, 6 Airbus A340-300, and 9 Airbus A340-600. None of these planes have a First Class. As such, they are rarely used to Heathrow, however occasionally they can be and First passengers are bumped back to Business Class.


South African a A340-600 at Cape Town

Business Class is of course up the front - where it should be. All of South African's A340s are two class planes, but the front cabin varies - rows 1 to 4 (or 1 to 6 on the 300s) are business class. Business class seats feature the new flatbed seat, featuring a 65" pitch. There aren't even adjustable headrests on these seats. It's OK, but it only reclines half way, making a decent night flight's sleep very difficult. All the seats are also in leather, making a night flight a sticky, squeaky affair. Seats are in a 2+2+2 format.
Economy is very much that - seats come in a 2+4+2 layout. It's got a 31" pitch, and not the slightest sign of any frills. There is no at seat power. Row 31 is an exit, as is row 12. At the front of the economy cabin a separate, much smaller cabin with 3 more rows (rows 9 to 11), before the curtain and business. Many seasoned travellers prefer this smaller cabin. There is marginally less engine noise, it is much more cosy and will have a lot less passenger traffic going through it, and a proportion more attention from the cabin crew. Row 9 in particular gets a lot more legroom, thanks to the divider with business.
South African Airways Airbus A319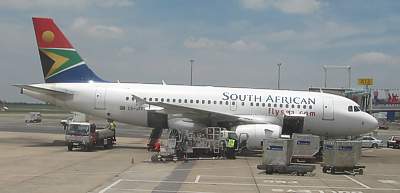 South African a squat A319 at Cape Town

South African has 11 Airbus A319-100, but plans to buy more.
The Business Class seat is identical to the economy seat, both in pitch and in width, however if you are in business, and sit on the left, the centre seat is blocked off and the seat arms moved across to give a larger seat - accordingly it is well worth asking to sit in A or C in business. Seat pitch is 32 inches. All models have large 14 inch fold down LCD TV screen under the overhead lockers for both classes.
The A319s have the variable business class seats extending back as far as row 20, although in normal configuration they are only used with the first 3 rows as business class. It has one overwing ejectable windows - sit here, in row 9, and you'll get 2 inches of extra legroom.
South African Airways Boeing 737-800
There are 21 Boeing 737-800, and these provide the mainstay of South African's mainline routes from Johannesburg to Cape Town and Durban. Lovely and clean, modern and quiet, they compliment the mainline routes well.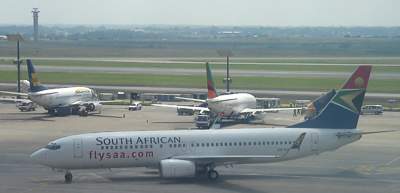 South African Bowing 737 at Johannesburg

There are real, large business class seats on these planes, but in a very odd layout. The business class section has two of the larger seats on the left, and three normal sized seats on the right as far as row 10. However there is the normal curtain that moves back and forward with demand. As such, some economy passengers may end up in the large seats.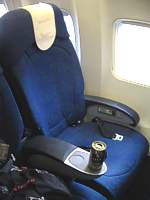 Business Class 737 seat

Woe betide you however of you are in economy and in row 11. This is where the full economy seats begin - and as such, 11C is a dreaded narrow seat with no table and lots of people bumping into you. Many regular travellers refuse to fly if allocated this seat.
South African Airways onboard inflight experience
Reviews and opinions are mixed about South African Airways. Your flight on SAA can either be great - or very poor indeed. This inconsistency isn't just restricted to South African - there are many other airlines which offer a rather random travel experience - but really comes to the fore if you travel in the premium classes on South African.
Firstly, as you check in, at remote outstations the staff will generally help you get a seat you want. At J'borg and Cape Town, if the staff don't like you, they will seat you in the worst possible seats, even if there are plenty of others free. Ignore this, and ask to change your seat in the lounge, where miraculously, you can change seats to much better ones. Indeed, SA allow all people booking tickets through them to also book seats in advance - accordingly if you wander up as a group without seat reservation your seats may be in very different places.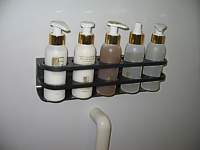 Business Class washing / moisteriser in the loos

South African operate the American system of upgrades. If you are at the top tier of it's Frequent Flier system, you can sometimes get upgraded if you try hard enough, so it's always worth while asking in the lounges.
On Domestic as you board you'll get a blast of loud, instrumental, lift music. It's annoying, and is left on at takeoff and into the cruise. Service in both classes starts at the front, and as such it's vital to sit as far forward as possible, because a choice of two hotmeals are offered both in economy & business. This makes little difference except at lunch (1200-1400) and dinner (1700-1900) times, when a much larger meal is offered. In Business you are sometimes offered a pre-flight drink (but sometimes not, it is very random). There is however always the offer of a newspaper - either the Star (from J'Bord) or the Cape Times (from Cape Town). In the air you may also be given hot towels. After a considerable delay there are 2 drinks trolleys (from the front and middle) followed by a tablecloth on your flip down tray, and the food comes in one trolley from the front. Not that the inconsistency even comes down to the food trays, which can differ, with different cakes & cheese types. It's all very random. Finally, when the trays are cleared there is a coffee & tea run with bottles of wine on the trolley. Sprits for have to be poured from the galley, but make your requests for alternatives made very clearly, because otherwise they are taken and then ignored. Overnight the cabin is kept infernally hot and uncomfortable.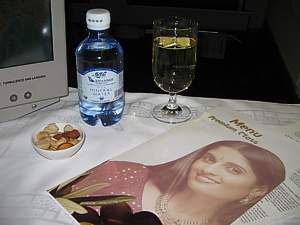 Business Class menu & post takeoff nuts

International has fewer inconsistencies, but the staff are no less unattentive, even right up the pointy end. In First you are shown to seat your from the door, and your coats are taken. You are then offered a drink of anything you'd like (spirits, champers, you name it) and then menus. There is a trolly at front of the first cabin with newspapers. Oddly, on takeoff there is is no attempt to clear the cabin of glasses, or even put the seats into the take off position, and as a result when the plane rotates, at the back of the cabin you get flying papers, glasses, plates, you name it coming towards you. Also they will give you pyjamas upon boarding, and most passengers change prior to take-off. The pyjamas have a comfy blue top with red piping and SAA emblazoned on the back. The pyjamas bottoms are black elasticated trackie-bottoms, and are very comfortable. In the cruise you get a hot towel, post takeoff cocktails & canapés. Dinner is a delight, with plenty of attention and you are addressed by name, although the crew make it clear they don't like you staying up late. The FA makes the bed for you straight after the coffee service, and they get quite a hurt look if you don't let them. They use a thick sheet as a bedspread with a comfy duvet on top. Two pillows of different sizes are provided. After turning-down the bed, they even fold the duvet slightly in one corner just like hotel housekeeping.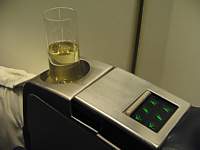 Preflight drinks in business class

In Business you are not shown to seat, or addressed by name. On board you get the same washbag as in First, and a trolley comes around with either the Star of the Cape Times newspaper, followed by a tray with either one glass of rather bad champers or water. After takeoff you get another drink with nuts. There are no alternatives offered or available. You get a different menu as in First, but with the same wine list inserted in the middle, but you are not allowed to order anything off the first section. Food is at least offered on separate plates, and the food trolleys have wine bottles on top, so you can get top ups, although the crew aren't very good at offering this.
In Economy it's pretty much as you'd expect. A bit of a scrum on boarding (rules on limits on hand luggage aren't enforced very much), no pre-flight drink, and you just get offered one glass of wine or beer with your tray of food.
South African Airways Inflight Entertainment - Airscape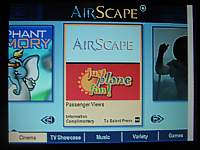 Airscape the welcome screen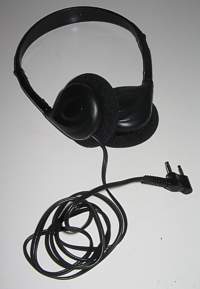 Headphones for longhaul

One good thing about SAA is that you are always guaranteed a seatback TV on a long-haul flight with South African Airways.
For Intercontinenal flights, South African has full AVOD (Audio Video on Demand) in all classes except on the A340-200. As such you should avoid this plane on long haul in economy. On the Boeing 747-400s the AVOD is quite old and slow, with an agonisingly bad interface. It will not be working on quite a regular basis for quite a few seats on the flight. It is much better on the Airbus.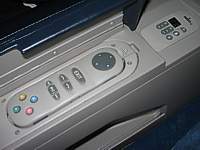 AVOD controller in 747 Business

When the AVOD system, called Airscape, (P@ssport is the mainscreen option) is first switched on, you have to press the Mode button until it shows Int on the handset (for Interactive) and it'll run through a demo. It it doesn't, you may have to ask the crew to reboot your seat, with is a more common experience than you may expect. The film selection screen is agonisingly slow, and with each keypress it scrolls over left and right, to the next film. It can take ten minutes to scroll through all the options, which include all the films, TV programmes, then CDs and finally the maps.
When the films are running, green is play (& pause), yellow is rewind, blue is fast forward, and red is stop.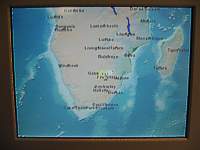 Airscape moving map

Headphone are poor in all classes. They are of the overhead band type, and are not noise cancelling.
Domestically there is entertainment, however it is really just endless short films and the "Just for Laughs"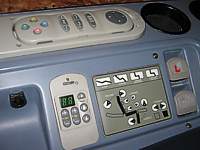 AVOD controller in 747 First

type of comedy which endlessly cycles on the overhead TVs. There is 5 minutes of SAA company news, and then a short SA themed quiz. At the end of the flight you are invited to vote for Skytrax.
South African Airways Inflight Magazine - Sawubona
South African have a very good magazine, called Sawubona.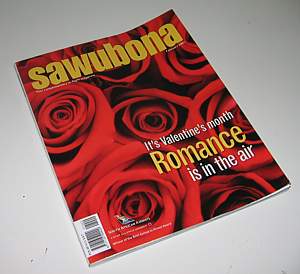 Sawubona inflight magazine

You can take it off the plane - or even buy it for R25. It's rammed with adverts, but inbetween there are lots of good travel articles, often to destinations that SAA doesn't serve.
At the back is information and terminal maps of not just South African airports, but also European and US destinations.
South African has a separate magazine for it's in flight entertainment. Called Airscape it lists all the films on AVOD, with long reviews of them. At the back are the listings of what films are available on the Mainscreen systems used on the A340-200 aircraft in economy.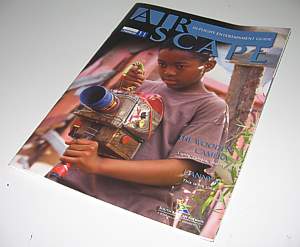 Airscape movie listing magazine

SouthAfrican Airways Longhaul amenity kit
In both Business and First Class, you get an amenity kit, which comes in a Delsey washbag. It contains your eyemask and socks. There is a packet of tissues (branded South African Airways), a toothbrush and a minute tube of Colgate, a small tub of lip balm, a smint, a very large bottle of mouthwash, a thin tube of refreshing facial mist, a tube of moisturiser, some rather horrible earplus, oddly, a hairbrush, and a strange device with a piece of red cloth, of which the use seems to illude everyone on the plane.

Amenity Kit for Business and First

South African Airways Routes
From London LHR, SAA has routes to Johannesburg at 1800 (arrives 0705) and 2105 (arrives 1010) and Cape Town at 2015 (arrivs 1020) all with a 747-400 (although occasionally an A340 is put on the Capetown Route, and anyone in First is downgraded to Business).
Paris CDG at 1925 (arrives JNB at 0750 in an A340), Frankfurt at 2045 (arrives 0830).
Airline schedules change regularly.
This information is intended as a guide, but for up to the minute timetables, please consult SouthAfrican.
The main hub is at Johannesburg from where SAA operates routes to São Paulo, New York JFK, Washington, Frankfurt, Paris, Zurich, Mumbai, Hong Kong and Perth. There is also a service to Atlanta which is a Delta codeshare, and a long one at that, coming in at 17 hours.
South African Airways frequent flyer scheme - Voyager

Voyager is South African Airways' frequent flier programme, and is part of the
Star Alliance
.
Joining is easy; it's possible to do it online.
Voyager operates a fairly normal miles and tier points system. Miles are the currency of the Voyager Programme and they can be earned whenever you fly with South African Airways or another airline in the Star Alliance. Tier Miles determine membership status each year and through them you can progress to Silver, Gold, Platinum and Lifetime Platinum Status.
Miles are valid for three years after the year in which they were earned - and unlike most programmes, there is a fixed expiry year: Miles will expire each year on 31 March. However, if by the end of the preceding calendar year, you had flown a minimum of 5,000 Tier Miles on South African Airways only, Miles due to expire in the current year will be carried over to the next year, and will remain valid for a further 12 months. This complicated system can mean you really don't have a clue when you are due to expire when.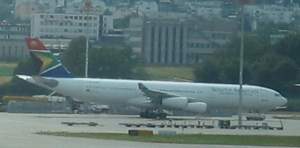 Zurich South African A340

Earning Miles
You earn one Voyager Miles (and one Tier Miles) per real mile flown.
Spending Miles
You can either spend miles on "Mileage Keeper" awards, for which availability is limited, but which are cheaper than "Any Day" awards, for which there is availability on most days.
From Africa to Europe, a return Mileage Keeper award is 55,000 in economy, 85,000 in business, and 140,000 in first. Any Day awards are 140,000 in economy, 220,000 in business, and 300,000 in first. Therefore if you can find availability, business class Mileage Keep awards are a bit of a bargain. Otherwise if you can't, you might was well spend the extra for first.
You can spend your miles on all Star Alliance partners, Virgin Atlantic, and Air Tanzania.
South African Upgrades
To upgrade from Economy to Business class one way to Europe costs 20,000 miles (but only if you buy a more expensive Y,B,M or K ticket) while Business to First class is 25,000 miles.
Platinum members can use their miles to upgrade at the airport, but only at Johannesburg International Airport. Seats are of course based on space availability on the same day of departure.
Voyager Silver
Silver is equivalent to Star Alliance
Silver
Level. It can be achieved at
25,000
paid miles, or 3 sectors above 4,000 miles.
You get to check in at the business class checkin desks (at Johannesburg, Cape Town, Durban, Frankfurt, Zurich and LHR), and you also get lounge access on an economy ticket, but only on SAA operated services, and to SAA lounges. You cannot invite a guest. You get another 10kg of luggage on SAA operated flights.
Voyager Gold
Gold is equivalent to Star Alliance
Gold
Level. It can be achieved at
50,000
paid miles, or 6 sectors above 4,000 miles.
You get to check in at the business class checkin desks, and you also get lounge access on an economy ticket, on all Star Alliance services, and can invite one guest. You get another 20kg of luggage on SAA operated flights.
Voyager Platinum
Platinum can be achieved at
100,000
paid miles. It has no equivalence in the Star Alliance, or 12 sectors above 4,000 miles.
You get to check in at the business class checkin desks, and you also get lounge access on an economy ticket, on all Star Alliance services. On SAA services, you can access the platinum lounges, and also get access to Airport Upgrades. You get another 30kg of luggage on SAA operated flights.
You get lifetime Platinum Status if you fly 100,000 SAA miles a year for six consecutive years (and only SAA miles - Star Alliance miles don't count).
South African Airways Business Class Lounges - Baobab & Cyclad
South African Airways has lounges at its main bases of Johannesburg, Cape Town, and Durban. There is an outstation lounge at London Heathrow for the three flights a day to Africa. In Frankfurt SAA use the Lufthansa Business Class Lounge at gate B44 (or Senator Lounge for Star Gold).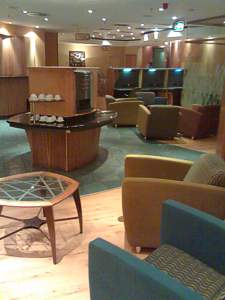 Johannesburg business lounge

South African Johannesburg Lounges
International Terminal, Balcony & Basement
Open 0600-2230
The First and the Business Class lounges are totally separate at Johannesburg, and are very different. The First Class lounge is a delight, hidden away from the madness of firearms checkin and taxi touts. In the business lounge you can end up sitting on the floor, tucking into what seems like a British Rail sandwich with a can of beer. Luxury, it ain't.
Johannesburg Baobab Business Lounge
The Baobab lounge is situated on the lower-mezzanine level (airside) of the International Departures Terminal. You walk past the delights of the BA and KLM lounge which have such perks as windows, and enter the dungeon that is the Business lounge, where, past the main desk, you can enter mayhem in the early evening when many flights are scheduled to leave within a very short space of time of one another.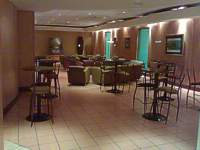 Johannesburg business lounge

The truly unfortunate thing about SAA's JNB international business class lounge is its lack of windows. Many people complain that the lounge is a crampt zoo - and that it certainly is unless you bother to explore it. The big secret is that although there is one big room when you walk in, if curve round to the left of the bar, you enter a much quieter lounge. From here curve left again by the sign that says Sports Bar, and there are loads of seats, and a huge telly. Back from the main room at the far end on the left is a smoking room, and on the right a children's room.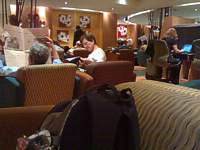 Johannesburg business lounge

As you enter the initial small room on the right is a served bar. The wine selection is actually pretty good, with lots of bottles in a bucket, and reds on the shelf behind it. There are also small mini bottles of sparkling red. If you get fed up with asking for beer, there is a fridge at the other end of the room, with cans of Castle lager so you can help yourself.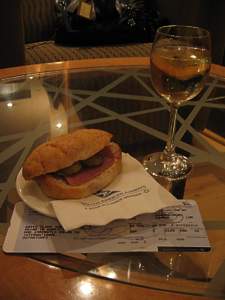 Johannesburg business lounge food

Food is woeful - and particularly considering the lateness of some of the flights, and how much later you will have to wait if you want to dine on board. There are ham rolls in the fridge by the bar, and that's it. Even the salad plates in the fridge are, alas, just for decoration.
The airline describes the lounge as having a "streamlined efficiency", which boasts, so it says, 33 workstations offering ergonomic business modules, computers, printers and faxes. What it doesn't tell you is that there are only six computers, and fighting for one is a struggle.
Johannesburg First Class Lounge
The first class lounge at Johannesburg is on the upper balcony next to the Virgin lounge, and as such has a great view, as well as being a much better place to spend time than the Business lounge.
It has a much more extensive pre-flight dining menu, which includes choices of hot and cold sandwiches, as well as mains like ostrich fillet, and steak diane, plus a plate with 2 hot and 2 cold appetisers.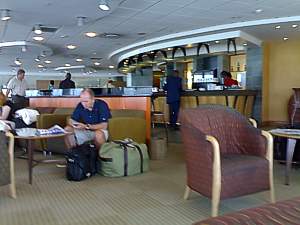 Johannesburg domestic lounge

The showers at in this lounge are also superb, with nice 5-head stone and marble arrangements.
Johannesburg South African Domestic lounge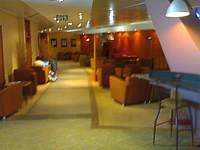 Johannesburg domestic lounge

In some subtle joke, the business class checkin is at one end of the vast hall of the domestic terminal -- and the lounge is right at the other. After security and firearms checkin, once you are over the big glass wall of airside, turn right and take the lift or stairs to the top floor. Opposite the BA Terraces are both the South African Domestic lounges.
At the desk, platinums go right (and have a small cubby hole with a butler), while everyone else, including star golds, go left.
The main lounge very big. Walk all the way through and at the main area at far end there is a bar, plus lots of big windows overlooking the main runway. Further round in the circle are four shower suites, a childrens TV room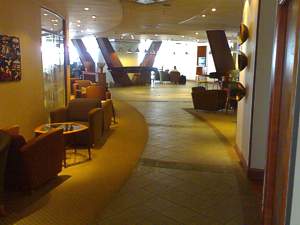 Johannesburg domestic lounge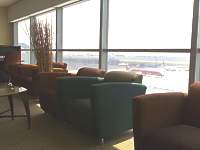 Johannesburg domestic lounge

overlooking the gates at one end, on the left side, and a smoking room in the middle of the circle. Several computer workstations are doted around the lounge, although there is no dedicated business centre.
The bar has plenty of staff behind it, who often don't seem very busy. There are the usual beers in the fridge (including Castle) plus two white and two red wines. Opposite the bar is a huge telly - right by the windows where you can't see it properly. It's normally on the SABC.
Food is very limited, with just some sandwiches in a fridge to the left of the bar.
Johannesburg Arrivals lounge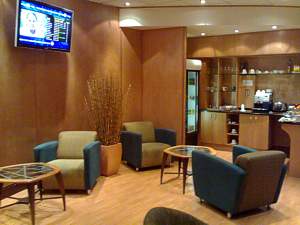 Johannesburg South African Arrival lounge

It is very hard to find the arrivals lounge. You are uppose to get a map as you leave the plane - but only if you request it. After customs ignore the signs saying for the arrivals lounge go outside. Instead go to the far end of the hall, up the escalator to the Mezzanine level, (you can take a trolley on the escalators) bear right, and around the balcony.
It is small - smaller even than London. There are just 6 seats, and small smoking room (with a TV). There is one computer, and one business centre desk.
Breakfast is just basic cerials, served until 11am. There is a well stocked fridge however, which has beer & champaigne.
A big flat TV has a split screen showing both the arrivals, and SABC. There are a lot of local newspapers & lots of magazines. The staff in this lounge are particularly chatty.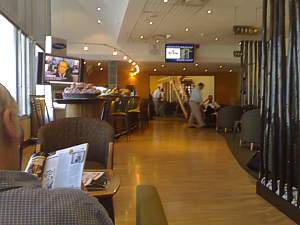 Cape Town South African Domestic lounge

Cape Town South African Domestic Lounge
After security, bear left, up stairs
Open 0600-2200
There are two sides to the lounge, with a Platinum section on left, with a very small room (and a butler food & drink service), while Gold and business class passengers go into the right side, which is long and thin. From both sides there is a great view on runway, the gates, and table mountain.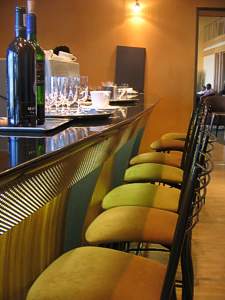 Cape Town South African Domestic bar

Around the front door it can get very busy. Here there are big comfy armchairs. Further on there is a bar on the left, then at the far end a larger room, and at the far end a balcony, which is very quiet, as noone sits there.
Loos are on the right, and there is also a full shower suite - unusual, for a domestic lounge. Alas, the showers are pretty useless. There are several big TVs, normally on CNN. One hangs above the bar, showing departures.
There is a full bar, with two bottles of red on the worktop, but othersise you have to ask the staff for everything, and that means looking over the counter. It's not a pretty sight - there is always a lot of rubbish behind the bar, with old boxes, crisp packets, and the like cluttering up the floor. There are some spirits, plus Castle and Heiniken lager.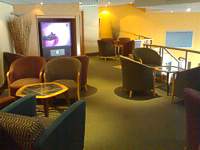 Cape Town Domestic lounge - the balcony

Food is in the fridge next to the bar, but is just sandwiches on plates covered with cling film. If you tire of these, there are muffins are in bowls on the worktops.
There are 2 computers at the far end, but it is very hard to get hold of one. Newspapers are by the door.
London LHR Business Class lounge
Terminal 1, after security
Open 0500-2200
Access to Business class SAA passengers, and Star Alliance Gold card holders.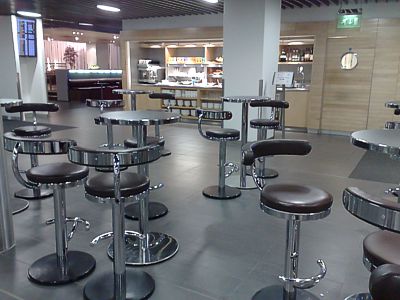 London LHR Star Alliance lounge used by SAA

At London Heathrow, SAA make use of the brand new Joint Star Alliance lounge in Terminal 1, to where Asiana has just moved its 4 weekly flights. It is after security, and then you walk right through the shops, and right again into the main square: the lounge is hidden in the corner, to the right of WHSmiths.
The lounge is very large, but rather dull. As the SAA flight is the last flight of the day using this lounge, you can feel rather lonely sitting there as the cleaners hussle you out in time for the 9pm flight. Food is pretty good, with a hot option available for the SAA flight so you can eat in the lounge before getting on board. Food is often curry, with salads and sandwiches also available.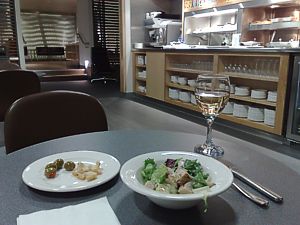 London LHR Star Alliance lounge used by Asiana

The bar is rather poor, with bottles of Gin, Vodka, VSOP, Bacardi Rum, and Whisky with Jack Daniels, Famous Grouse, and Jamesons. There is just one type of white, two types of red, and a rose wine. Most of these are pretty cheap and nasty versions. There is a beer pump for Grolsh, and - rare for a lounge - Magners cider in bottles in the fridge, along with bottles of Becks and cans of Guinness.
There are showers in the lounge, and free Wifi, but no computers.
Full details of this lounge are contained in the bmi pages, under the Joint Star Alliance LHR Lounge section.
Closed and abandoned South African Lounges
South African London Heathrow Lounges
Terminal 1, Concourse C, near Gate C16
Open 1500-2035 (or last flight)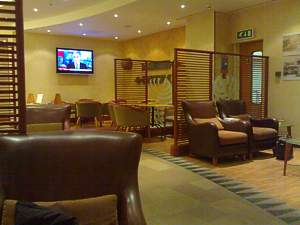 London South African First lounge

This lounge is now closed, and this information is retained just for historical interest
The South African lounge complex is really pretty much ideal for what a three class small longhaul needs, with an intermate first class area - with lots of perks - plus a larger comfortable business class side. A major pain is that the lounge is a bit of a trek to get to from the main Termial 1 shopping area, with a long walk down the departure pier. To get back to the shopping area you have to go via a special security gate set up for this, next to the bmi lounge.
Both sides are in yellow sandtone style, with stone flagstone walkstone walkways separating wood floors. You enter to be greeted by two lounge draggons - one for business, one for first. Both sides have windows ovelooking some of the gates.
There is a point just before the first JNB flight is about to leave when the lounge gets insanely busy - with passengers for CPT and the second JNB flight also cloging up the place. Just wait a few minutes, and the place empties again.
Heathrow First lounge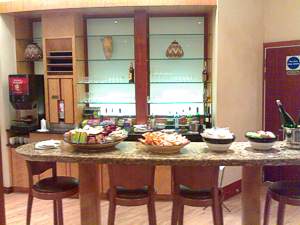 London South African First lounge bar

This lounge is now closed, and this information is retained just for historical interest
The first lounge is vastly better than the business section. In a big curve, the main lounge area has lots of seats (but then at peak times it needs them) with big squashy leather armchairs in five groups. There is a truly enormous flat screen TV on the wall, normally on BBC News 24. It also gets Sky News and The usual telestrial channels 1 to 5.
First off around the circle on the left is a Business Centre with 2 internet computers, and two desks with LAN connectors. There is also T-Mobile wifi thoughout the lounge. There is a small reading room - with 6 armchairs. At the far end of the lounge is a smoking room (with another TV). On the right is a corridor leading to the opulent bathrooms, two shower suites, and at the far end a "Snooze" room, with two couches that also have a small hifi and bottles of water.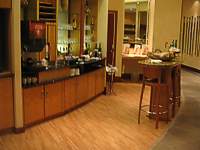 London South African First lounge bar

The bar is pretty good - normally there is a server that stands next to it, serving you and taking orders. There is Piper Heidseck in a bucket, and a counter with 2 bottles of white. There are also two red wines. In the fridge are 4 types of beer including bottles of the very good the SAB Castle (5%), Miller, Cheque Pils, Ialian Peroni. There are free pour bottles of 8 spirits including Gordon's & Bombay Saphire gin, JB, Glenfiditch, Red & Black Label Whisky.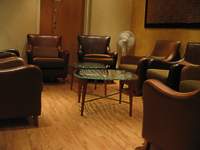 London First reading room

On the counter top are some nibbles and olives, but the F lounge at LHR also does offer a food menu which includes hot sandwiches and some hot and cold appetisers. Menus are racked up to the right of the bar. The salads are really very good, as is the steak and onion tramezzini, and come with 2 bottles of dressing on a silver tray. Alas with plastic knives and forks. And remember if you're on the 2130 departure, you wouldn't get your main course before 2230 at the earliest onboard, so have something light in the lounge, if you want to maximise your onboard eating experience.
Heathrow Business Baobab lounge
This lounge is now closed, and this information is retained just for historical interest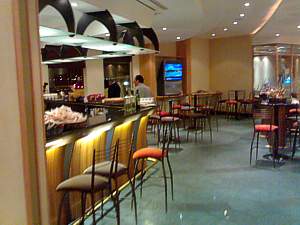 London South African Business lounge

The business side is larger, with a walk up bar, and barmaid. There is plenty of beer, with SAB Castle, Miller, Pils, and Ialian Peroni. Wine is pretty bad, with just one bottle of white or red. Sparkling wine is also rather poor.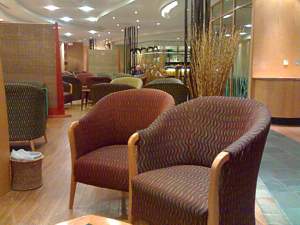 London South African Business lounge

There is little food, although if you ask for it you can get cheese or ham rolls. There is TV on an old style big screen, which is normally set to CNN.
There are 2 computers in the main room. Loos at the end of the room, and 4 showers around the corner corridor at the far end. There is a big smoking room taking up all of one side, plus a kids room with toybox and a telly.
Newspapers are on a rack by the door, with all the main UK papers, plus the Standard and a few magazines. Better magazines are in the reading room in the First Class side.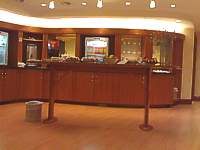 London Arrival lounge breakfast

London Heathrow South African Arrivals lounge
This lounge is now closed, and this information is retained just for historical interest
Terminal 1, landside deparure hall, near domestic gates
Open 0600-1030
If you've arrived in London in First or Business Class, or you are a Platinum Cardholder (not Star Alliance Gold) you can use the arrival lounge.
This facility really operates to offers a good shower, breakfast, and somewhere to sit until you can check into your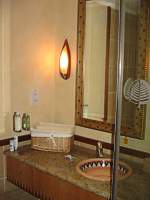 London Arrival lounge showers

hotel. As such, it's pretty small, without windows, but a world away from the madness that is Terminal 1 checkin outside.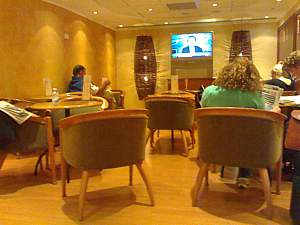 London South African Arrival lounge

The showers are the mainstay here - get a key for one of the six at reception. They are very good and clean, with lots of free towels, but beware the floor is ery slippery. You can also have your clothes steamed while you shower.
Breakfast is good, with hot options. There is also a business centre, with a couple of computers, and a large TV, which is normally on Sky.
South African Airways History
In 1934, an airline named Union Airways was bought by South Africa's government, and renamed South African Airways. The first cities served were Cape Town, Durban and Johannesburg, and later a weekly air-mail service between Windhoek and Kimberley. It was 1945 before SAA achieved its goals by operating a route to Europe when an Avro York landed in the UK at Bournemouth, after the long flight from Johannesburg.


Heathrow South African

In 1953 SAA made aviation history when it became the first airline outside UK to operate world's first pure jetliner, the Comet. In 1957 the "Wallaby" service to Perth, Australia was added. In 1960 SAA's first Boeing 707 landed in Athens. Two years later, SAA flew nonstop from South Africa into the UK. Johannesburg-New York route, via Rio de Janeiro, opened in 1969. By 1971 the airline replaced the 707s with Boeing 747-200s, and later Boeing 747 SPs, which meant in the apartheid era, it could fly around the horn of Africa, and not overfly banned countries.
In the 1970 it opened a route to Hong Kong being launched. In 1980, SAA began flights to Taipei, with South Africa being one of the few countries in the world to recognise it's government. In 1987, South African Flight 295, crashed over the Indian Ocean, en-route from Taipei. This followed after a fire in the main cargo hold of the 747; all 159 people on board were killed. There has been considerable speculation as to the cause, and what cargo was carried on the plane.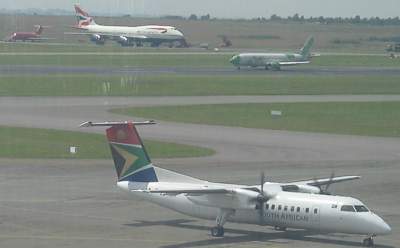 Johannesburg inbound domestic flight

With the demise of apartheid in 1990, SAA shook off its pariah image, restoring services to old destinations, introducing services to new ones and expanding into the rest of Africa, and by 1991 it bought its first Boeing 747-400 jet, resuming flights to JFK, Miami, and Bangkok.
In 1997, SAA introduced its new livery, dropping the springbok emblem, and the Afrikaans name Suid-Afrikaanse Lugdiens. By 2002 SAA has ordered fifteen A340 widebody planes, and then in 2006 South African Airways joined the Star Alliance.
South African Airways Hints & Tips
Operational Upgrades
One of the common questions is "How do I get an upgrade on South African Airways to Business or Club class?". Alas, getting upgraded to business class on SouthAfrican really isn't that easy. The airline has the Western, rather than American, model for upgrades longhaul. Which is to say you'll only get an upgrade if your paid for class is full, and then upgrades are processed accordingly to a pecking order of elite frequent flyer status. You are very unlikely to ever get an upgrade unless you are at least a Gold Star Alliance member.
To start with, make sure you are a frequent flyer, and you do fly frequently: after all, if South African Airways are going to upgrade anyone, they will upgrade those passengers who fly with them pretty regularly, and hence will enjoy the upgrade enough to put more business SAA's way. Then if the flight is full in economy, and someone needs to be moved up, the check in staff will first look at Gold members, and then Silver level, and then at other Star Alliance members at the equivalent levels (Gold and then Silver). Another thing that South African Airlines look at is how much you paid for your ticket: it's much more likely to happen with a full fare ticket (although occasionally you can get lucky with a discounted economy ticket). On South African the airline has heard - probably hundreds of times a day - requests for an upgrade: the general consensus seems to be that if you ask for an upgrade, you're less likely to get it, although opinions differ on an upgrade strategy for SouthAfrican.
As always, my advice on dressing properly in the pages on how to get an upgrade applies.
SouthAfrican website
Special Fares
South African Airways website
The website isn't great - but there are many worse in the aviation world.
Main website: www.saa.com

A340-600 at Johannesburg

Note that all reviews and opinions on SouthAfrican (SA) food, service, seats, planes, upgrades, lounges, and the Voyager Frequent Flyer scheme is soley at my judgement. No legal liability is accepted if you take my advice.