Emirates A380 seating plan | EK A380 seat map

This Emirates A380 seating plan is for the Airbus A380-800, and shows the best and worst seats. Called the Superjumbo, it is the largest airliner in the world. Emirates fly three versions of this aircraft: this is the ultra high density version, however it has the most up to date in-flight entertainment and a revamped bar in Business Class.
Emirates A380 v2-high density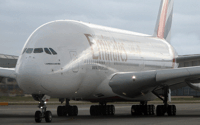 First Class: 14 seats rated 9 / 10


Long 79" width 20" flatbed suite

IFE

23" TV Power

Business Class: 76 seats rated 5 / 10


Pitch 48" width 18.5"

IFE

15" TV AC/USB Power

Economy Class: 399 seats rated 7 / 10


Pitch 32" width 18.1"

Recline 35° IFE

10" TV USB Power
Emirates
Airbus A380-800
The Emirates A380 seating plan has a cabin layout with economy class throughout the lower deck, in four cabins. Economy seat pitch is 32" in a 3-4-3 layout. Due to hull curve, window seats have restricted legroom.
►Hover mouse pointer over a seat for Emirates Airlines A380 seat pictures, and a description of that seat.

Meals
Emirates Airlines have a great reputation for inflight food, and serve complementary drinks (Free beer, wine and spirits)
Read More
&
Bar details
Entertainment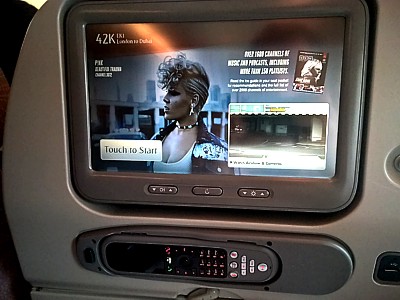 Seatback TVs in all classes on Emirates A380, with AVOD (on demand) showing 100 films, and 500 TV programmes.
Read More
Reserve seats
Emirates A380 Seat booking before the flight: A fee of $35USD is charged unless you have a Flex ticket. Preferred seats are $80USD, Exit Row $135USD.
Emirates Airlines have Online Checkin from 24 hours before the flight at Emirates.com.
Service
In economy for flights under 8 hours (Dubai to London, Manchester, Europe) Emirates have removed the second meal service. Only one meal is served, half way through the flight.
Lounges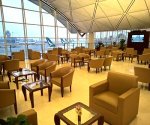 Lounges access for First & Business Class, or economy for $100USD fee.
Lounges have a complimentary bar and dining.
Dubai
London LHR
Singapore
Sydney
Hong Kong
Best economy seats on Emirates Airbus A380-800:
In economy the Emirates A380 has good seats at 52A & K, and 41A & K, however these Emirates A380 best seats are normally reserved for Emirates' most frequent flyers.
Emirates A380 Routes:
Dubai to London, Manchester, Paris, New York, Sydney, Auckland, Bangkok, Hong Kong, Toronto, Tokyo, Jeddah, Beijing.
A380 No Longer serving Melbourne, Brisbane
.
Other Emirates A380 seat layouts:
Total in fleet: 101.
This seatmap is for the ultra high density version with 429 economy seats in a F14/C76/Y429 config.
●
A380 v1 - Medium Density Ultra Long Haul
●
A380 v2 - High Density Long Haul
First Class
Emirates Airines A380 First Class is in the nose with individual cabins. These have all the bling of Dubai, and the substance is just as lacking - they are curiously narrow. Other airlines A380 cabins tend to have 3 or 4 seats across on the wide lower deck. Emirates have 4 on the more cramp A380 top deck. However you get plenty of toys: the cabin has doors, there is a (non-alcoholic) mini-bar, a small walk-up bar, and two vast lavatories with inflight showers.
Business Class
Emirates A380 Business Class is in a wacky staggered design. Each seat faces to the front, however when sliding into a flat bed, it slips into the minibar pod in front: consequently the aisle seats (B, D, G, J) have a shorter 70" (5'10") bed, while window and middle seats (A, E, F, K) are longer with a 79" bed. If you sit in the isle, you may regret it. You can save seat and in-flight entertainment settings to a USB Stick. There is an mini-wardrobe, in-seat mini-bar and a larger walk up bar with sofas at the rear of the cabin.
Economy Class
If you look at the Emirates A380 seating plan you'll see why many passengers much prefer the front cabin economy seats. With most airlines this cabin is reserved for first class, because it is far away from engine noise and is very quiet, however Emirates has put economy in this cabin. However, all of the seats in this cabin are 'Preferred Seats' with a $80USD booking fee, unless you are Gold Frequent Flyer or above.
Emirates Airlines reviews