Cathay Pacific A340 seating plan - A340 Long Haul cabin layout - pictures of every seat & colour interactive Cathay Pacific Airbus A340-300 seating plan, review of best seats in economy and business class.

Seat map: Cathay Pacific A340 Seating plan
This seat map is for the Airbus A340-300 as flown by Cathay Pacific. A twin englined twin aisle airliner, it is quiet, comfortable, and modern. This verison has the older newstyle Olympus business class seat, the new shell backed economy seat, and up to date in-flight entertainment.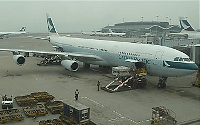 Cathay Pacific A340 Business Class: 26 seats
&nbsp&nbsp rated 6/10

&nbsp&nbsp&nbsp Pitch 78" width 20" slide down bed IFE 15" TV AVOD AC/USB Power

Cathay Pacific A340
Economy Class : 223 seats
rated 8/10

&nbsp&nbsp&nbsp Pitch 32" width 17.5" Recline 20° IFE 10" TV AVOD AC Power
Cathay Pacific A340 Routes: Hong Kong to London LHR, Auckland, Brisbane, Rome, Toronto, Moscow (occasionally San Francisco)
Cathay Pacific now only fly one type of A340, this two class version with the new Olympus Seat.
Cathay Pacific

Airbus A340 Cirrus

The Cathay Pacific A340 seating plan has two Business Class cabins at the front. Cathay Pacific A340 Business Class is the slightly older Olympus seat with high walls. Many passengers prefer the smaller rear cabin, but it is suffers from noise from economy. The left aisle has double the traffic, but is better for couples to talk over the aisle.

The Cathay Pacific A340 Economy class seating chart is divided into two cabins separated by a large toilet block. It is impossible to get from one aisle to another so there are longer queues & more traffic in the left aisle. A small IFE box under the window seat is very unobtrusive.
►Hover mousepointer over any seat for Cathay Pacific Airbus A340 seat pictures, and Cathay Pacific A340 seat review.

Food: Cathay Pacific have a great reputation for inflight food, and serve complementary drinks (Free beer, wine and spirits)...
Details: food wine & beer»
Entertainment:
Seatback TVs in all classes on Cathay Pacific A340, with AVOD (start & stop on demand) showing 100 TV programmes, 50 films, 170 CDs & 100 games.
Details: IFE, films»
Seat prebooking: You can book your seat on Cathay Pacific A340 before the flight.
Online Checkin: Cathay Pacific have full online check-in from 24 hours before the flight.
There are eleven A340-300 in Cathay Pacific fleet. This seatmap is for the only version now flying with registrations B-HXA, B-HXB, B-HXC, B-HXD, B-HXE, B-HXF, B-HXG, B-HXH, B-HXI, B-HXJ, B-HXK. B-HXG carries the oneworld special livery.
A Cathay Pacific A340 economy class review shows the best seats are normally regarded as 30A & 30K, however these aren't the prefered seats. If you pay extra for extra legroom seats you'll end in 54A or 554K, which are blighted by lightspill, even though these CX A340 best seats are normally reserved for Cathay Pacific's most frequent flyers. If you look at the Cathay Pacific A340 floor plan you'll see why many passengers much prefer the Cathay Pacific A340 front cabin economy seats. With three windows, no basinette, far away from engine noise and very quiet, seats 30A, 30C, 30H and 30K are by far the best seats on the A340.
Cathay Pacific fly the A340 on these routes from Hong Kong: Auckland CX107/108, Brisbane CX157/156, Rome (FCO) CX293/292, London (LHR) CX257/256, Toronto (YVR) CX838/839, Moscow (DME) CX207/206.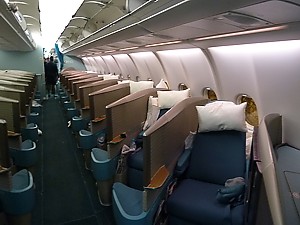 Cathay Pacific A340 Business Class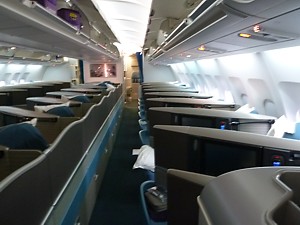 Cathay Pacific A340 Business Class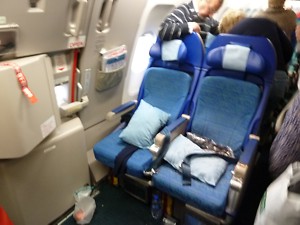 Cathay Pacific A340 Economy Class emergency exit seat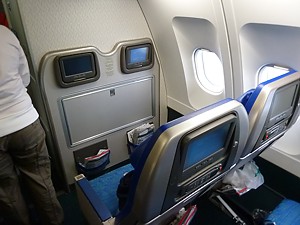 Cathay Pacific A340 Economy Class bulkhead seat