Contact
LowGraph
Home

KLM Royal Dutch Airlines review & opinions
KLM - facts at a glance
Frequent Flier FlyingBlue/Skyteam
Fleet: 112: 57 longhaul
Seat Pitch: Economy 31"/32" Business: 60"
Food Free in Economy/biz
Drink Full free bar
Website klm.com

Latest News from Air KLM
The uniquely Dutch airline KLM is now strange mix of longhaul with few frills, and yet moderately high fares. KLM is the oldest airline in the world still operating under its original name (Koninklijke Luchtvaart Maatschappij - or Royal Aviation Company - if you really need to know), but it now merged with the French flag carrier. While the merger of KLM Royal Dutch Airlines, for years the flagship carrier of the Netherlands, and the Gallic giant Air France is yet to bed down, it's clear that onboard there are some unwelcome changes for passengers. Even though the powers that be have insisted both carriers will operate as semi-independent entities, mergers of lounges, codesharing, and the Frequent Flyer scheme continues. The entity is known as Air France-KLM, but both Air France and KLM continue under their own distinct brand names.
KLM has been in a steady decline for the past five years, and ever since it's merger with AirFrance, there has been a steady slide from one of the World's premier airlines to nothing more than a low frills airline. KLM's management makes it clear it want to make adjustments to things like it's inflight catering and Frequent Flyer schemes to compete with these carriers, however it now in a position such that there is little to distinguish it with the likes of Iberia and AerLingus shorthall, and yet base fares around Europe are a good 25% higher than that of it's main rivals like Lufthansa and BA.
KLM's headquarters are in Amstelveen near its hub at Amsterdam Schiphol Airport .
KLM made an odd decision a few years ago to become a dry airline and scrap alcohol onboard around Europe. Faced with seeing passengers decamp to Lufthansa, KLM has now reintroduced free alcoholic drinks and food on its short-haul flights. For European flights over 170 minutes passengers can expect a more substantial snack. KLM will offer a cereal bar, fruit juice, warm croissant and jam to passengers on flights departing before 10am and after that passengers will receive a cold pasta salad with cheese and a warm slice of focaccia bread.
KLM's Flying Blue Frequent Flyer scheme is still a decent-ish programme, particularly when buying upgrades, but it is no longer the scheme it once was, particularly since silver Frequent Flyers are no longer allowed to visit the lounges.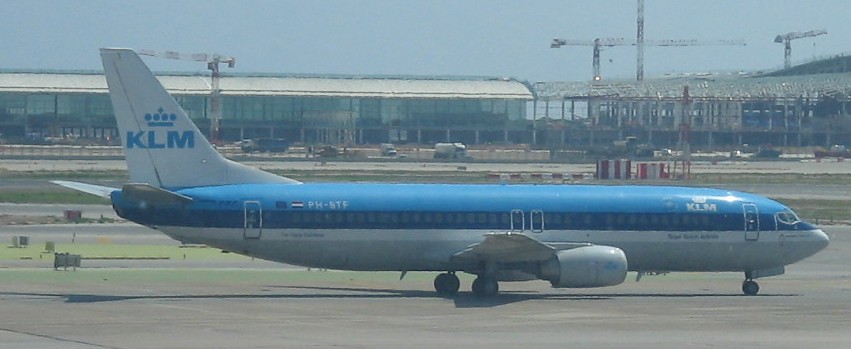 KLM Boeing 737 at Barcelona

KLM Classes, Seats and Fleet
KLM has a decidedly mixed fleet, however the airline is a firm Boeing customer. As much as airbus has tried to win trade, it is making little impact. Indeed, KLM recently ordered more 777s to replace the McDonnell Douglas MD11s.


KLM Boeing 747-400 at Amsterdam

In 1993 KLM abandoned First Class and it's tradition of three-class planes, and like most of the rest of the aviation world settled on two classes, with the premium class called World Business Class.
On KLM long-haul, World Business Class comes with a 60" pitch and a 170 degree angled lie-flat seat. It doesn't quite go completely level (to 180 degrees) but the 10 degrees missing isn're really noticable. If you are in Business Class, one treat you have to watch out for are the Delftware gifts, in the shape of old Dutch canal houses. These blue-and-white porcelain reproductions are filled with Bols jenever. A new house comes out each year (in October), with each new year set getting another number, with the age of the airline.
The Economy seat pitch is 31". In economy, take the 777 over the 747 flights at any cost: the 747s are getting pretty tired, and don't have seatback TVs, whereas the 777s have TVs and AVOD in all classes.
Premium Economy is now offered on some 777 flights, under the name Economy Comfort Class. There is a 35" seat pitch and 7" recline, which feels only a tiny bit better than regular economy. If you're paying for it, rather than trying to get

KLM Boeing 747-400
KLM has 22 747-400s in the fleet. Somewhat older (and noisier) are the 747-combis, which are being retired. All 747s have the remarkably shortsighted layout that is also only adopted by Thai - with a huge galley running up the right side of the aircraft, and giving a short, narrow, economy cabin to the left side forward of the stairs. All of the 747 fleet has been adapted to include the new Premium Economy seats, giving 42 in Business Class, 38 in Economy Comfort and 335 right down the back in economy, giving a total of 415 on each plane, except for the 16 planes in 747-400M format, which only seat 195 in economy.

Business class has 4 rows of business class seats, in a 2-2 format, with 2 extra seats in the middle of the cabin facing the food pod. On the upper deck there are 2-2 rows of business class seats. Row 77 is an exit row, with lots of space, and is the most favoured seat. Row 72 is a bulkhead, while Row 80 is right by the stairs and galley - and you'll get no sleep. Come to that, downstairs in row 4 you'll get little sleep either - it is one of the worst seats on the plane, and is just separated from economy by a curtain, and most of the time economy passengers will sit on the crews seat right behind row 4 and happily have a chat with their friends on row 10. Avoid. <!- *** THIS IS THE NEW TABLE FORMAT *** USE THIS ONE *** --->


KLM Boeing 747-400 in storage at Amsterdam

Seats in World Business Class on the Boeing 747-400 are no less than 60 inches apart, however they are no flat beds - they can be tilted back 150 degrees, but are definitely based in the 80s. You can adjust your head, back and foot supports, and you have your own reading light, video screen and telephone.
Economy seats are in a 3-4-3 pattern. Row 9 ABC is an emergency exit seat, on the strange, thin, lefthand cabin. Avoid all seats in column D&E in rows 10 to 17, which just lean against the wall. In the more normal further back cabin row 21 is an emergency exit,

KLM 747-400 in Asian configuration on the stand at Amsterdam



row 28D-G are bassinet (screamer) seats with cot fittings, row 29, 30 & 31 have now window seats, row 35 are emergency exits (with lots of legroom but over the wing, the middle of row 37 is another bassinet danger zone, and row 51 is another emergency exit, with a window but right by the galley.

Many passengers avoid the 747 because of the lack of Seatback TVs (entertainment is on the large TVs in the isles), however KLM are slowly converting the 747s, and adding Seatback TVs in economy class.

On the combis, seats end at row 45, and the rest of the cabin is for cargo. These strange halfway house cargo planes are gradually being phased out.
KLM MD11
KLM has 10 MD-11s in the fleet, which it is rapidly trying to get rid of, and you have to be lucky (or rather, unlucky) to get one of these unusually shaped beast of a plane. KLM along with Thai are one of the few airlines still using the MD11s.

The MD-11s are very distinctive, the last tri-engined wide-body airliner made - with an engine high up in the tail. Less than 190 MD-11 have been constructed, making it a commercial failure, and when first took to the air several airlines promptly cancelled their order as soon as they had a chance to fly it. Commentators have persistently raised safety questions over the airliner, due to refinements that give it relaxed aerodynamic stability. However this has not as yet been definitely linked to a number of high profile crashes, when the aircraft has flipped upside down, which could be a statistical anomaly. No KLM Airline MD-11 has been involved in such incidents.

KLM MD-11 at Amsterdam

Business class has a very strange layout with 2 rows of business class seats, in a 2-2-2 format. There is a then a vast galley complex, and three more rows of Business in AC, but only two rows in HJ, in a 2-3-2 layout.
Seats in World Business Class on the MD-11 are no less than 60 inches apart, however these are no flat beds - they can be tilted back 150 degrees, but are definitely based in the 80s.
Economy seats are in the unique 2-4-3 pattern. Row 10 is a bulkhead, and row 24 a bulkhead screamer. No seats are good seats on an MD-11.
On the MD-11s, inflight entertainment is outdated with TV monitors in the aisles which are often partially obscured from a window seat.

KLM Boeing 777-200ER / 777-300ER
KLM have 15 Boeing 777-200 ER, and 4 of the slightly larger Boeing 777-300ER, which are the pride of the fleet. The 777-200ER variant has 35 World Business Class seats, 34 Economy Comfort seats, and 249 Economy Class seats, giving a total of 318. The longer 777-300ER variant has 35 World Business Class seats, 40 Economy Comfort seats, and 350 Economy Class seats, giving a total of 425.

Business class has 5 rows of business class seats, in a 2-3-2 format, in the nose, with row 1 being a bulkhead. All functions of the new World Business Class sleeper seats are electric. The seats are also flat beds - they are 1.9m long, with a pitch of 60 inches apart and can be tilted back to an almost horizontal (170 degrees) position. There is the standard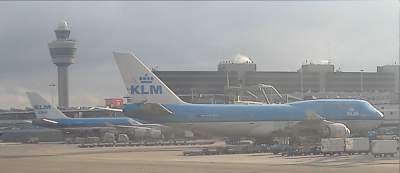 KLM 777-200 & 747-400 at Amsterdam



inflatable lumbar support, a massage setting and an electric socket for a laptop (alas, this does not work with UK plugs). The recliner has a privacy canopy, a large video screen (located in the armrest), its own reading light and a telephone. Even though these aircraft are new, the seats already look vey dated alongside the more conformable Singapore and BA offerings, and now on KLM's newest Boeing 777-300ER, the seat has been updated to the same Business Class as Air France. There is a 10.4" TV monitor with AVOD and email/text messaging.

Economy Comfort Class is KLM's name for Premium Economy. There is a 35" seat pitch and 7" recline, which feels only a tiny bit better than regular economy.

Economy seats are in a 3-3-3 pattern, with a pitch of 31". Row 10 is an emergency exit seat (with only 2 seats wide). Avoid row 29 because the seat cannot be tilted very far back due to the toilet bulkhead so that when the passenger in front tilts you are trapped in a tight space. Row 31 is another emergency exit seat.

Each seat has its own TV screen, with AVOD (Audio Video on Demand), however when the person in front of you reclines a shadow appears on the screen making it difficult to watch the screen without slumping or reclineing your own seat. Beware of the aisle seats with the little "boxes" for the IFE. They take up much of the foot room making it impossible to extend your legs.

Introduced in October 2003, KLM is trying hard to convert to a Boeing 777-200ER fleet. The new aircraft have replaced KLM's ten Boeing 747-300 and two of its MD-11 aircraft serving US and Canadian destinations as well as Beijing, Delhi, Nairobi and Cape Town.
KLM Airbus A330-200
KLM have 10 Airbus A330s, which were brought in as replacements for the Boeing 767. There are 30 World Business Class seats, 35 Economy Comfort seats, and 178 Economy Class seats, giving a total of 243. Business class has two cabins. The front cabin has 3 rows of business class seats, in a 2-2-2 format, in the nose, with row 1 being a bulkhead. Avoid this, as it is right opposite the toilet. There is also a mini cabin behind the galley with 2 more rows of business class, but row 6 here can be very noisy with all the crew yacking ahead of you. There is a 60 inch seat pitch, but the seat can be tilted back up to 170 degrees. It also has an adjustable head and back support, and extending foot support.

There is a small Economy Comfort cabin, in rows 10 to 14. Row 10 is the row to go for, with lots of legroom. Row 11 is missing a window. Seats are 2-3-2, with a 35" pitch.

KLM 767-300 at Amsterdam

Economy seats are in a 2-4-2 pattern, with a pitch of 32". Row 30 is a very good seat - and emergency exit, not over the wing, and with a window.

KLM Boeing 767-300ER
KLM have retired all 12 of their fleet of Boeing 767-300 ER. Before 2007, when the last one flew, Business class had 6 rows of business class seats, in a 2-2-2 format, in the nose, and Economy seats were in a 2-3-2 pattern

KLM 737-300/400/800/900
KLM's fleet of 737s include 7 and 9 of the elderly 300 & 400 model (seating 147), 5 of the small 700 style (seating 129), 21 of the medium 800 style (seating 169), and 5 of the new, long, stretched 900 (which seats 183).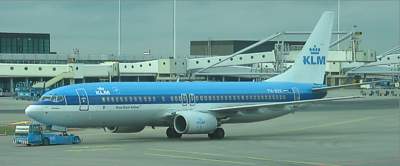 KLM 737 at Amsterdam

Business class is the usual 3-2 pattern with moveable armrest - accordingly it pays to sit in AC for a bigger seat. There is a bit more legroom and a drinks holder in the armrest.
Economy seats are in a 2-3-2 pattern, with a pitch of 31". On a 737-800 row 14, and on the 737-900 row 11, is the overwing ejectable, with 38" of legroom.
KLM uses 737-900s on flights to the middle east (such as Amman): this can seem strange, being cooped up in such a tiny aircraft for what is in effect a long-haul flight.

KLM Fokker 50
There are 16 of these old propeller driven aircraft in the fleet, in an all economy class configuration.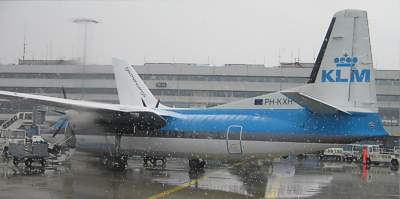 KLM Focker 50 at Cologne

Stay away from row 5,6 & 7 as the seats are right under the wing. The strut for this intrudes into the cabin - which means that the overhead bins are tiny.
KLM onboard experience
Reviews and opinions are mixed about KLM airlines. Some passengers love its quirky Dutch charm. Other passengers moan about the lack of frills in economy, and the dutch mannerisms: as always, your mileage may vary. However it may be worthwhile remembering that the Dutch do have a great concept of freedom - which in some cases mean doing whatever they want without thinking about other people's comfort. This may be as simple as talking loudly to another passenger on a flight in the middle of the night, but it comes to the fore with things other airlines take for granted: for example, on KLM, it is rare to hear any inflight announcements about closing window shades to allow passengers to sleep: if you feel like doing it, it's up to you. Equally, if you feel like wandering around the plane, noone will really stop you. This can be a bit of a culture shock if you are used to the tight regulation of American airlines, but it does make for a more relaxing flight.

In Business Class the service is the direct opposite of the robotic service you may get on, say, Singapore Airlines. There, everything is done for you, but the crew aren't exactly friendly or flexible: on KLM, the opposite is true, but the egalitarianism that the Dutch are famous for equally comes out a bit: you may be flying premium, but don't expect that much effort. Long-haul there are various three-course menus, put together in collaboration with Alliance Gastronomique. You'll generally be offered 3 options. On late flights there is a choice of a "Quick Snack" that consists of finger food for those who want to eat and sleep, the full mean service (called the "Hot Supper"), or the strange halfway alternative which is called the "Light, Healthy Cold Supper", which in effect is the Hot Supper without the entrée.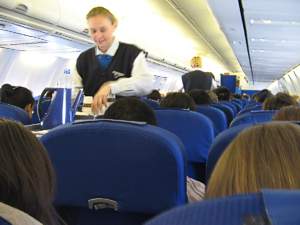 KLM inflight Service on a 737

Throughout the flight you can pop along to the galley and grab some snacks - on the MD-11s there is a cardboard tray of chocolates which is put out after the meal service.
The breakfast menu on KLM is a la carte. A breakfast card is handed out with dinner, you mark your selection, return the card, and when the lights come on for breakfast there's your meal just like you ordered.
In Business class KLM is once again using stainless steel knives on all flights other than those to and from North America and the UK.
There is a selection of magazines on long-haul flights in business class - in plastic covers, to try and stop you from taking them off the plane.
In Economy long haul the first beverage service comes round as soon as the seatbelt signs have gone off, and then the trolley with your food passes by. Short haul there is no choice, but long-haul there will normally be two choices.

KLM 737s at Amsterdam

Halfway through the flight a trolley wil normally come round with ice cream and drinks.
No Newspapers are offered on KLM in Economy, except on CityHopper flights, where there are a few on the rack by the door. Normally these are only Dutch papers.
KLM Inflight Entertainment
Whether you get a seatback TV on a long-haul flight depends on the type of plane you are on. If you are looking for a destination to fly to, check and see that your plane is a 777. The Boeing 777 has a modern digital audio and video-on-demand system in all classes. You can start a film or CD track at any time, pause it, and even rewind it. It is a delight.

In Business class you get extertainment on the Boeing 747 which has 12 video and 12 audio channels with digital CD sound quality. There is also the Boeing 767 which offers only 6 video channels and 9 audio channels.

On planes other than the Boeing 777 in economy, inflight entertainment is shown on the overhead TV screens (there are no seatback TVs). There is normally one mainstream hollywood blockbuster per flight, plus a short comedy following it if there is a little extra time. Film listings are in the inflight magazine, and also online. There are also 10 radio channels on board, although some of the channels are decidedly ethnic in tastes. There is only one mainstream rock / pop channel.

Headphones in business class are good chunky ones, with double 3.5mm pins, however they are not noise reducing headphones

There is no entertainment on KLM Trans-Europe flights.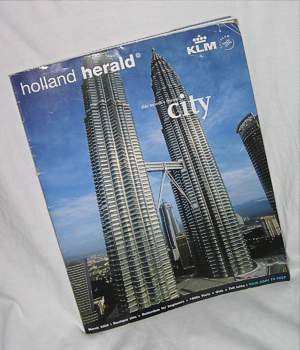 Holand Herald KLM's inflight magazine

KLM Inflight Magazine - Holland Herald
KLM's inflight magazine is called the Holland Herald, produced by Media Partners.

In the first two pages is the film listing information, colour coded with blue from Amsterdam, and red to Amsterdam. Very easy to read, the left hand side shows the destination, with strips of the films starting after 2, 4 and 6 hours. There are then 2 more pages of film information.

The actual magazine is thick and glossy - with plenty of impressive photos. The first fifty pages has the usual round of articles on places to go, and a page of book reviews.

The KLM Travellers Check section has some rather dull corporate and fleet news, and lists new destinations. The route-maps are in the back, past the section with the Flying Dutchman application forms.
KLM Luggage Allowance
KLM has a pretty standard luggage allowance for each flight.
Cabin Bags: Economy Class passengers can take one bag weighing up to 12kgs into the cabin, which must be no larger than 55 x 25 x 35 cm (21.5 x 10 x 13.5 inches). Business class can take two bags, but the second bag must be slightly smaller, to the size of 45 x 20 x 35 cm (18 x 8 x 13.5 inches). To India, Business Class can only take one bag into the cabin.
Check in luggage: On all routes except to the United States economy class can check in one bag weighing 20kg (44lbs), and Business Class (or Europe Select) can check in two bags up to a total weight of 30kg. Routes to or via the United States have economy with two bags allowed to 23kg per bag, business class is allowed two bags to a maximum of 32kg per bag.
You are also permitted one golf bag, not exceeding 20 kg (44lbs).
FlyingBlue Silver Frequent Flyers gain an extra 5 kg (11 lbs) checked in luggage allowance, Gold gains an extra 10 kg (22 lbs) of checked in luggage allowance, and Platinum gains an extra 20 kg (44 lbs) of checked in luggage (plus one sports bag to 20kg). To the USA as a Flying Blue Silver, Gold or Platinum member, you may bring 2 pieces free of charge.
To and from Aruba/Bonaire/Curaçao/Guadeloupe/French Guyana/Martinique/Saint Martin or Surinam there are different rules again, with 25kg (55lbs) in Economy Class or 40kg (88lbs) in World Business Class.
KLM will happily charge £29 for every kilo of over allowance baggage, especially when the plane is half empty. Unlike other airlines, KLM will not bend the rules - so it may pay to buy a business class ticket if you have a lot of luggage. Long haul to a USA destination where the piece concept is used, each additional checked bag will be charged at €150.00EUR or US$200.
KLM's website has details of exactly what you can take onto a flight.
KLM Routes
KLM's main base is at Amsterdam International Airport.

Airline schedules change regularly.
This information is intended as a guide, but for accurate timetables, please consult KLM.

Amsterdam Schiphol is a vast airport, stretching for a mile and a half of glass and steel in both directions. This can mean a lengthy walk from the non-Schengen terminals at one end, to the Schengen terminal at the other. There can sometimes be long delays getting through passport control between these two zones. Signs are however very good, and there are plenty of places to eat and drink.

From London LHR there are flights to Amsterdam at 0635, 0840, 0955, 1140 (except Saturday), at weekends at 1300, 1450, 1545 (not weekends), 1715, 1815, and 2025.

Amsterdam is well linked to the rest of Europe. There are flights to Athens, Barcelona (5 times a day), Beiruit (everyday except Monday at 1935), Berlin (5 times a day), Brussels (7 flights a day), Bucharest (3 a day), Cologne (3 a day at 1020, 1605, & 1935 on a Focker 50), Copenhagen (5 a day, 4 at weekends), Cork (daily at 1025), Dublin (5 a day, 4 at weekends), Dusseldorf (5 a day at 0700, 1000, 1255, 1605, & 1925)

KLM Focker 70 at Amsterdam



Frankfurt (4 a day), Geneva (5 a day except Sunday), Gothenburg (4 a day except only 3 on Saturday), Hamburg (5 a day), Hannover (4 daily), Helsinki (3 a day), Istanbul (daily at 1000 and 1930) Kiev (at 1005 and 1115), Lisbon (2 times a day at 1100 and 1955), Luxembourg, Lyon, Maastricht, Madrid (5 times a day), Milan (5 a day), Munich (5 a day), Nice (3 a day), Nuremberg, Oslo, Paris (an amazing 15 a day), Prague (5 a day), Riga, Rome (5 a day), Stavanger, Stockholm, Stuttgart, Tallinn, Toulouse, Trondheim, Venice, Vienna, Warsaw, and Zurich.

From Amsterdam to America there are flights to Atlanta (daily at 1020, arrives 1355), Boston (daily at 1410), Chicago (daily at 1040), Detroit (on NW codeshares), Houston (at 1030, and Friday to Sunday at 1430), Los Angeles (daily at 1130), Memphis (daily at 1415), Minneapolis (daily at 1045, 1405, 1635), New York (daily at 1415 and 1925), Newark (daily at 0930), San Francisco (daily at 1145), Seattle (daily at 1115), and Washington (at 1135, arrives 1405). There are also flights to Mexico City (daily at 1415), Montreal (daily at 1420), Toronto (at 1410), and Vancouver (at 1025).

KLM 747-400 at Amsterdam

To South American there are flights to Aruba, Bonaire, Curaçao, Sao Paulo, and St Maarten.
From Amsterdam to Asia, KLM fly to Bangkok (at 2000, arrival at 1145), Beijing (at 1720), Hong Kong, Jakarta (daily at 2050), Kuala Lumpur (daily at 1200 arrives 0605, and every day except Tuesday and Thursday at 2050, arrives 1435), Osaka (daily at 1420) Seoul (daily at 1650), Shanghai (daily at 1710), Singapore (daily at 2045, arrives 0945), Tehran (daily except Thursday at 1620), Tokyo (at 1415), and Taipei (daily at 2000).
To Africa destinations include Cairo (at 2010), Cape Town (at 1020), Johannesburg (at 1005), Kilimanjaro (at 1030), Lagos (at 1230), Nairobi (daily at 1045), and Tripoli (at 0955).
Other destinations include Delhi at 1125, Hong Kong at 1635 (arrives 0945 the next day), and Mumbai (daily at 1030, arrives 2235).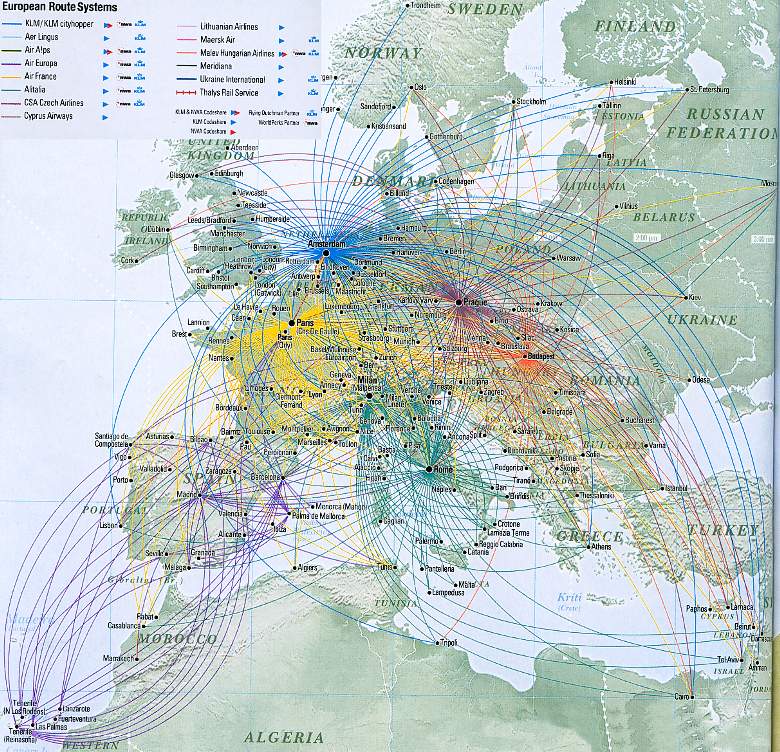 KLM frequent flyer scheme - FlyingBlue
Flying Blue (FB) is KLM's & Air France's frequent flier programme, and is part of the Skyteam Alliance. Joining is easy; it's possible to do it online.

Skyteam's website

Flying Blue has recently radically changed its elite-level program. Discarding its previous "SilverWing" and "RoyalWing" categories, there are now three new levels of elite status: Silver, Gold and Platinum.
Status runs for a calendar year, and it is possible to advance from the basic level to the top tier in just one year. If you don't maintain your status in a year, you will be dropped just one level for the next year.
Award miles do not expire unless the account is idle for more than three years.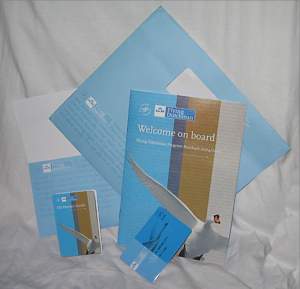 Welcome Pack Flying Dutchman

KLM have a fairly standard mileage system for their Frequent Flier club. In FlyingBlue you essentially earn 1 mile for each actual flight miles multiplied by your Elite Bonus level.
You may see some old references to KLM Flying Dutchman: this was the old Frequent Flyer scheme before Air France & KLM merged, and Flying Blue took over.
Earning Miles
Like most programs, Flying Dutchman offers two types of miles. Award miles are those ultimately used for redemption. Level miles (otherwise known as status miles or elite-qualifying miles) are those used to determine elite-level status.

Flight activity generally earns one Award mile and one Level mile per mile flown on KLM or Skyteam partners. Short domestic flights earn a minimum of 500 of each type of mile, around Europe there is a basic 750 miles, and business-class trips earn exactly double the level of miles.

The KLM & Air France partnership is one of the biggest players in Europe, and has plenty of link ups. Of course you can earn miles on its historic tie with Northwest and Air France. You can also earn miles on Kenya Airways, Aer Lingus, Air Alps, Air Europa, Alaska Airlines, China Southern, Comair, Continental, GlobalPass, Jet Airways, Maersk Air, Malaysia Airlines, Malev, TAM and Ukraine International.

KLM doesn't as yet distinguish on low-cost internet tickets when it comes to miles - they still earn 100% - except for the low-cost promotional fares (class N/E). Watchout for these when booking; the cost difference compared to a normal low-price ticket is often only a few pounds.
Spending Miles
Flying Blue flight awards are both flexible (one-way awards are available) and cheaper in terms of points than many other airlines.

KLM Focker 100 at Amsterdam

Within Europe, a roundtrip will run 25,000 miles in economy and 45,000 in business class; halve that for one-way trips. Upgrades are a flat 10,000 miles.
Between Europe and the US, roundtrips are 50,000 for economy and 80,000 miles for business class. Upgrades are a low 20,000 miles, which makes it one of the cheapest ways to get up the pointy end to the US.
Travel from Europe to the Far East costs 100,000 and 150,000 miles (again, halve that for one-way trips), and upgrades run at 40,000 miles.
For award tickets you can change or cancel your flight no later than one working day prior to departure. Changing or cancelling an award ticket is subject to an administrative fee of 2,500 Award miles.
For 15,000 miles, you can buy two €22.50 shopping vouchers for use on KLM flights, but this is very poor value. You can also purchase Crown Lounge passes for 10,000 miles, which is marginally better value, but is really only worthwhite if you know you have a long stopover in a location where there is a lounge, such as Amsterdam.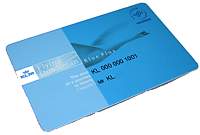 Blue Flying Dutchman

Flying Blue - Blue tier level
Once you have flown your first flight you will receive a Flying Dutchman Blue card.

You can at Blue level buy KLM Plus for €139. This gives you almost all the benefits of Gold Elite for the year, with priority boarding, and access to KLM Crown lounges (no guests, when flying KLM, Air France or Northwest only).
Flying Blue - Silver tier level
Silver level can be achieved at 25,000 miles (or 15 one way flights) in the previous calendar year, which is pretty low for the Skyteam. For members in France, the level is 30,000 miles.

Alas there are few benefits. You get a 5 kg extra baggage allowance, waitlist priority for full flights, guaranteed seat reservations on expensive economy fares, and check-in at the business-class desk.

Silver members earn 50% more Award miles on every flight. And that's it.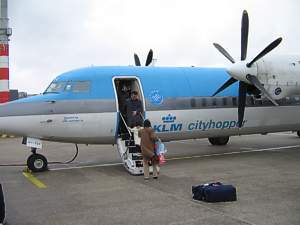 KLM Focker 50 unboarding at Amsterdam

Flying Blue - Gold tier level
Gold level can be achieved at 40,000 miles (or 30 one way flights) in the previous calendar year. For members in France, the level is 60,000 miles.

You get a 10 kg extra baggage allowance (with priority tags), all of the Silver benefits, check-in at the Gold/Platinum desk, priority boarding, and access to the Business Class lounges with one guest, provided you are on an International KLM flight (or it's domestic connection) or on a domestic Air France flight from Paris CDG.

You also get a guaranteed economy class seat at 24 hours notice, if you pay full fare.

Gold members earn 75% more Award miles on every flight.
Flying Blue - Platinum tier level
Platinum level can be achieved at 70,000 miles (or 60 one way flights) in the previous calendar year. For members in France, the level is 90,000 miles.

There is a full 20kg extra baggage allowance, all of the Gold benefits, and access to the lounges with a guest (with the same Gold conditions). Platinum members flying Northwest within the US can take advantage of free first-class upgrades.

Platinum members earn a full 100% more Award miles on every flight.

After ten years of Platinum membership, you get a platinum card for life.
KLM Crown lounges
Lounge access is available for World Business Class passengers & KLM Europe Select passengers, Flying Blue Platinum Elite and Gold Elite members, plus KLM Corporate American Express cardholders.

KLM 737 at Amsterdam

If you do not have the correct FlyingBlue status, you can buy a one-off Crown Lounge passes for 10,000 miles or KLM Plus for €139.
Like KLM the lounges have declined of late - for example you will be charged to use the internet, and now, if you are not flying with KLM, you will no longer be able to use KLM or affiliated lounges at a number of airports (such as in Kuala Lumpur, where there is the Plaza lounge).
Worldwide KLM only operate lounges at Dubai (next to gate 18), Glasgow, Houston (Terminal D), Johannesburg (Terminal 6), Nairobi (Mezzanine), Toronto (Terminal 3), and Vienna (in the Schengen area).
Amsterdam Schiphol KLM Crown Business Class Lounge
Access for business class & KLM Europe Select passengers, plus FlyingBlue Platinum Elite and Gold Elite members
At Amsterdam Schiphol, KLM offers two KLM Crown lounges located: one in the Schengen Terminal, the other in the non-Schengen side.
Amsterdam Schiphol KLM Crown Schengen Terminal Lounge
Terminal 2, level 1 Open 0530-2200
This is a pretty decent lounge with lots of comfortable seats, all of which has a small little side table light - it is a nice touch, and looks great late in the evening.

The bar is noteworthy, with free champagne all day: it is in the curved trough, along with two types of white. Red is on the counter top. The spirit selection is OK, but there are only 6 bottles, which are on optics. A nice touch are the blue leather seats surrounding the bar.

Food is pretty good, particularly at breakfast time, when there are cereals, yoghurt, fruit salad, croissants, honey and jam. If you get there early before it all goes ther are normally some "krackertjes" and cheese. Later in the day hot soup appear, along with cold ham, cheese, and a rather poor pasta salad.

There are 4 shower rooms, and 8 computers plus a printer and free Wifi.

This lounge was newly opened in 2005 when Flying Blue was created. It is looking a bit tired now.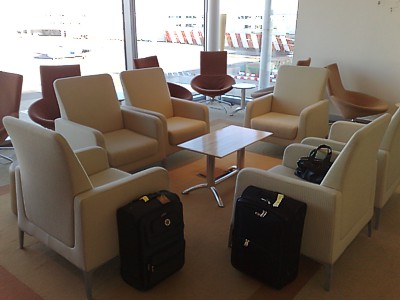 Holideck London KLM Business Class lounge

London LHR Business Class Lounge - The 4Deck lounge (ex-Holideck)
Terminal 4, near gate 16 Open 0530-2200
Access for business class passengers, or Priority Pass
KLM do not have their own lounge at the other end of their LHR route. Instead KLM offer access to the 4Deck lounge (which was previously known as the Holideck). It is a contract lounge that is mainly used by Air Malta and African Airlines: as a result in the evenings it can get insanely busy, although thankfully most of these passengers rarely bother exploring the top two levels of the lounge. As a contract lounge it is vital you get an invitation at check in, which is offered to all Business Class passengers. Alternately you can get in if you are a Priority Pass Cardholder, or just end up paying the £20 on the door (cheaper if you book in advance at holideck.co.uk or call 020 8750 9807).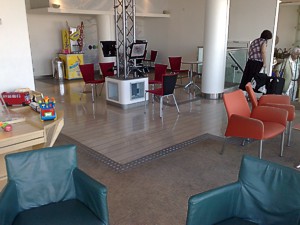 Holideck London KLM Business Class lounge

Once you are in the front door, the lounge has three floors (or what are known as "decks"). On the ground floor there is a long curved bar, and seats racked around a TV. Beyond a half wall there is a quiet area with another bar, and a small sleeping area. Many passengers think that this is it for the lounge: it isn't, but you either have to go up the half flight of stairs next to the bar to find the lift, or use the stairs opposite the checkin counter for the other two levels. Behind this counter is the childrens area, with a Nesquik bar.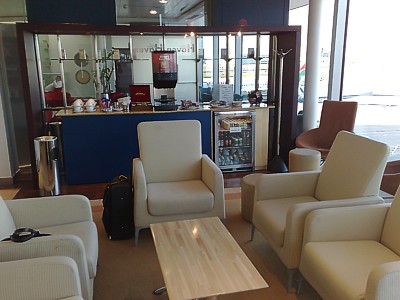 Holideck London KLM Business Class lounge

Upstairs there is a small much more private VIP lounge with lovely comfy cream seats and a great view of the gates, and beside this another bar - called the sports bar - with TVs on Sky Sports all day. Finally, on the top floor is the Flight Deck which offers great runway views.
The Bars are worthy of note, if only because of the sheer variety of alcoholic drinks that are available. The bar downstairs is self serve, while the one upstairs has a bar tender. Downstairs are optics with Gordon's Gin, Smirnoff Vodka, Bacardi, Campari, VSOP, Martini (all three varieties) and Baileys. Upstairs there is a much better selection. In the fridge are alcopops like Smirnoff Ice, plus the beer which is Kingfisher, London Pride, Bud, and Carlsberg. On the counter top are three different types of red plus port, and in the trough are three more types of white. Soft drinks start with Red Bull and go on to Fanta, Whites Lemonade, and Coke. There is also the famous Nesquik Milkshake machine on the Children's floor.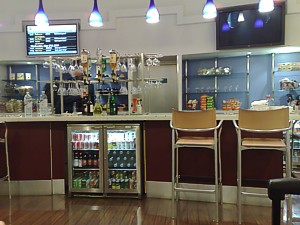 Holideck London KLM Business Class lounge

With all of that, it comes as a surprise that food is a bit lacking. There are no hot offerings. Instead the best food is a Go-Ahead bar (both Orange and Lemon) packets of Mini Cheddars and the like. There are packets of Walkers shortbread, and chocolate biscuits. Olives, nuts and small cheeses are avaiable upstairs.
There is a Spa, with showers and toilets inside the lounge. There are only a few computers, but free Wifi in the lounge. Newspapers are well catered for with most of the UK selection (but few international papers) and there are a few magazines, but these are limited to copies of things like Time, which are hidden in the smaller VIP lounge upstairs.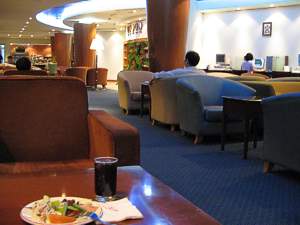 Kuala Lumpur Plaza Premium Lounge

Kuala Lumpur - Plaza Premium Lounge
Satellite Building, Mezzanine Floor, Trisilco Business Centre Open 24 hours
This is the Generic lounge used by KLM plus, Lauda, Austria and Emirates and a host of other airlines on their stopovers at the vast new Kuala Lumpur International Airport (KLIA). An invitation is required - make sure you pick one up at checkin in. Transfer passengers can get one at the transfer counter. If you then want to leave the lounge and get in again, you have to get a sticker from the desk. The capacity is 160, so it rarely gets crowded.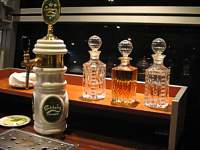 Kuala Lumpur Plaza Premium Lounge

There are two entrances - the usual side for KLM's use is at the far end, although you can go into both, and both offer pretty much the same food and drinks. At night the glass doors between the sections is opened up so you can walk between the two.
Food is pretty good - There are chicken wings, chickpea curry, and hot rice. Normally there is a rather bland salad, and a selection of four dips with loads of dippy type things, such as carrots. On plates there are cheese or ham sandwiches, wrapped very tightly in clingfilm, some rather dry pastries, and some watermellon pieces.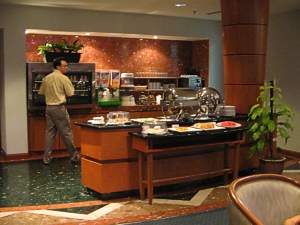 Kuala Lumpur Plaza Premium Lounge

Drinks are exceptionally poor. You either get gin, vodka, or whisky in totally anonymous flasks, with no indications to their provenance. Or there is a Carlsberg beer fountain. And that's it. No wine of any type, and certainly no champers.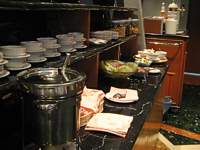 Kuala Lumpur Plaza Premium Lounge

Computers are pretty good and fast - although there are only three of them. There is also a copier and fax. There is one big screen TV which is often turned off. Newspapers are on the stand by the door, although the selection is just from KL, and Japan. There is 1 paper from Amsterdam, 1 Stern, and 1 FT. There is one shower.
Be warned that this lounge will announce that your flight is boarding at the time it is scheduled to board - not the time it actually does. You can then end up kicking your heels for an hour before the plane is ready to board, with no way to get back into the lounge.


KLM 747-400s at Amsterdam

KLM History
The letters most commonly associated with the history of Dutch aviation are KLM, which stand for Koninklijke Luchtvaart Maatschappij voor Nederland an Kolonien (Royal Dutch Airlines in English).

The airline began its first service on May 17, 1920, with an Amsterdam-London service flying an old De Havilland DH-16 aircraft chartered from the British company Air Transport and Travel. KLM quickly expanded its offerings by serving Copenhagen & Hamburg. After the war it expanded rapidly, despite a disastrous crash in Tenerife in 1977 when 583 people died after one of it's brand new 747s collided on the ground with a PanAm 747. The crash was blamed on the KLM pilot.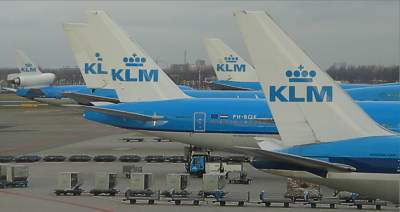 Tailfins at Amsterdam

By the start of the 21st century, KLM had become one of world's largest airlines in terms of routes served. KLM also has the distinction of being the longest continually operating airline.
KLM Cityhopper began in 1966 as NLM Dutch Airlines with Fokker F27 Friendships. By 1974 international flights were being flown and two years later the name was changed to NLM Cityhopper. In 1990 KLM Royal Dutch Airlines bought NLM Cityhopper and by 1991 KLM Cityhopper was the result with the 1990s seeing the fleet re-equipped with Fokker F50s.
KLM Hints and Tips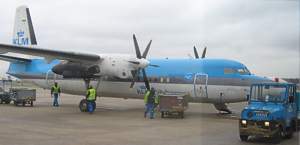 KLM Focker 50 loading at Amsterdam

Internet checkin
You can checkin online from the KLM website up to 30 hours before your flight, selecting a seat and printing your own boarding pass.
Operational Upgrades
KLM has the Western, rather than American, model for upgrades longhaul. Which is to say you'll only get an upgrade if your paid for class is full, and then upgrades are processed accordingly to a pecking order of elite frequent flyer status. You are very unlikely to ever get an upgrade unless you are at least a top tier FlyingBlue member.
KLM website
The KLM Website gives a fair amount of information, even down to fleet news and which film is showig on which flight. Alas, the information on FlyingBlue is out of date and very sparse.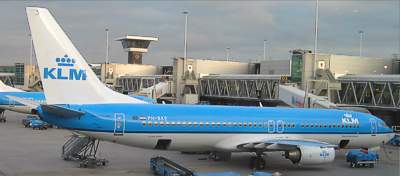 KLM 737 at Amsterdam

The Booking screens give lots of information, but assumes you have a BIG screen - you need to scroll a long way down. There is also a strange colour coding system - you have to match the colour of your flight to the scrolly on the right to see an approximate fare, then press the calculate button - and there is the new fare. With tax.
KLM's interpretation of "tax" is pretty liberal. Quite a lot of what the airline would have to pay anyway is included in this tax calculation - other airline are more realistic in hiding behind a low fare, with smaller amounts of tax.
Alas the booking screens never tell you what the plane is or the ticket class - you haev to book through other sites for this. However a nice bit is that it does fill in all the details if you tell it you are a FD member. You can ask for a window seat - but not the seat itself.
For flights contained within Europe, KLM will now only offer ETickets.

KLM Focker 70s at Amsterdam



Worldwide KLM website: www.klm.com
UK version: www.klm.co.uk
Inflight Entertainment: Film Listings.
Luggage Allowance.
Seatmaps:
747
767


Note that all reviews and opinions on KLM (KL) food, service, seats, planes, upgrades, KLM Crown Lounges, amd the Flying Blue Frequent Flyer scheme is soley at my judgement. No legal liability is accepted if you take my advice.