Iberia have scrapped their free food and drink policy in economy. You'll now have to buy it of the "Tú Menú".
Red Wine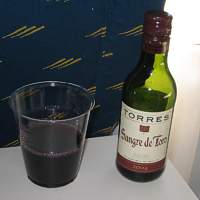 Torres Sangre de Toro 2004
From Catalunya
A deep ruby coloured wine, packed with blackberry fruits and rich, spicy Mediterranean aromas.
13.5% 18.75cl €4.00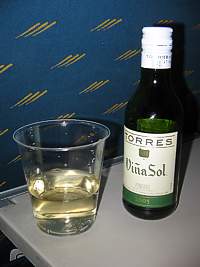 White Wine
Torres Vina Sol 2005
Penedes
A mild very standard white wine with little to disguisish it.
12.5% 18.75cl €4.00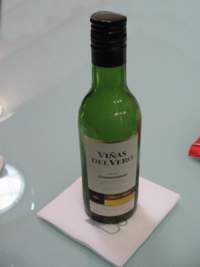 Vinas del Vero Chardonnay 2005
From Aragon, Somontano
This wine has an attractive yellowy colour with brilliant intense gold edges. On the nose there are complex and intense aromas of green apples, peach, citric and tropical fruits on a floral background. It is fresh and clean on the palate with good acidity. Full bodied, well balanced, with a smooth and elegant finish.
11.5% 18.75cl €4.00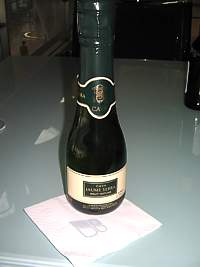 Champagne
Cava Jaume Serra 2005
A sparkling wine from Spain, made from the grape varietals Macabeo 50%, Parellada 35% and Xarello 15%. Produced by Jaume Serra, this lovely sparkler offers a fine alternative to Champagne - although it costs Iberia less than half the price.
It has a bright green-gold color and shows fine bubbles. It has a pleasant nose of green apples, peaches, toast, flowers, cinnamon and herbs. Crisp and bright, dry with medium-full body, this sparkler offers rich flavors of apples, figs, lemon, roasted almonds and pie crust. It is fruit-forward and balanced, with a clean, lemony finish.
11.5% 20cl €4.00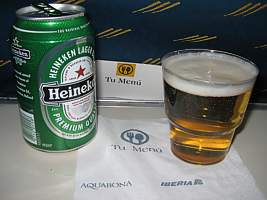 Beer
Beer comes in just one variety too - Heineken. Its the usual tame stuff you get on the ground, in a 33cl tin.
4% 33cl €3.00