Iberia have scrapped their free food and drink policy in economy. You'll now have to buy it of the "Tú Menú".
Red Wine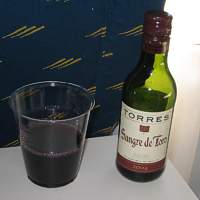 Torres Sangre de Toro 2004
From Catalunya
A deep ruby coloured wine, packed with blackberry fruits and rich, spicy Mediterranean aromas.
13.5% 18.75cl €4.00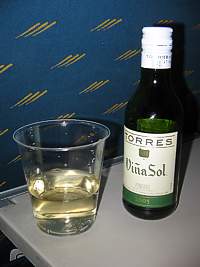 White Wine
Torres Vina Sol 2005
Penedes
A mild very standard white wine with little to disguisish it.
12.5% 18.75cl €4.00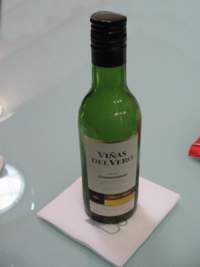 Vinas del Vero Chardonnay 2005
From Aragon, Somontano
This wine has an attractive yellowy colour with brilliant intense gold edges. On the nose there are complex and intense aromas of green apples, peach, citric and tropical fruits on a floral background. It is fresh and clean on the palate with good acidity. Full bodied, well balanced, with a smooth and elegant finish.
11.5% 18.75cl €4.00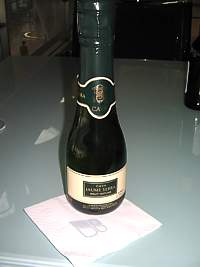 Sparkling Wine
Airreview is a non-commercial, not for profit blog, written by a non-trading individual, which does not market or promote any product listed on this page, and does not make any direct or indirect commercial use of any name, and as such assert my rights as an individual writing a (non-marketing) review to be exempt from the relevant parts of Australian RSA regulations, UK licencing laws, and EU laws regarding alcohol, promotion, designation, and marketing. Also note that some products listed here are no longer sold, and some have either changed their name, product line, designation, area, or some other facet of their product. As such these wines, beers and spirits must be legally viewed within a historic context, in some cases dating back over two decades, when the product could legally be called and promoted under its original designation. Airreview promotes the responsible use of alcohol, and also respects the legal drinking age in countries where it is restricted. Airreview aims to correct innocent mistakes as soon as they are pointed out, and apologises for inadvertent omissions, but will not pay your costs in this respect. Correspondence on this matter will not be entered into. By browsing this site you agree to these terms and conditions.
Cava Jaume Serra 2005
A sparkling wine from Spain, made from the grape varietals Macabeo 50%, Parellada 35% and Xarello 15%. Produced by Jaume Serra, this is a lovely sparkler.
It has a bright green-gold color and shows fine bubbles. It has a pleasant nose of green apples, peaches, toast, flowers, cinnamon and herbs. Crisp and bright, dry with medium-full body, this sparkler offers rich flavors of apples, figs, lemon, roasted almonds and pie crust. It is fruit-forward and balanced, with a clean, lemony finish.
11.5% 20cl €4.00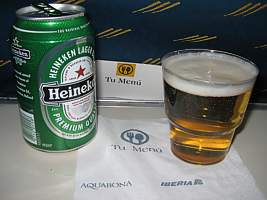 Beer
Beer comes in just one variety too - Heineken. Its the usual tame stuff you get on the ground, in a 33cl tin.
4% 33cl €3.00