FlyBE BAE146 in new livery at Southampton

FlyBE do have a bit of a reputation of bruising customer service, where flights are cancelled at short notice with little hope of any compensation. FlyBE will also robustly refuse you checkin if you arrive later than 45 minutes before takeoff (20 minutes for economy plus) even if you are at Southampton - where the walk from checkin to the gate takes less than 2 minutes, including passing through security.
Codeshares
Just because you are on a FlyBE flight, doesn't mean your ticket has to be on Flybe. The airline has a number of Codeshares, some of which are
very
useful if you want to collect frequent flyer miles on another airline.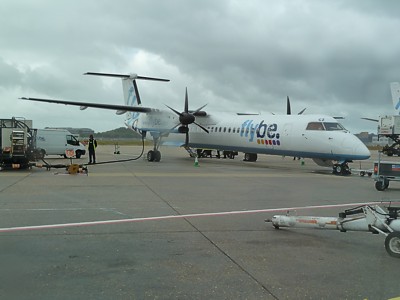 FlyBE Dash 8 on the stand at Gatwick
Flybe codeshare with British Airways on routes including Gatwitk to Newquay, Manchester, Birmingham and Edinburgh, following Flybe's takeover of BA Connect. Flights booked under the British Airways code operated by Flybe are now eligible for mileage accrual and tier points, but you can'r redeem BA miles onto Flybe.
Flybe also codeshare with Air France.
The most recent codeshare is with Etihad Airways between the UAE carrier's Abu Dhabi base and Manchester, Paris Charles de Gaulle and Frankfurt, while Etihad codeshare on Flybe on onward services to Birmingham, Edinburgh, Exeter, Glasgow, Inverness, the Isle of Man and Southampton.
Special Fares
When FlyBE starts a new route, it will often offer bargain fares on the website. There is also usually a promotion in the run up to Christmas, and another one in the first week of Janurary.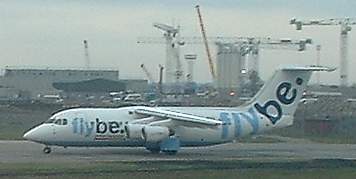 FlyBE BAE146 at LHR bound for Paris in latest livery

FlyBE website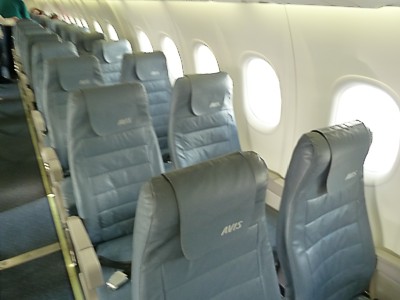 FlyBE Dash 8 seats
The FlyBE website is pretty basic. It is possible to book fares ok, and the site will list the prices for alternative flights that day (but doesn't check other days). You can now even
Select your seat online
. however there is very little information on the what else FlyBE does, the routes, or the planes. There are plenty of "extras" on the right hand side though, with Car Hire and Gift Vouchers, although sadly the "book a lounge" option has gone.
More worrying the main FlyBE logo changes from page to page, font sizes can be a little wild, and some pages contain pretty much no information at all. However the truly woeful part of the website is the slow loading. On a fast dialup connection it takes about 2 minutes to load just the main page - and it won't allow you to cache any of it. Bad design, and poor performance.
Main Website: www.flybe.com
Information on Frequent Flyer