Finnair started as Aero O/Y Ltd in 1923 - and from this Finnair gets its code AY (Aero Yhtiö which means company in Finnish). The first flight was flown on March 20, 1924 from Helsinki to Tallinn with a Junkers F13 seaplane service that operated until 1936.
After the war the Finnish government acquired a majority stake in the company and re-established services. In 1953, the airline adopted the name Finnair. By 1961 it was ready to join the jet age with Caravelles.
A DC-3 that was being flown by alcohol-intoxicated and sleep-deprived pilots crashed in Kvevlax in 1961. All 25 on board died. Another DC3 crashed on approach to Mariehamn, on the Åland Islands in 1963. 22 passengers died.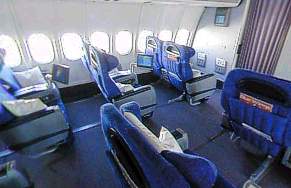 MD11 Finnair old business class
Finnair took possession of its first US made jet, a Douglas DC-8 in 1968, and started a transatlantic service to New York. By 1975 there were two McDonnell Douglas DC10, which started the route from Helsinki to Las Palmas: a very popular route to this day with Finns seeking the sun. Helsinki to Tokyo flights started in 1983 with the same DC10s by flying directly north from Helsinki over the North Pole. By 1988 it started flying to Beijing.
Finnair became the launch customer for the McDonnell Douglas MD11 in 1990, with the plane used on a flight from to Tenerife, catering for the vast number of Finns that fly south to the Canary Islands in the winter. In 1999, Finnair joined the Oneworld alliance.

Boeing 757 Finnair 757 at Helsinki
In 2005 Finnair ordered 12 new wide-bodied planes from Airbus in a deal worth over 1 billion euro to modernise its long-haul fleet. The original order was for nine A350s and three A340 planes, however because of delays in the A350, Finnair took the A330 instead. The original three A340 proved not enough for all the new routes to Asia, and as a result in 2010 Finnair bought three secondhand A340s, one from Virgin Atlantic, and two from Air France.