Asiana Airlines still offer free hot food on all long haul flights, with two different meals on flights over 8 hours. However, Asiana have a certainy oddness, which can seem either charming, or annoying, depending on your flexibility of thought as a traveller.
The first problem is meal timing: Asiana haven't really thought through what they are serving, when. For example on the early morning 9am flight from Sydney, the first meal is lunch, followed by dinner as you land in Seoul, even though you land in Korea at just gone lunchtime. Equally, flying from Europe you'll get dinner on the night flight out, and then as you wake up two hours before Seoul, you'll get dinner again, even though it feels like breakfast time.
In business class, although there are two main meals on longhaul flights, you can also ask for a snack at any time or even a heavy snack (such as the hot ramen). As a result out of Sydney you may go at breakfast for lunch, second lunch, heavy snack, light snack, and dinner. Just in time to roll into your hotel on landing for... dinner.
And then there is the choice on board. You will get the choice of two western or one Korean meal on longhaul flights. However Korea, per population, imports more beef than anywhere else on the planet, with a diet raised on the stuff. As such, on board, one western meal will almost certainly have beef, typically a steak. The Korean meal will either be Beef or Fish. The alternate western meal will then likely be fish. As a result you'd better be really sure you want meat or fish: vegetarian meals are rarely offered on board unless you order in advance. In business the starters and canapes also are typically fish, so if you are among the small but growing minority that don't eat fish, you'll either starve or long for yet another steak.
Plastic knives are used on all flights, however all other cutlery is metal, including the pretty vicious metal chopsticks that accompany the BiBamBap.
Business Class - Asiana Specialities - Asiana inflight food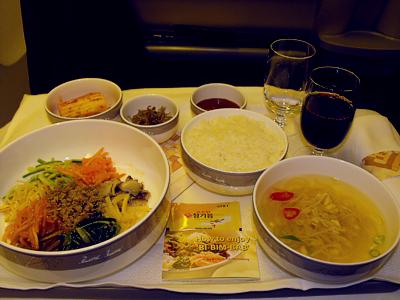 Bi-Bim-Bap
Steamed rice mixed with vegitables and minced beef.
Hot pepper paste, sesame oil. Fish head Soup. Instruction manual.
This is the absolute classic dish on Asiana airlines, at it should be tried at least once. It's light, healthy, and for inflight food, rather unusual.
The tray includes a simple set of instructions for Westerners out of their depth. You mix the rice, hot sauce and sesame oil in to the big bowl of vegetables and stir thoroughly with the spoon. Then consume (using the chop-sticks) with the side dishes and soup.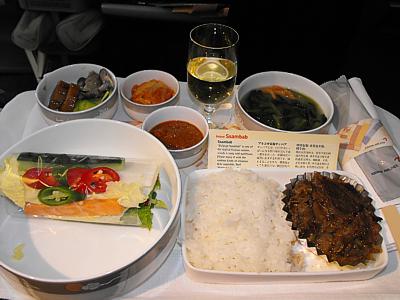 SsamBap
One bowl with a plastic wrapped roll of steamed cabbage leaves, and peppers. One bowl of steamed rice, and grilled beef Bulgogi.
A tub of bean paste (peanutes, walnuts, and pine nuts). A tub with pasta and fish sauce. A bowl with unknown dead fish and mushrooms.
This is another Korean classic dish, served up on Asiana. Few Westerners try this, but you really should try this: yes, really! Just follow the instructions on the tray.
Put a cabbage leaf on your hand. Use the chopsticks to put the rice and beef onto the leaf. Add come bean curd, and squirt on the fish sauce. Roll up the cabbage leaf, and eat it like a kebab. Lovely.

Business Class - Canapes - Asiana inflight food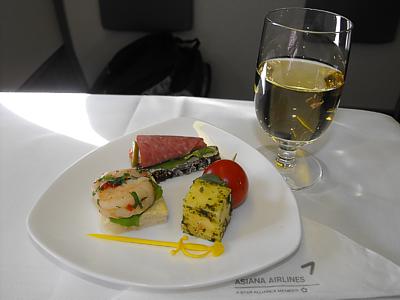 Canapes
One prawn and Salami, one tofu Bocconcini cheese, and chili shrimp canape.
One mini tomato.
A great start to the flight, it is good to see Asiana offering this in business before the starter.
The canapes are small, delicate, and yummy. I'm not convinced about the tofu though.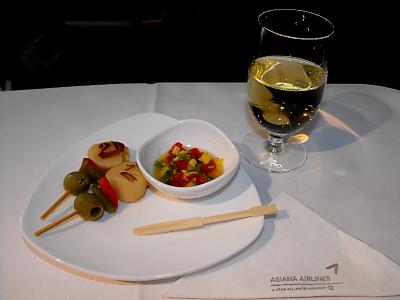 Canapes
Hot canape of Grilled Scallop on a skewer with an olive.
Served with mango salsa sauce
Showing Aisana's love of seafood, you get these weird creations which are at best lukewarm, and which are pretty tough.
Dreadful. Avoid.

Business Class - Starters - Asiana inflight food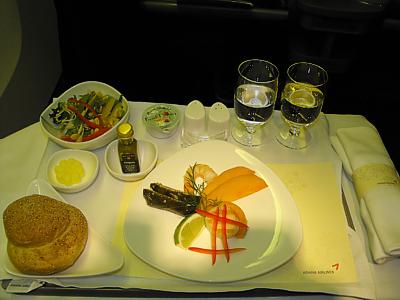 Salmon Starter
Appetizer of Smoked Salmon, Scallop and Prawn.
Mixed Garden Salad. Viaigrette dressing, and a mini bottle of oil. Hot roll and butter.
Great if you like seafood - other wise, it's to be avoided.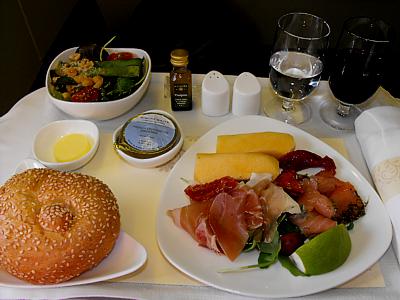 Ham & Salmon starter
Appetizer of Gravlax, Prosciutto Ham and Melon, with a slice of lime.
Mixed salad. Viaigrette dressing, and a mini bottle of oil. Hot roll and butter.
A great starter, with really good ham that tastes as if it's come straight from Italy.
The lime really brings out the flavour of the rocket in the salad, the melon goes with it perfectly.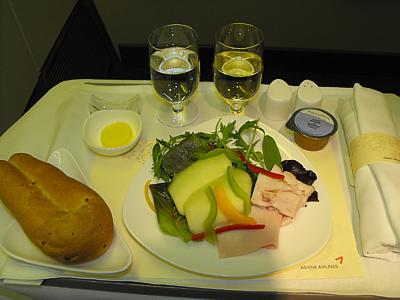 Turkey Starter
Smoked Chicken Breast and Ham.
Salad with melon slices, peppers and rocket. Viaigrette dressing, hot roll and butter.
Ah, this is more like it. Something that is neither beef nor seafood for a starter is a rareity, and although there isn't much here, it's pretty enjoyable.
Shame about the rock hard roll.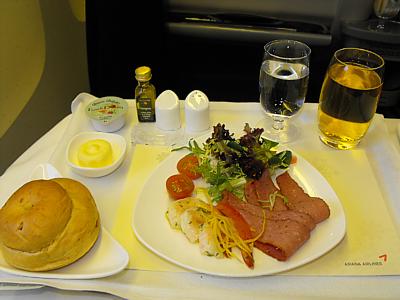 Ham Starter
Appetizer of Smoked Pastrami and Prawn with Salad (lettuce and three mini tomatoes).
Viaigrette dressing, and a mini bottle of oil. Hot roll and butter.
This is a great starter, full of flavour with a lovely crisp salad.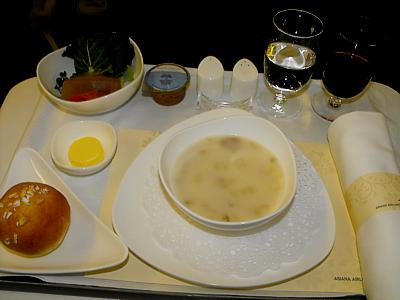 Clam soup
Clam Chowder with Crouton.
Appetizer of smoked Sword fish. Roll and butter.
This utterly revolting concotion is offered up on some flights between the starter and the main, and should be avoided - it is nearly as bad as the fish head soup.
Tasting of little other than of rotten dead fish, it is an embarasment to the airline.

Business Class - Main Courses - Asiana inflight food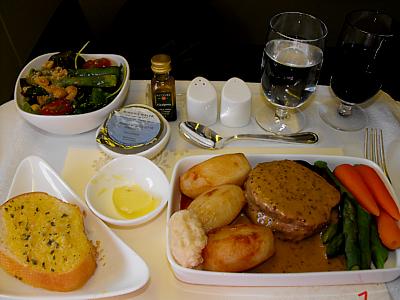 Beef Steak & veggies
Beef tenderloin steak, accompanied by roast potato, carrots and asparagus.
Garlic bread. Mixed salad.
Another classic steak from Asiana - indeed, the beef doesn't come any other way Good crispy potatoes.
The salad is equally good, with decent rocket leaves, asparagus and tomatoes, plus, oddly, some peanuts mixed in.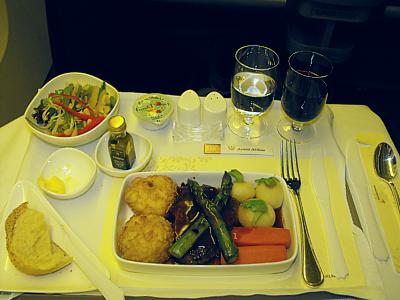 Beef Steak & veggies
Beef Tenderloin Steak served with demiglace sauce.
Served with crispy potato with carrot and asparagus in gravy.
The classic Western dish on Asiana. This is a pretty decent steak, with veges done AlDente (still a bit crsipy).
The Salad isn't bad either.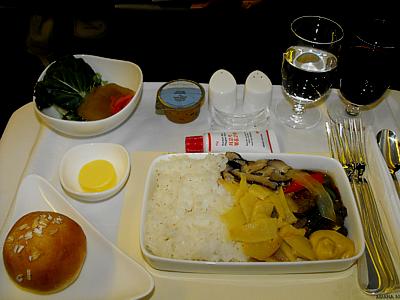 Beef & rice
Beef and Bamboo shoots served with Bulgogi sauce. Accompanied by steamed rice and vegitables.
Appetizer of smoked Sword fish. Roll and butter.
Another variant on the dead cow options, this is pretty good, and very filling.
Alas the swordfish is a nightmare of rank, old, fish.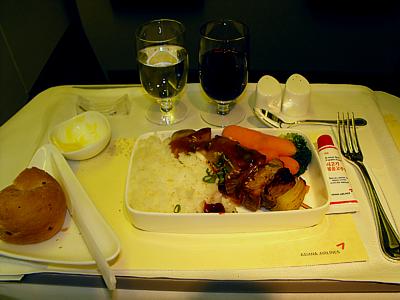 Beef Kebab
Beef Skewer served with Bulgogi sauce.
Vegitables and Steamed rice. Special Asiana pepper sauce.
If you're heading for a "bit of a session" with the onboard bar, it's good to see that Asiana can offer the usual additions that you'd expect after a few nights on the beers too. Yes, a kebab.
Pretty good, although not very filling. The veges are done very well, and the sauce is excellent.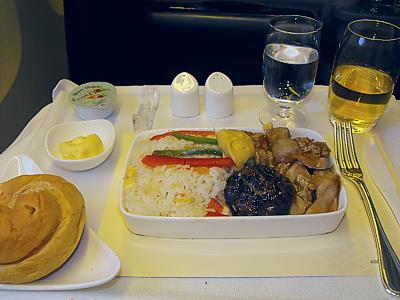 Chicken
Chicken thigh and breast, served with oriental sauce.
Accompanied by Black Mushroom and Fried Rice.
Yes! At last! Something other than beef on an Asiana flight! Take it if you can, as it's so rare to find an inflight chicken on Asiana.
It's pretty good too, with lots of decent veggies, and a decent mushroom.

Business Class - Desserts - Asiana inflight food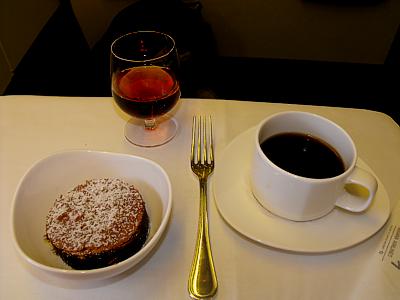 Chocolate cake
Chocolate cake.
Coffee. Port.
Much harder than it looks, this chocolate cake was designed I guess to be crunchy, and so it is: inside there is some lovely gooey choclate, but you have to break into it with the fork, and try and avoid hitting your fellow passengers with the shrapnell of the chocolate topping.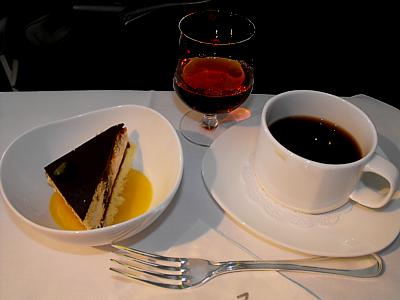 Chocolate cake
Opera cake with vanilla sauce.
Coffee. Sherry.
Another great after dinner desert, with a very good sauce.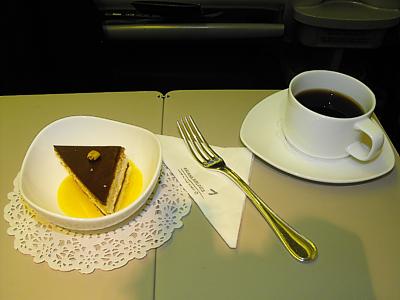 Chocolate Cheese Cake
Opera cake with Vanila Sauce.
Coffee.
Great. Lovely and soft, with a hard thick chocolately crust.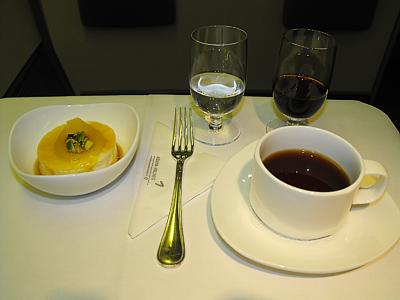 Coconut cheesecake
Coconut Cake with Ginger Ravor.
Coffee and madeira.
Lovely stuff, with Asiana's signature slightly gloopy cheesecake.
Pear Tart
Pear Tart.
Coffee.
Kind of like a cheesecake of a digestive biscuit, with some pear juice dribbled over. Not the best.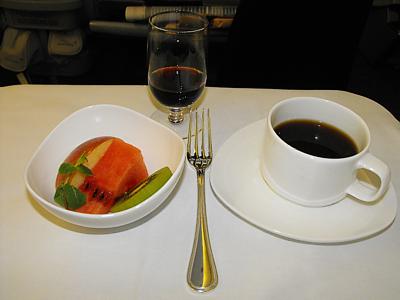 Fruit plate
A slice of apple, melon and Kiwi fruit.
Coffee. Madeira.
This very small fruitplate is offered on five course main meals for the loungest flights.
Asiana probably know that few people will go for, and accordingly portions are tiny.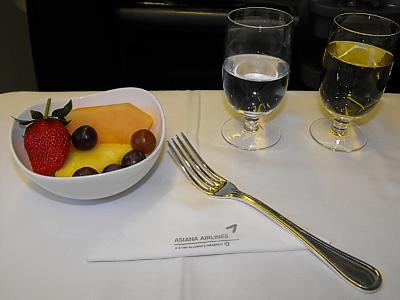 Fruit
A strawberry, two slivers of mellon and grapes.
A bit cheap and nasty, the strawberry is good, but that's about it.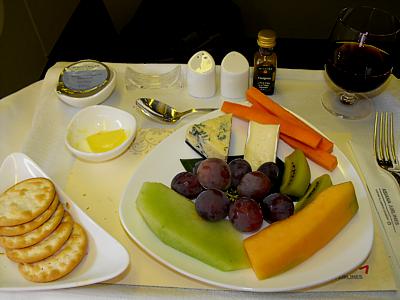 Cheese plate
A plate with a sliver of brie and blue cheese. Crackers.
Kiwi fruit, carrots, honeydew mellon and grapes.
A pretty good cheeseplate with an excelent blue cheese.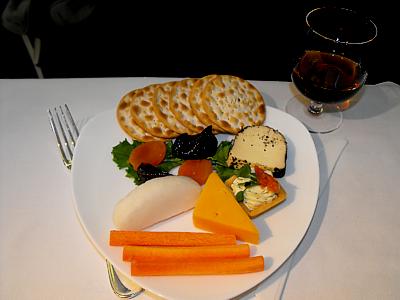 Cheese plate
A plate with a sliver of rockforte and Red Leicester cheese. Crackers.
Carrots, mellon, and dried prunes.
Another day, another cheeseplate, This one comes with the prunes, but the saving grace is the rockforte which is a delight.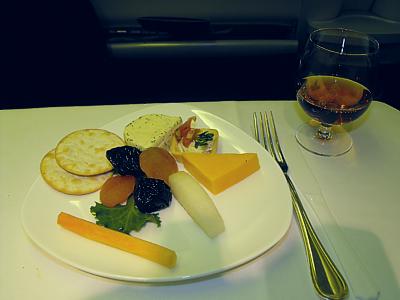 Cheese Plate
A cheese platter with a small cheese flan thing, a slice of blue cheese, and a slice of cheddar.
A carrot sliver. Two prunes, two dried dates. Crackers.
Definately a version for the Australian flights, the little flan thing is great - rather like a canape at the wrong time.
Nice blue cheese too - and lots of it.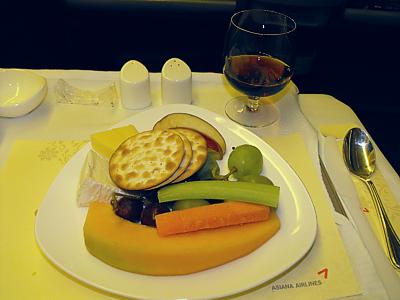 Cheese Plate
A slice of cheddar, and a slice of brie. A carrot and cellary sliver. A slice of melon, grapes and apple.
Jacobs Crackers.
When this comes around you are asked to select some carrot and cellary sticks from a cup. Odd.
Business Class - Breakfast - Asiana inflight food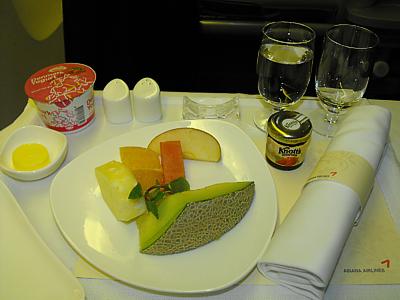 Breakfast Fruit plate
Fresh fruit plate with a large slice of melon, an apple slice, a slice of orange and a sliver of grapefruit.
Fresh yoghurt.
Asiana just can't - and don't - do breakfasts. This is their offering when the plane does land pretty early and they are forced to offer something. It's really not up to much.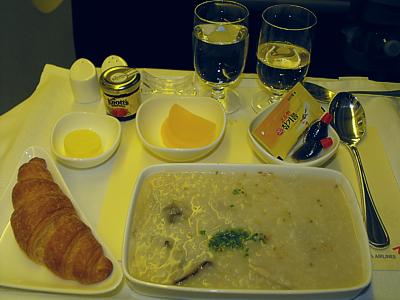 Breakfast Mushroom Porridge
Black mushroom porridge with fish oil.
Croissant with butter and strawberry jam.
This tastes as bad as it looks: one of the truly memorable dreadful airline meals. I wouldn't mind if it was in any way edible, or somehow looked good, but it's just some sort of gloop with a few mushrooms dropped in the middle. And then to add insult to injury, Asiana add the fish oil. Why? Has noone at Asiana ever tasted good Scottish porridge, or even tried a decent cooked English?
Madness. Nice crossant though.

Business Class - Heavy Snacks - Asiana inflight food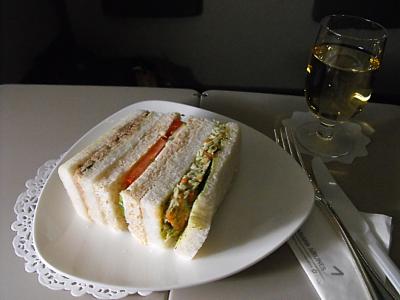 Snack - sandwiches
One tuna, one prawn, and one vege and coleslaw sandwich.
It's good to see Asiana offering an inflight "on demand" snack service. It's a shame that they ruin it with this appauling hodge-podge.
True, it's better than Singapore Airline's one demand sanwiches (tightly wrapped in the cling film) but what is with the weird seafood obsession? To add to this the bread is the cheapest the airline could find, the coleslaw addition really bad.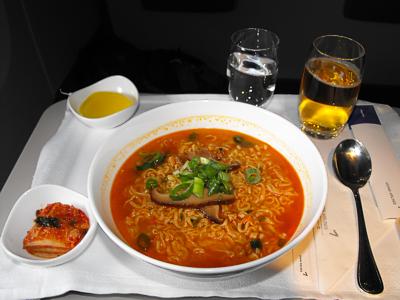 Heavy snack - Ramen Soup
A bowl of spicey ramen soup with mushrooms and noodles.
A tub with pasta and fish sauce. A bowl with lemon slices.
This is Asiana's "heavy snack", which can be requested at any time in the flight. It's very filling, and quite hydrating too.
There are two mixes of this, the hot spicey version (which is very hot) and the milder (Western) version.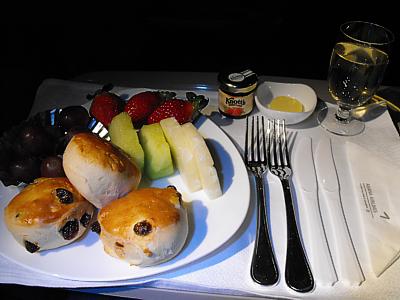 Afternoon tea - scones
Three fruit scones, with jam and butter.
Grapes, strawberrys and mellon.
This is the rare mid flight English Heavy Snack. At last, the rare afternoon tea service on Asiana. Great hot scones, with strawberry jam and butter. Oddly, with some fruit around the edges.
This is offered on the daytime flight to Heathrow, when you start off with lunch, and end with dinner. It is great to have something mid-flight that seems just right for the time of day when you are over the Urals.
However, it is only offered on request, so you have to know that it's there - it is at the bottom of the menu, and only 4 sets are carried on the plane.