WARNING: This page has not been updated since 2008. Some of this information may be very out of date.
Air SouthWest reviews
Facts at a glance
Fleet 5 shorthaul
Pitch Economy 30" Business 30"
Food Pay for/no frills in Economy
Drink Pay for/no frills in Economy
Website airsouthwest.com
Air Southwest Business Class

rating 3 out of 10

Air Southwest
Economy

rating 5 out of 10

Latest News:
Air SouthWest Fleet, Seats, Lounges, Food
Air Southwest are to close permanently on September 30th, 2011. The airline will axe all routes to Plymouth two weeks before this, on September 14th, and then all routes to Newquay, including Aberdeen, Bristol, Cork, Dublin and Leeds Bradford will by cut at the end of September. Eastern Airways, which had run the Air Southwest airline as a separate brand after taking it over last year, said they had no choice, as the airline is 'no longer financial viable'. All passengers will receive a full refund. Read the full story here
If you're flying to small, rather obscure parts of the UK, you'll trip over the small operations of Air Southwest and Eastern Airways. The two are now linked, following the takeover of Air Southwest by Eastern Airways.
Both are, in world aviation terms, tiny. Air Southwest (or Air South West Ltd. to give it its full name) has its main hub at Plymouth City Airport in Devon, but with many of its routes operating out of Newquay, using just five small rather old and tired Dash 8 planes. Meanwhile Eastern Airways has its main base at Humberside, and operates a fleet of 30 planes, which is a whole lot more impressive when you realise that most of them are tiny BAe Jetstream 41s seating just 29 passengers.
The two airlines are also very different. Air Southwest is a low-cost, no-frills operation, selling fares over the web, with few perks and no frequent-flyer scheme (although it does have a business class lounge) and uses the low fares, web-based format for bookings with over 90% of all bookings made online. The airline has a slogan of "Fly Britain's Local Airline".
Eastern Airways is however a very different beast, very much full service, even to the level of bringing out hot towels on a little silver tray before the flight.
Of course, you shouldn't mistake Air Southwest or Eastern Airways for Southwest Airlines or Eastern Air Lines. The former is a low-cost player operating in the United States (but originally called Air Southwest Co. of all things), while the later went bust in 1991, after having operated flights to London using ex-Qantas 747s out of Miami. The UK companies are very different, and staff are sensitive about the name; get it wrong at your peril.
How these two very different entities will get along together - let alone merge - is anyone's guess, but at the moment if you want to visit some of the more obscure airfields around the UK, this unlikely pairing is your way to do it.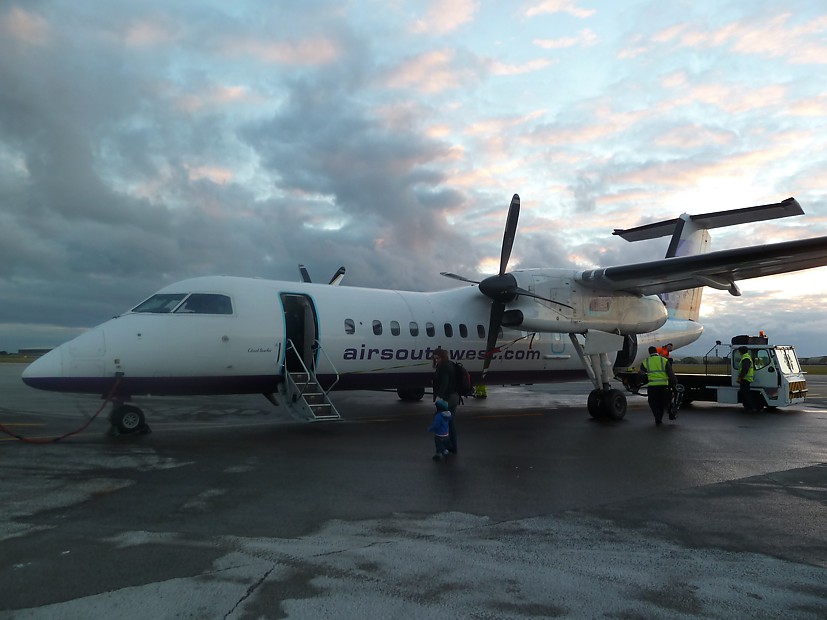 Air Southwest Dash 8 boarding at Newquay on a frosty morning in Janurary

Note that all reviews and opinions on Air Southwest (SZ) food, service, seats, planes, upgrades, and lounges is soley at my judgement. No legal liability is accepted if you take my advice.