NEWS: ANA All Nippon Airlines is to buy 10 new Boeing wide-body aircraft. There will be five 767, and five 777 aircraft. The 767s are to be used until ANA's finally gets its 787s, while 777s will be used to replace the 747s.
All Nippon Airlines loves its Boeings. While Airbus has been trying to get a foot in the ANA camp, it hasn't had much luck, and ANA continue to be a long time supporter of the American plane maker.
ANA All Nippon still has it's traditional three classes - and has added a fourth, Premium Economy. All of these cabins were revamped recently with the new "Inspiration of Japan" concept cabin, although roll out this, which started in Summer 2010, is slow. In first it features nearly-enclosed first class suite seats, business gets fully-lie-flat-bed business class seats, and there are fixed shell back seats in both of its economy classes. The introduction of the concept also discontinued the use of the name "Club ANA", although this name is still in common use.
First Class does what it says on the tin, and is much better on the newly revamped aircraft. ANA has introduced new seating in the 777-300ER that includes seats based on a private-room concept in First Class, with a nearly-enclosed first class suite.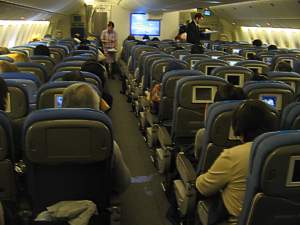 Boeing 777 the economy cabin

International business class has three different types of seat. It's a bit of a gamble as to which one you'll get. The latest 777-300s have the best seat, called the "Inspiration of Japan" the cabin a fully-lie-flat-bed business class seats: however, it is only available on the newest 777s. ANA offers its New Style seating on all North American routes. Otherwise, business class seating is a mixture of the new-ish seat, which goes flat and is on the old 777-300s, and the older non-flat seat on the 777-200s, which is no longer branded as "Club ANA". Domestic business class has been re-named "Premium Class" (which is better than the old name of "Super Seat Premium") with enhanced services (and increased seat pitch on selected flights and aircraft).
International Premium Economy is only available on some international flights, but it does comes with a giant 42 inch seat pitch. Premium Economy won't get you lounge access, and the meal is only slightly uprated from economy, but the extra length is well worth while compared to economy on longer flights.
Economy meanwhile has a whopping 34 inches, which is very good indeed, and much more than most airlines provide. There are seatback TVs in all classes on all widebody jets. ... read more about ANA All Nippon Airlines Seatback TV.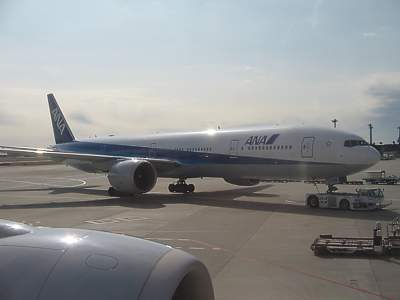 All Nippon Airways the larger Boeing 777-300 at Tokyo

ANA likes its special colour schemes. It operates 9 specially painted jets, with 3 Pokémon jets (2 domestic Boeing 747s and a Boeing 767), 4 Star Alliance jets, one Woody jet in affiliation with USJ, the Universal Studios theme park in Osaka, and one Boeing 767 in a special panda themed livery, celebrating the 20th anniversary of flying service between Japan and China.
All Nippon Airways Boeing 777-200/777-300 ER
ANA has introduced new seating in the 777-300ER that includes seats based on a private-room concept in First Class and flat beds in its Club ANA business class cabin. There is also a new Premium Economy and standard economy cabin. This configuration has the most number of business class seats in ANA's fleet.
ANA has a very large fleet with two versions of the Boeing 777. The twenty (with four on order) of the 777-300 are used on all flights to the UK, as well as to Hong Kong, San Francisco, Los Angeles and Washington. It has the new First Class and flat business class seats, plus Premium Economy. Singapore meanwhile gets the 777-200, which is much older, without premium economy or flat beds in business. There are twenty three 777-200s in the fleet.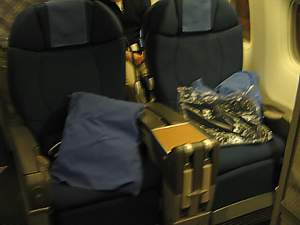 Business Class Seat on the 777-200

Economy is configured 3-3-3. Row 42 is an emergency exit in the 777-300. In the 777-200 there is also an economy cabin in rows 27 to 31.
In the 777-300 there is the new Premium Economy in a separate cabins, with just three rows 17 to 19 configured 2-4-2. These are over the wing.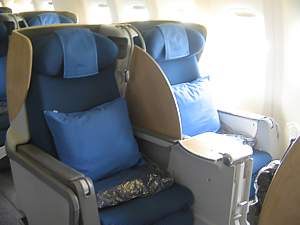 Business Class Seat with the flat beds on the 777-300

In the 777-300 with flat-beds in Business Class, these come in three cabins, configured 2-3-2, in rows 3 and 5 (a lovely quiet cabin), rows 6 to 14, and rows 15 and 16. There is a self-service bar just behind row 14. In the 777-200 in international configuration the business class seats are the older style cradle seats with a pitch of just 55", and they do not lie flat. Seats are 2-3-2 in rows 11 to 20. There is another variant of the 777-200 which flies destinations like Singapore, with business class seats in the nose in rows 1 to 7, and 11 to 14.
First Class is in the nose, with just two rows of the "private-room concept", configured 1-2-1 in the 777-300 used to Tokyo from the USA, which includes New York, Washington, San Francisco, Los Angeles and Chicago. Alas in the 777-200 it is only 2-2-2 and is decidely inferior.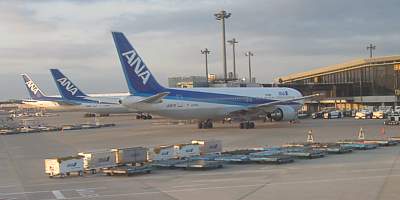 All Nippon Airways Boeing 767 & two 777s at Tokyo

All Nippon Airways Boeing 767-300 / 767-300ER
ANA has vast numbers of 767s. They come in two versions, with 41 being a regional version of the 767-300, and 20 in a somewhat longer-haul type, the 767-300ER. They are used for shorter flights around the Far East, and down to Guam.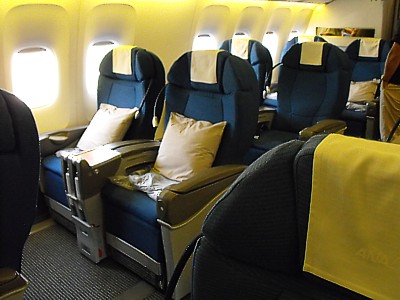 Business Class Seat on an inter-Asia ANA 767-300

Economy is configured 2-3-2, which is actually quite pleasant, and ideal for couples, where you can get a window and an isle, and exit without stepping over a sleeping stranger. Seats have a 31" pitch. There are two cabins. The foremost cabin (row 15 to 19) is the quietest, followed by the rear (rows 22 to 45). Row 15 and 22 are bulkheads, although this makes sitting quite uncomfortable for a long flight.
Business Class is slightly different depending on if you are in the regional or the inter-asia version. In the regional version, seats are the old-style cradle seat, configured 2-2-2, in rows 1, 3, 5, 7, 8, 10, 11. Compared to the delights that are on offer on the 777, the 767 looks - and indeed feels - much more crampt, however it isn't as un-comfortable as you would expect. The seats recline a fair way, have a 63" pitch, and there is an OK flip out TV screen of 9 inches width. On the longer haul inter-asia version of the 767, seats are 2-1-2, and this give much more width, which is much more pleasant for a longer flight, although of course there is no AVOD. Nor indeed is there an inflight snack bar, which is annoying as these 767s can be used for flights up to 8 hours long, such as down to Singapore.
All Nippon Airways Boeing 747-400


All Nippon Airways Boeing 747 at London Heathrow: LHR now gets a 777

ANA is gradually selling off it's fleet of 747s. Now there are only three of the long-haul versions in the fleet, and 10 of the rather more obscure domestic version the 747-400D.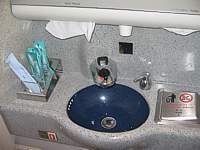 ANA 747 bathroom

The International version is a full four class plane, with 10 in First, 75 in business, 20 in premium economy, and 182 in the cheap seats at the back. They are now only used from Narita-to Frankfurt and Paris.
The Domestic versions cram 'em in. Known as "cattle pens" in Japan, the 11 left in the fleet are some of the highest-capacity 747s built, which seat an amazing 569 passengers, with 27 in Premium Class (with 38" seats) and 542 in very small economy seats. This is not a very comfortable plane to sit in - or fly in. Avoid if possible.