Qantas Reviews
NEWS: Qantas is to scrap First Class on many aircraft. Read the full story here. Qantas Boeing 747-400 are destined for the scrapheap. The 747 will be phased out from 2013, and replaced by the Airbus A380. Qantas also has a huge order for 115 Boeing 787-800 and 787-900 aircraft which will allow Qantas to replace its decidedly old and tired Boeing 767-300 fleet.
Qantas Fleet & Seats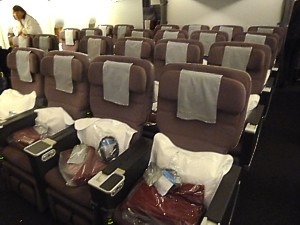 Qantas premium economy seat on the Boeing 747-400


Qantas has a modern(ish) and well maintained fleet of aircraft, of pretty much every type flying, with 280 aircraft. The mainline operations consist of a 130 strong Boeing fleet of 747s, 767s and 737s, but you also have to add into the mix 60 aircraft by Jetstar, 55 by QantasLink, and a bunch of others from the freight and jetconnect operations.

Qantas has been a dedicated Boeing customer for more than forty years, but has recently moved from the US to the European camp, and has put in a large order to Airbus, and now flies the superjumbo A380, as well as the A330 both long and medium haul, while the A320 is used by the Jetstar offshoot.

On the Mainline, international, operations, Qantas operate a combination of two, three, and four class planes. In effect, this means that only the ultra long haul planes operate with four classes (including First Class) while only the newest planes have Premium Economy. The old stuff is strictly two class only, and to make it more confusing, there are two different types of Business Class seat, while in economy on international routes, the difference between old economy on non-rebuilt 747s and the latest A380 is marked. At least you are guaranteed a personal video screen on Qantas. ... read more about Qantas Seatback TV. Choose your plane carefully.

On Domestic operations Qantas normally operate two class planes, with a Business class section up the front. American customers should note that the seats at the front of the plane are not, and never will be, First Class. Equally, Business is not Club, and the crew always gain a certain humour from passengers who refer to it as such.
Qantas international First Class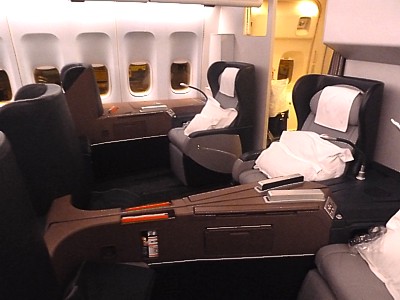 Qantas First Class old style seat on the Boeing 747-400
There are two different types of First Class offered, depending on the aircraft, but its only offered on some planes; a few of the Boeing 747-400, and the older version of the Airbus A380.

First Class on the Qantas Boeing 747-400 is up in the nose, where you'd expect it, however the seat is quite old and dated nowadays. The First class seat is quite wide, at 22 inches, with a 79 inch pitch. There is a 10 inch flip out TV screen, and power (110v only, US and Australian plugs). It is nearly identically to the old British Airways First Class seat, down to the annoyingly small pop out screen, to the huge heavy table that regularly breaks.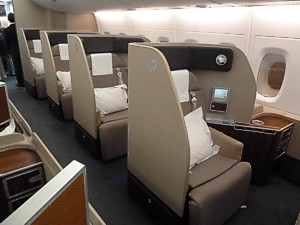 Qantas First Class new style seat on the Airbus A380

The Qantas Airbus A380 First Class seat is a very different beast, and a sharp move away from the conventional seat on the 747. Instead, it swivels: on take off it is at an angle to the cabin. The seat itself has a 83 inch seat pitch, and is very wide at 29 inches. There is a 17 inch high definition TV screen, 110volt power (all plugs including UK) and USB power.
If you have a choice of which aircraft to take in First Class, you should always take the Airbus for comfort and entertainment options. Qantas First Class reviews show it is much cleaner and newer, although there is a certain cache about being in the nose of the 747, and the view forwards through the nose portholes on the 747 can never be beaten on landing at an overseas airport.
Qantas international Business Class
If you think you'll get some consistency in Business Class, think again. Qantas once again offer up two different products on international flights; and a third on the ancient Boeing 767s.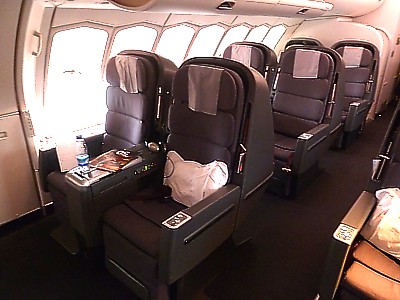 Qantas Business Class old style Skybed seat mark I on the Boeing 747-400


To make it more confusing, the two seats look similar, and are both called the Skybed.

The first version of the business class Skybed has a 60 inch pitch and 21.5 in width, however beware: frequent flyers call it the lie-slope. The seat is flat, and you can lie down in it, but you'll be lying at an angle of about 150 degrees, and after a nights sleep, your feet may be aching from stopping you from slipping onto the floor.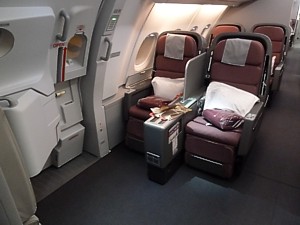 Qantas Business Class new style Skybed mark II on the A380
It has a 10 inch seatback TV screen, and is used on Boeing 747s and Airbus 330s, including the Qantas 747-400ER, which is now just used on the Dallas route.
The latest version of the Skybed is much better, called the Skybed Mark II. It goes level as well as flat. The new Qantas Skybed seats have an 80 inch pitch, which convernts to a 6 foot 6 inch long bed. There is a much better 12 inch touch screen TV monitor. You can tell the difference between the Skybed Mark I and Mark II by the extra extension on the bar between the seats: if it has a long bar with a larger cocktail table, its the new Skybed.
Finally, on the Boeing 767s in business class flying internationally, you end up with the old-style business class seat, called the Qantas Dreamtime seat, which reclines but that's about it. There is just a 5 inch TV screen.
Qantas international Premium Economy Class
Ah, Premium Economy. It's offered on quite a few airlines now, and Qantas have one of the better ones, but make no mistake, this is definately not business class, even though the seats are sometimes mistaken for the old business class seats.


Qantas premium economy seat on the Boeing 747-400


Qantas Premium Economy class comes with a width of 19 inches, and a seat pitch of 38inches (although a few seats on the Airbus A380 have 42 inch pitch). It is that width that makes the difference, although the length isn't too pokey either: it is much better than British Airways provide. The seat looks a bit uncomfortable when you first see it: it's no looker, with odd bands of upholstery around it, but it's pretty comfortable, and has good folding wings around the headrest, 9 inches to reclineand a legrest that flips out and extends.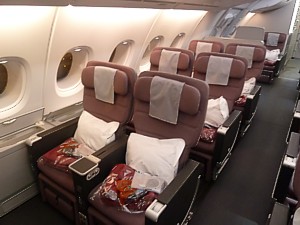 Qantas Premium Economy new style seat on the Airbus A380
There is also a very useful cocktail table between the seats, and at the window seats, there is also a great little storage bin (like on the 747 upper deck).
Entertainment is better, with an 8.4 inch flip out TV, and the joy of a TV remote that isn't in the armrest where you could knock it, but instead in the vertical arm of the seat. Qantas Premium economy has a power outlet in the centre consoles for laptop, with a socket which fits every type of plug except UK plugs.
Premium Economy also comes with noise reducing headphones, and other perks like Sparkling Wine on take off, and an uprated amenity kit. Alas, food is strictly economy, and there is no access to the business class lounges, but it is well worth the extra if you're on an ultra-long haul Qantas flight heading to London or over the Pacific, where (on the A380) there is also a nice perk of a walk up snack bar.
Qantas international economy class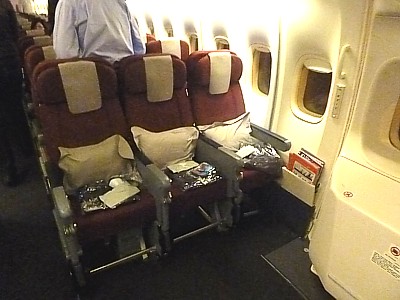 Qantas economy class row 58 seats on the Boeing 747-400
Qantas economy is, well, economy, and there's no getting away from it. However, it is better than many airlines offer.

Seat pitch is a pretty standard 31 inches, with a width of 17 inches. The seats are OK, but there are better ones out there; in particular the A380 ones are very bland, with only small folding wings on the headrests. The 747 seats are better, but are getting decidedly old: indeed, on the oldest three class 747s now (used to and from Frankfurt) they are getting positively archaic with many seat failures, with TV screens that don't work, and recline that doesn't.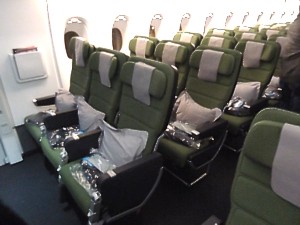 Qantas Economy new style seat on the Airbus A380

There is a 6.4 inch seatback TV screen (except on the Boeing 767 where there is none), which on most aircraft comes with AVOD. For the best entertainment in a 747, always choose the Airbus A380 over the Boeing 747.
In economy you can get a better seat by asking for the emergency exit seats, however these seats tend to be reserved for those at Gold or above level in the Frequent Flyer scheme. These seats have a flip out video screen that is contained in the armrest: however, this means the armrest doesn't move, and so you can't lie down in these seats if there is noone next to you.
Qantas Airbus A380 superjumbo
NEWS: Qantas is to scrap the First Class cabin on all of it's newly ordered A380 aircraft, and use the space for Business Class seats instead.

Read the full story here.
The new A380 superjumbo is Qantas' latest flagship plane for long haul. Qantas currently has ten in the fleet, which are used on many flights, including from Sydney to London and Los Angeles.
For a flagship plane the interior is a major disapointment, particularly compared to what other airlines have put in their A380s. Forget Emirates with their showers, or Singapore with a double bed, Qantas have just gone for a very basic interior, in a pretty foul colour. In economy the green interior looks rather like a dentist surgery, while the "Orca red" in Business is very retro 1970s. The colour chosen for the first class suites is the better choice with a creamy grey color.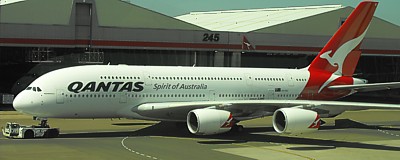 Qantas A380 being towed to the gate at Sydney

However, the plane is quiet and comfortable. For a long flight the space, and lack of engine noise, really makes a difference. All seats have a TV with the latest Qantas AVOD inflight entertainment system.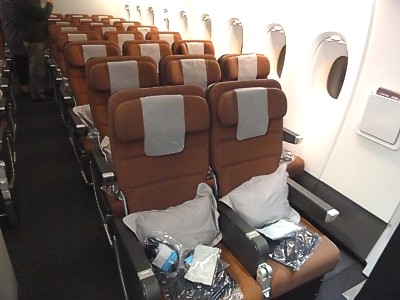 Qantas A380 Economy Class Seat Missing seat on row 79 on the Airbus A380

In Economy the A380 economy seat has won the 2009 Australian International Design Award of the Year, with judges saying the Marc Newson-designed seat cannot be faulted. It certainly is a big step forward in terms of entertainment and connectivity, having USB and internet ports, a PC power point and the usual in-seat telephone. Qantas have however given economy a unique perk: a self service bar! Alas, it's a dry bar: you need to ask for alcohol. Qantas A380 economy class seat pitch is a pretty average 31 inches and the seat width is 18.1". Not anything to writehome about, but adequate. However other airlines offer a pitch of up to 34 inches.
Economy fills the bulk of the lower deck, with seats in a 3-4-3 layout in 3 main cabins, all of which are pretty similar. Seats with a fold out TV screen in the armrest are Row 50, a bulkhead just behind the self service bar, while Row 66 is an emergency exit with acres of space. Seat 71D is unique: an isle, with no seat infront of it, giving a lot more space, and the fold out video screen. Row 79 is the place to be: an emergency exit, and just behind another self serve bar, although I've found passengers tend to hang around this area in the middle of the night. Opinions are generally negative about this Qantas A380 seat for just this reason. There is another self serve bar behind row 88.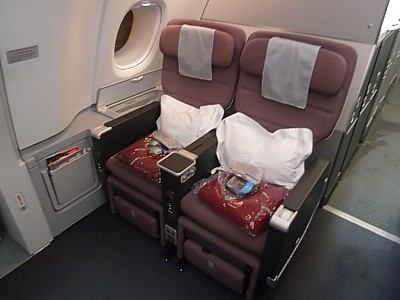 Qantas A380 Premium Economy Seat Seat 38K is a solo twin on the Airbus A380
and is absolutely the best seat for couples. This seat is highly prized.

Executive Economy Class is Qantas' Premium Economy class, and on the Airbus A380 aircraft it is better than you'd expect with just 32 seats. The seat pitch of 42 inches (4" better than on the 747) feels pretty roomy for economy, and Qantas have taken out a row of seats as well, giving it a 19" width, configured in a 2-3-2 at the rear of the upper deck on the A380. There is a 9 inch recline that could be better, but you can slump in your seat and kind of slide down giving an OK sleep on the way to LHR. Executive Economy is right at the back of the top cabin, with Row 34 being a bulkhead, while row 38 is just ahead of the self serve bar. Seats 38J and 38K are in a solo position, with no other seats nearby, and is absolutely the best seat for couples. This seat is highly prized, and it tends to be reserved for Platinum Frequent Flyers.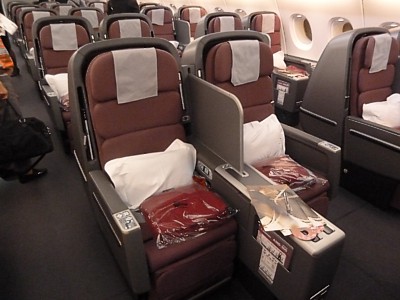 Qantas A380 Business Class Seat The new Skybed on the Airbus A380

Business Class has no real perks over the 747, with just the usual Skybeds, however there are ahead of the field being fully flat beds. There are 72 Skybed seats on the A380, having an 80 inch seat pitch (converting to a 2 meter long bed) and a 21 inch width. These seats are located on the upper-deck in a 2-2-2 configuration. There is a 12" touch screen monitor with AVOD.
There are two business class cabins. The fore cabin is much more private, but has a private lounge on one side of the stairs, and a self serve bar on the other, creating noise and through traffic. Row 11 is the bulkhead here, although you don't really need a bulkhead with such a large seat. In the cabin behind this, there is Row 16 as a bulkhead, and Row 24 an emergency exit, with just one more row of seats behind you. But in business you really don't need the extra legroom.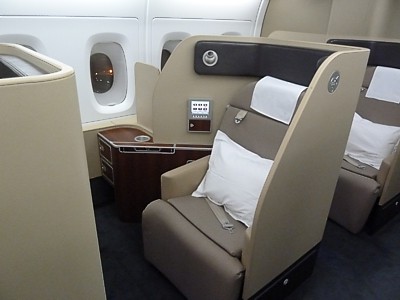 Qantas A380 First Class Seat The individual suite on the Airbus A380

First Class on the Qantas Airbus A380 offers 14 individual suites, which are some of the best 'convential' First class seats on any aircraft. The Qantas First Class seats have a 84 inch seat pitch (extending to a 2.12meter fully flat bed) and a width of 29inches. Each suite has a 17 inch wide screen High Definition monitor with the usual AVOD programs, which is on a motor to rotate out from the wall. Also on motors are the windowshades.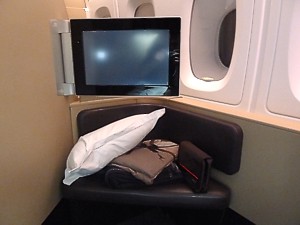 Qantas First Class IFE on the Airbus A380

There is a separate TV screen which has the seat controls - or it can show a moving map: this is a great inovation, and shows where you are while you are watching a film. There are 14 suites, in rows 1 to 5, with 3 seats across the cabin. These seats are certainly a step up from Business, and are a definite improvement over what some airlines offer, but lack the private cabin feel of Singapore Airlines. The Qatas A380 seat is unusual is other respects too: it has a motor to swivel, so you take off facing forward and to dine, but then rotate to 45 degrees to sleep. Alas, the view out of the window is pretty poor.
Alas, with the whole of the new Qantas A380, it's such as shame that Qantas missed an oppotunity to make a real step change in comfort, as opposed to just a small incremental improvement.
Qantas Boeing 747-400 / 747-400 ER
On the longhaul international routes Qantas have traditionally flown the Boeing 747, called by Qantas the
Longreach
- oddly, not because of the long distances they fly, but because it is the original home of Qantas.

Qantas 747-400 ER
These come in four main variants - and these will have a significant effect on the comfort of your journey. There are several Qantas 747 seating plans for the 400 variant, and it makes sense to check these carefully, particularly in business where there are two possible types of seat.
The 747-400 is much better, with 21 flying in kangaroo colours. They fly all the long haul routes with a range of 6000 miles - which is better than the -300 variant, and can be distinguished from the classic 747 by the wingtiplets. When this aircraft was introduced it enabled Qantas to cut out the Middle East or Indian stop-over from its European routes and keep only one stop-over in South-East Asia.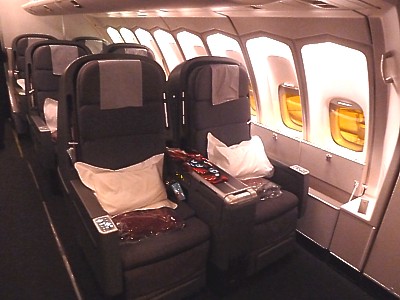 Qantas Business Class flatbed seat on the Boeing 747-400

They have Boeing's latest entertainment system, and have business class in the long bubble behind the cockpit. All have 14 first class seats, however there are 3 sub variants. There are 12 planes in the "Kangaroo" version (used on European routes - in reference to the Kangaroo Routes, a name given after the multiple stop-overs for the earliest UK-Australia flights resembling kangaroo jumps). Their three-class arrangement seats a total of 424 passengers (14 first, 65 business, 345 economy). The "Pacific" variation (technically the most demanding) with 12 planes having a larger business class (79, and 265 in conomy). And there is the "Skybed" version, with 50 business class seats and a bar.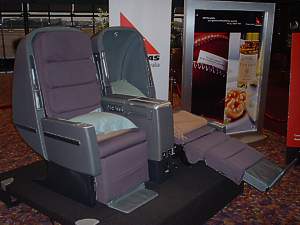 Business The new Skybed business class seat, on demo at Singapore airport

In Economy as with all 747s the emergency exit seats are the best, and come with a folding out TV screen and a tray hidden in the armrest. Plus of course lots of legroom, although with the seats right at the overwing exit there isn't a window. Alas most regular customers know to ask for them, so its hard getting one at checkin. Row 34 gets a window, but also a bulkhead with the danger of fold down cots (and hence noisy children). Row 46 gets a door but no window, and it's over the wing. Row 58 is by far the best, as it is clear of the wing, gets a door and a window.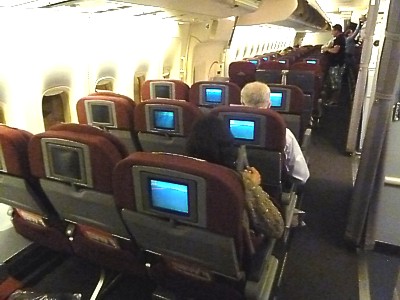 Qantas economy class seat on the Boeing 747-400
All Qantas Boeing 747s now come with the AVOD system includes personal LCD screens in all classes, located in the seat back for economy and business class, and in the armrest for premium economy and first class. It is a somewhat more basic AVOD system than used on the A380, and as such only has 300 video items, including about 20 full length films. All seats have a slide up headrest, with little fold out wings.
Business Class seats are in a 2+3+2 formation downstairs. Qantas is rapidly installing its new Skybeds which fold almost flat, and have a kind of eggshell appearance. With the new skybeds they are in 4 rows, 23 to 26. Plus 6 rows of 2+2 in the bubble upstairs, with row 16 getting extra legroom. The Skybar for business class is just by the door economy enter at (no doubt so they can drool over it, and dream of an upgrade). It's right in front of 34 A/B/C. Throughout the flight business class passengers will be at the bar, and will be noisy - however in these seats you can't get to the bar. To get a decent nights sleep - avoid these seats.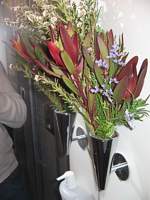 Business class 747 flowers in the bathroom

Qantas was is the launch customer for the new 747-400ER (for extended range), and indeed the sole customer. Few airlines needed such a long, longhaul, plane. It is now mainly used on the Sydney-Dallas-Brisbane-Sydney trip, which is pretty much at the extreme limits of its range. It was previous used to San Francisco, before this route was canned, and the aircraft moved to Dallas to link up with American Airlines hub. Be aware that the 747-400ER only have the early version of the Spacebed, which isn't a flat bed. Instead it reclines to about 30 degrees.
Three of Qantas' 747 fleet are unique - and are called "The Ugly Sisters". After the Asian financial blip in 1997, Qantas bought three very cheap 747s secondhand on the basis that it was cheaper than ordering and waiting for new aircraft from Boeing. They soon discovered why they were cheap - one came from Asiana (VH-OEB) and was OK, but two are ex-Malaysian Airways (VH-OEC and -OED). When the aircraft were being repainted for delivery, an unapproved metal scraper was used to clear the paint. It scratched the aircraft's skin. This became a significant crack. A significant amount of work was done to make sure the aircraft are now OK.



Qantas 747-400 Longreach at Sydney

One of Qantas' 747s (the 747-438 variant VH-OJH) is notorious as the survivor of the 1999 QF1 accident. In this, the worst jet-liner crash of Qantas' history, the nose and right wing landing gear collapsed after landing at Bangkok (old airport) runway in a storm, with the nose landing gear being forced back into the fuselage, after the aircraft collided with a ground radio antenna and came to rest with its nose resting on the perimeter road. It cost Qantas 100 million Australian dollars to put right the damage - pretty much the cost of a new aircraft. The aircraft is known among the crew as the jet-ski.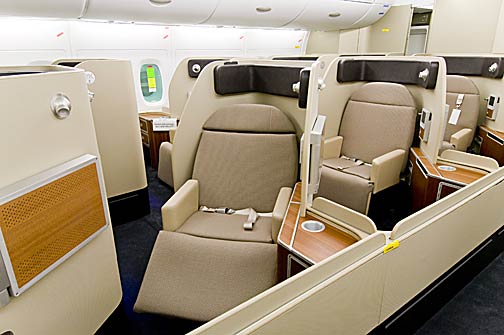 Qantas A380 First Class seats and cabin in First Class are impressive on Qantas

The 747-300 is no longer flown by Qantas. This was an older version of the jumbo, without the drag reducing wingtiplets seating 52 in business, and 398 in economy. They were used on International routes out of Perth, and on the route from Melbourne to the US via Auckland (where the extra range of a 400 isn't needed) up until 2008. They are two class only and do not have Spacebeds, only the old Dreamtime seat. As such they are pretty uncomfortable for a long distance overnight flight.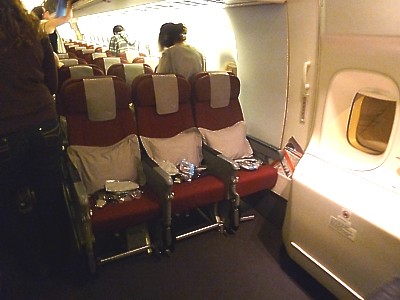 Qantas economy class Row 46 seats on the Boeing 747-400

They were used from some trans-continental routes from Perth to Melbourne and Sydney, and here they should be taken at all costs instead of the 737 services. Not only do you get a faster plane (the 747 saves half an hour over the 737) a seatback video, but in business you get a bigger better seat, and a full international service - which vastly improves the daytime meal service. There are 5 rows of business in the nose, in 2+2, and 8 rows upstairs in 2+2. Here row 15 is an exit with lots of legroom, but in AB you get two crew in the seats ahead of you. In economy seats are in 3+4+3. Row 29, 46 and 58 are emergency exits. Rows 36 to 41 only have a window every other row, and are best avoided.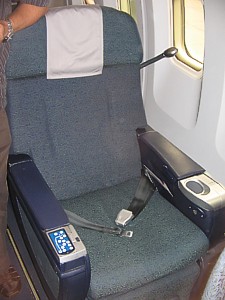 Qantas 767 business class seat
NEWS: Qantas also has a huge order for 115 Boeing 787-800 and 787-900 aircraft which will allow Qantas to replace its Boeing 767-300 fleet.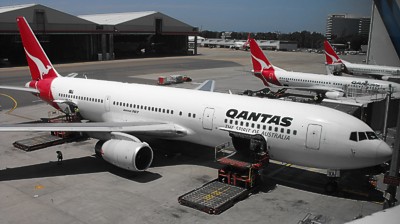 Qantas Boeing 767-300 on the stand at Sydney

Qantas Boeing 767-300 / 767-300ER

Qantas 767 ER
There are 26 767s in the Qantas fleet, seating between 204 and 224 depending on the seating configuration. They are found on domestic routes, plus international routes with less demand such as Perth to Singapore. With a twin isle at least the cabin service is quite quick, but these planes are getting on a bit now.
Qantas did plan to swap all the 767 for A330s, however it found that the A330 takes longer to refuel than the 767, and as a result it doesn't quite suit destinations where a short turnaround is needed, such as Sydney to Melbourne, and it's likely the 767s will remain on this route for a while yet, as it is one of the world's busiest air routes.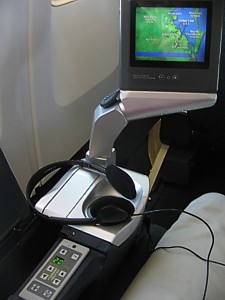 Qantas 767 business class entertainment

The 30 seat business class version has Business Class is in the nose, with 4 or 5 rows of 2-2-2 seats. These are fairly standard business class seats: they recline, but only to 45 degrees. A separate 25 seat business class version has a rare 1-2-2 Business Class seat layout in the nose, with slightly wider seats, and these seats also have a flip out video screen. This variant of the type is highly desirable if you are flying alone, and it's well worth while upgrading to these seats on longer flights, however the seats on the left, with just one window/isle seat, tend to get booked up first, and so you can find that even if you manage to upgrade all the seats are already full.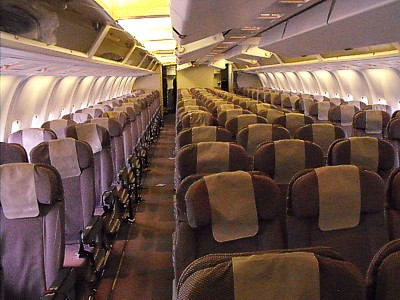 Qantas 767 economy class seats in rear cabin

Economy Class has a 2-3-2 layout, with row 23 being a bulkhead, and 34 being an emergency exit, where there is plenty of legroom, however the age of these planes is showing, as they have seats that are well worn, and the TV screen are CRT overhead monitors. Indeed, it can be quite hard to see these monitors or watch the overhead films, as they are spaced fairly irregularly up the cabin. The 767 economy class seats themselves can never be said to be up to much: there is a recline of 20 degrees, and a pitch of 31 inches, but that's about it for creature comforts. Each armrest has a socket for headphones, with 10 radio channels and one channel for the TV screens.
Qantas have axed all of their early model 767-200s, which were getting decidedly old and tired.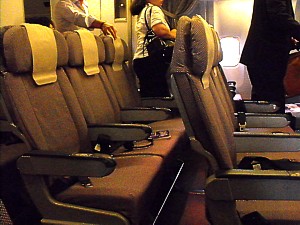 Qantas 767 economy class seats

Several of these aircraft have come from British Airways, and this will severly impact on your enjoyment of the flight if you select seats. In particular avoid selecting row 25 on the Qantas 767-300ER. Qantas often move aircraft around, and if your plane is substitued for an ex-British Airways plane (763-336) these aircraft don't have a row 25 - and you'll end up in the back of the bus.
Qantas Airbus A330 (A330-200 & A330-300)

Qantas A330-200
Qantas has eight A330-200s and ten A330-300. The replacement for the older Boeing 767s, the A330 is a cheaper, slower two engined version of the four engined twin isle wide body A340. The A330-300s do the shorter international runs, while the A330-200s are being withdrawn for the new Jetstar international services.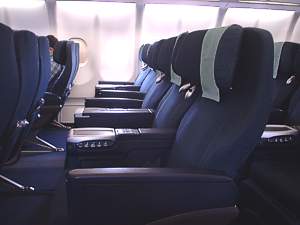 Business class seats in an A330-200
Clean, tidy, comfortable, and quiet, they're a welcome break on the long haul domestic flights (a contradiction in every country other than Australia) such as Sydney to Perth. The A330s have a large 14 inch fold down LCD TV screen for both classes, but no individual seatback videos.
Economy seats are in a 2+4+2 pattern, and have a slide up headrest, with little fold out wings. Row 23 and Row 45 are emergency exit seats.
Business Class is in a 2+3+2 formation. The seats are comfy, with a nice large flat section between the



Qantas A330 at Perth, WA
seats to put drinks on, and very simple audio controls in the armrest, along with four pullout levers for seat recline and legrest. There are just four TV screens at the front of the business class cabin, so at the rear it is difficult to see the screens, where as in Row 1, the bulkhead, it looms large overhead.
Two of the latest A330-200s are known as "the specials", and feature Qantas' latest seats and inflight entertainment - they should be taken at all costs over the older A330s, and are used on domestic routes, mainly between Sydney and Perth on trans-continental flights, but occasionally pop up on the Melbourne to Perth run. Even economy seats have a seatback TV on the new Qantas A330-200.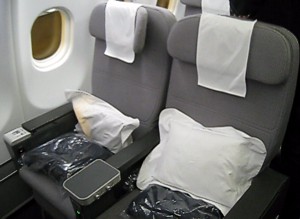 Qantas A330-200 domestic business class seats

The Qantas A330-200 aircraft is configured with 36 business and 265 economy seats.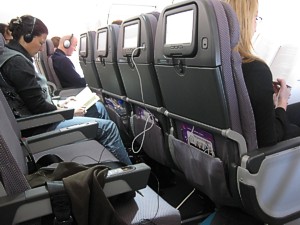 Qantas A330-200 economy seats & power socket

Qantas A330 Business Class is in a 2-2-2 layout, with 6 rows, unlike the 2-3-2 layout of previous planes, giving a larger wider seat. The wide seatback design gives a seat pitch of 38 inches, and a width of 22 inches. Business passengers also gain a cocktail table, ergonomic cushions and extendable leg rest with fold-out footrest.
The Qantas A330 seating plan for Economy Class in the Qantas A330-200 in domestic have a seat pitch of 31" and a width of 18.1". Seats are in a 2-4-2 layout, ensuring that every passenger is only one seat away from the isle. There is an ergonomic seat cushioning, a seat base that moves in conjunction with the seat recline, and adjustable headrests, that slide up, with adjustable wings. All Qantas A330 economy seats feature AVOD (Audio Video on Demand) and a TV screen, controlled by touching the screen, or with the controller in the armrest. Alas these armrest controllers are halfway up the arms, which is a huge problem if you would like to use the armrest to do something logical, like rest your arms on them!
Each seat offers a USB port for passenger to charge their electrical devices, however this may be an issue for some people. The socket is just a USB socket: great for charging iPhones, but some computers will not take power through the USB socket.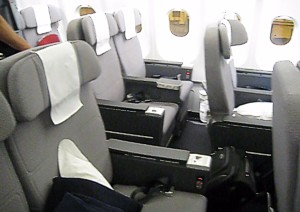 Qantas A330-200 domestic business class seats

The new Qantas A330-200 aircraft has touch screen functionality for its entertainment system, and on demand inflight entertainment options using the new Panasonic eX2 system which until now for Qantas was only found on Qantas A380 aircraft. The plane's on-demand Panasonic eX2 system has over five hundred entertainment options including movies, television programs, a CD library, games, a dedicated children's section, plus Qantas Lonely Planet Guides as seen on the A380. However there are only 10 films per flight, and these films change on the outward and return journeys.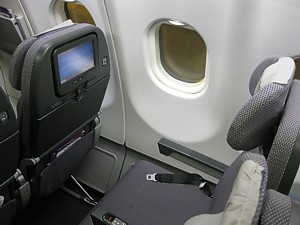 Qantas A330-200 economy seats and TV Screen

There are currently two Qantas A330-200 with the new seating layout, and inflight entertainment system. The first was called "Tamar Valley" after the renowned Tasmanian wine region. The second A330-200, is named "Clare Valley" after the South Australia Valley.
You can tell if it is one of the new aircraft on a particular flight by making a dummy Business Class booking, and seeing if the seat layout on the Qantas A330 has only 2 seats across in the middle. If it does, it is the new aircraft.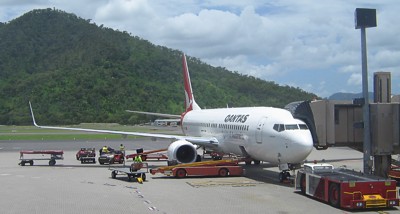 Qantas 737-800 at Cairns

Qantas Boeing 737-400 & 737-800
NEWS: Qantas is reducing seat pitch in economy to only 30 inches, however it is expanding its fleet of Boeing 737-800s. All the new aircraft will feature seatback TVs with AVOD, and a seating design styled by Marc Newson.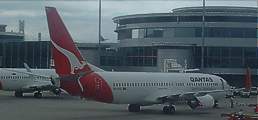 Qantas 737-800 at Sydney
The cheapest plane any airline can fly (in terms of running costs) this is Ford Fiesta of Qantas' domestic routes, as well as some longer ones over the Tasman. Qantas fly both very old 737-400 and the brand new 737-800 types. The 800 model is definately the aircraft of choice, particularly in business, or if you are on a longer flight where entertainment is offered. Some of the 400 models are being converted to 800 models, with a new style cabin - these can be disguinished by the filled in 'eyebrow' windows above the main windscreen.
The 737-400 variant tends to be used for short hops, with only two rows in business class, and overhead CRT monitors. However on the 737-400, Qantas provide full sized business seats in a 2+2 format in the business cabin - which is separated by the usual curtain from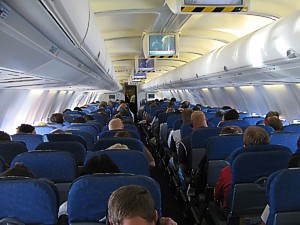 Qantas 737-400 cabin interior
(3+3 formation) cattle class. Unlike many airlines, these seats cannot be converted to economy seats by moving the armrest - which can have advantages when these planes are used as a single class version. Passengers with status in Frequent Flyer are often given these seats at no extra charge.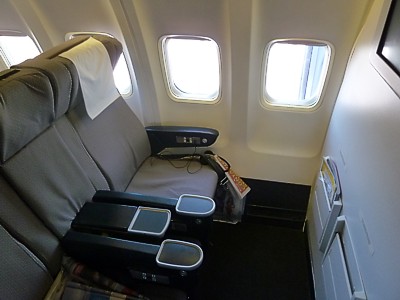 Qantas 737-800 new style business seat

The 737-800 aircraft, the newest variant, is used on the long, thin, route from Perth to Brisbane, and is also used on some routes to islands in the Pacific. It can be distinguished from the older version by seemingly outsized wingtiplets, and is by far a better choice than taking the old 737-400. There are 23 of the 737-800 with overhead LCD monitors, and with (normally) three rows in business, however these business class seats are in effect economy seats, with the middle armrests moved together and a flip down cocktail table attached. Normally row 1 is blocked except for the most frequent of flyers, however if you are in the 737-800 in Business, and you manage to snag the first row (by either having Frequent Flyer status, or by changing your seat at T-80 hours to takeoff) you should sit on the right in 1DEF. Here there is a small alcove in the front wall low down, which gives an extra three inches of legroom.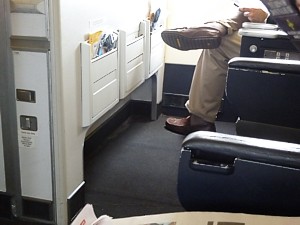 Qantas 737-800 the ankle alcove in business

The very latest of the new version of Qantas 737-800s feature a rare delight - seatback TVs in both classes. The new aircraft has aseating design styled by Marc Newson. In Business there is a Marc Newson styled seat with a 37" seat pitch and 22" width. There is a 10.6" flip out touch screen, plus a PC power and USB port. Economy also has a 9" seat back touch screen, PC power and individual USB ports, however pitch is reduced to only 30 inches, but with 4 way adjustable headrests. Next generation B737-800s fly from Auckland, Christchurch and Wellington to Sydney and Melbourne.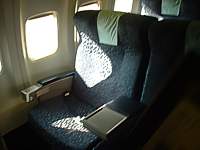 Old style business class seat in a 737

Surprisingly, Qantas's 737-800s are also another 'bargain buy' by Qantas. In 2001 when world aviation came to a grinding halt, Qantas entered a mini-boom, thanks to the collapse of Ansett Australia. With Qantas' market share jumping to 90% it needed new aircraft, and American Airlines cancelled their order of brand new Boeing 737-800 aircraft. It got brand new aircraft for bargain basement prices, the only condition being that the aircraft had to remain in American Airlines configuration for later lease. This never happened, but over a dozen still remain with the original AA fittings.
Qantaslink BAE-146
If you're not used to them, these stunning looking planes seem like a child's drawing of an airliner, and 10 are used on domestic flights to smaller airfields, such as from Canberra and Darwin.

Qantaslink BAE146 at Canberra, ACT
They have one massive advantage for passengers - the unique overwing formation means that every window seat you get has an unparalleled view of the ground.
Qantaslink Dash-8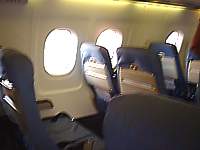 Qantaslink Dash-8 "lightweight" seat
A cheap buy by Qantas, many of the Dash 8 versions Qantas fly have no air conditioning that works on the ground, so they get insufferably hot on the ground, and once it's on, cold in the air.
The 32 overwing prop planes in the fleet give a great ground view, but its very noisy, scary on touchdown (what other plane can you sit on and see the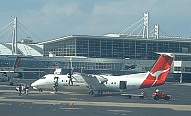 Qantaslink Dash-8 at Sydney
wheels hit the ground?) and thanks to weight problems has a "lightweight" seat which bends as you sit down. Note that the overhead lockers on this plane are only 4 inches high, so your "carry on" case won't.
Qantaslink Boeing 717

717 emergency exit
Although Qantas no longer have any Boeing 717s (having handed them all to Jetstar) Qantaslink do.
The 717 was originally developed by Mcdonald Douglas as their newest of their family of rear engined jets. When Boeing took over, it was the only one that the company continued to develop. The rear engines mean they are superbly quiet in flight, and the view from the cabin is unimpeded by jetwash. There are only two doors to the cabin, right at the front, with a strange rear 'tube' emergency exit.


Boeing 717 still in Qantas colours at Hamilton Island, Queensland
Qantas have 11 of the new versions of these, which now fly either in Jetstar, or some still in Qantas colours. They lack inflight entertainment, but are very clean. Seats are in a formation with 2 on the left, 3 on the right.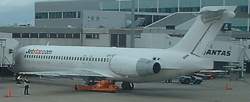 Jetstar 717 at Melbourne

Always ask for the overwing emergency exit seat on the left, seats 16A or 15A (for preference, as its slightly further away from the wing, so the view is better). Seat pitch here comes in at 40 inches, so you can really stretch out. However staff don't like seating anyone here unless the plane is full, and you get your own safety briefing, on how to open the window like exit.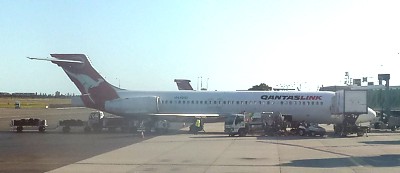 Qantaslink Boeing 717 in 2011 in the late evening sun at Adelaide, about to head to the Northern Territory

There is a bit of a strange history to these aircraft, which have been passed around from Impulse, to Qantas, Jetstar, and now back to Qantaslink. Qantaslink is a merged brand including Sunstate Airlines, Southern Australia Airlines, and Impulse. Qantaslink took over routes from Impulse and used the Boeing 717 it inherited. It promply handed these aircraft onto Jetstar. However in 2006 eight of the 717s were returned to QantasLink following Jetstar's acquisition of Airbus A320 aircraft, and this fleet has slowly been expanded.
Jetstar Airbus A320
The workhorse of Jetstars domestic fleet, there are 24 of the standard Airbus A320-200. All seats are in a 3+3 layout, and jetstar manage to cram in an incredible 177 passengers in.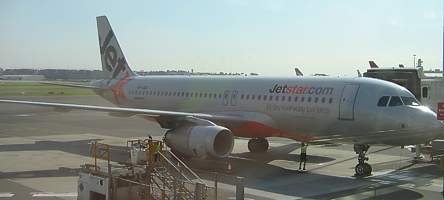 Jetstar
A320
The seatpitch is actually an ok 30" (not great, but liveable) but to make space all the frippery at either end of the cabins has been taken out - the galley, such as it is, is open to the cabin.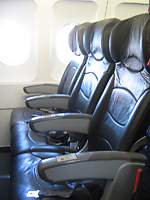 Jetstar A320 seats

Decked out in jetstar's eyepopping black and orange colourscheme they are certainly memorable. There is no seatback video.
The A320s features all leather slim-line seats with what it says is a "full extra inch of width" for additional space. It is in effect just a normal, if squeeky, airline seat. Row 14 is the overwing emergency exit - if you ask to sit here, you will get 2 inches more legroom. With Jetstar, unlike Qantas, you can reserve a seat at booking, and it's well worth it to avoid the remnants of the seats that are left when you check in.
Next page: Qantas IFE inflight entertainment >>>
All images and content copyright airreview.com