Qantas Reviews
Overview
Qantas is a
full service distinctly Australian airline
with three separate mainstream businesses. The flying kangaroo of Qantas lands in many of the cities of the world, flies an intense internal network between the 5 main cities in the continent of Australia, plus a small feeder network to small outback communities, and a low cost offshoot (Jetstar) that is threatening to become bigger than the parent.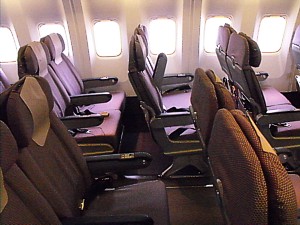 Qantas 767 economy class seats
The old Queensland and Northern Territory Aerial Services used to be partly owned by British Airways, and some of its features are very familiar to those who fly the UK's airline, such as its Frequent Flyer scheme (pretty good with some decent perks) and food (basic on pretty much every internal flight, but hot on longer flights). However its "robust" customer service is distinctly Aussie, while onboard you may get to see more of the real Australia than you ever imagined. Read more about Qantas fleet and seats.
Review however are pretty favourable, if only because Qantas has avoided a race to the bottom, unlike British Airways, and still has frills, many of them, from free bags to free food on board. Qantas still hangs on to a 65% share of the Australian domestic market and carries around 18% of all passengers travelling in and out of Australia, despite it's new upstart competition, Virgin Australia, which started as a small low cost airline, and has reversed the trend to become a full service competitor.
At times it can seem inconsistent, however by and large it does what it does well, and it endears Qantas to most of its customers - of whom on a long haul flight half are backpackers, and the others mostly Aussies who travel mostly because Australia is such a long way from anywhere. Domestically, you could be forgiven for thinking you are on a bus service, and the route from Sydney to Melbourne still remains the 4th busiest by traffic in the world, far exceeding most domestic USA routes.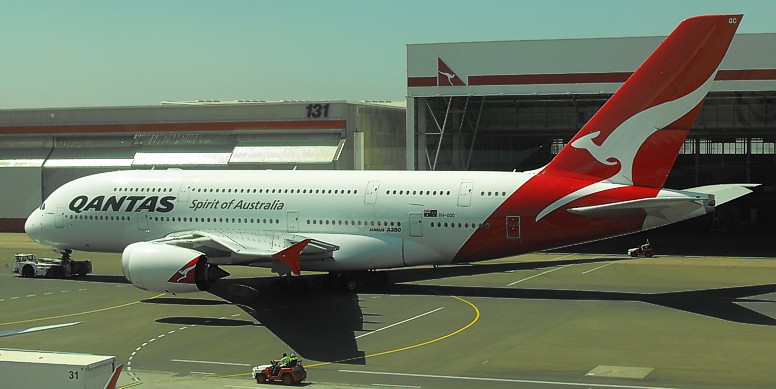 Qantas Airbus A380 at Sydney.
Long haul, Qantas operate a very long route from Sydney and Melbourne to London. This used to run via Singapore, Hong Kong and Bangkok, and be jointly operated with British Airways. That's been scrapped, and now Qantas are firmly in the camp of Emirates, with long haul flights flying via Dubai. Opinions on this are mixed. It's great if you want to get to other parts of Europe with just one stop to Sydney, but less convienient if you want to get to London. Another link up with American Airlines sees Qantas jets fly to Dallas, and connect to the AA network there.
However, despite, or perhaps because of the changes, Qantas is once again flying high. Massive losses have been pared back into a quite decent profit, and aircraft are being put back onto routes they previously left.

Qantas Airbus A330 at Sydney.
Qantascityflyer is the name for the domestic service linking the main cites, like Sydney, Melbourne, Brisbane, Adelaide, and Perth. It tries to run rather like a bus service, with take off on the hour, each hour (more often at peak times). There is inflight entertainment, and it is consistently be priced just a little bit more expensive than Virgin Australia. There is now a free wine or beer service in economy on Weekday departures after 4pm (all day every day to Canberra).
Qantas | Fleet | Seats | Lounges | Food
Qantaslink is a wholly owned subsidiary which flies many of the smaller outback routes for Qantas. It flies mainly small prop planes with minimal facilities, and no inflight entertainment. The trading companies consists of Easterns, Southern, and National Jet (which also runs services under it's own brand). Qantaslink also used to include Impulse Airways, which Qantas took over, and used as a vehicle to start the low-frills service Jetstar.

Jetstar is wholly owned by Qantas but is managed separately as a low cost airline, originally using the old Impuse Airways planes, but now A320s. It operates using pretty much the Ryanair model, with no free inflight food, flight connections or baggage transfer. You can spend Qantas Frequentflyer points on Jetstar, but not earn them (except on expensive JetFlex fares).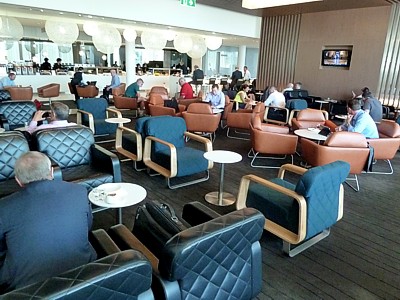 Canberra Qantas Business Class Lounge
JetStar also operate international services on lower-density routes that Qantas would otherwise abandon. These norally use brand new widebody A330 aircraft or 787s, and have in-flight entertainment (audio) available for a fee on most of its flights. Video players are available (for a fee) on a few services. Nearly all JetStar flights now have a Qantas code share for incoming international customers, so you may accidentally end up on these flights. JetStar has a two class configuration for non-Tasman International services with what it calls the "StarClass" but this is little more than premium economy.
All round, Qantas is a very good, solid, professional airline. Sometimes, it creaks at the seams, but generally there are far worse ways to get to the bottom of the world.

Next page: Qantas Fleet >>>