Manchester Airport sees the arrival of regular A380 services, with Emirates flying the world's largest passenger jet into the UK's second city.
Emirates flew the 500-seat Airbus Superjumbo into Manchester at the start of its daily service to Dubai.
Emirates A380 cabins feature 489 seats (14 first class suites, 76 business and 399 economy), and two spa showers at the front of the aircraft, upstairs at the front of the aircraft, for the exclusive use of first class passengers. An extra ton of water is carried on board, which will be enough to feed the use of the showers. The "Shower Spas" include the use of "Timeless Shower kits" which come in two versions - Revive and Relax. It is the first time Emirates has brought its First Class cabin to the route.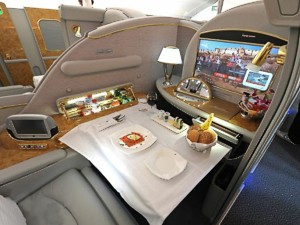 Emirates A380 First Class
There is an onboard lounge and bar for First Class and Business Class passengers, offering a wide range of drinks and canapés. However the bar space isn't ideal, with a small curved bar offering little space to socialise or relax.
A step down from the luxury of First, Business Class seats are finished in burnished walnut, with the pods featuring a huge screen TV, mini bar, vanity mirror and even a bedside clock. A Business Class flight from Manchester to Dubai will set you back two and a half grand.
Emirates A380 Business Class seat
Emirates EK017 leaves Dubai daily at 0755 and arrives in Manchester at 1225. It then turns around, with EK018 departing Manchester at 1410, arriving in Dubai at 0015 the next day.
Passengers in all classes get access to the AVOD ICE in-flight entertainment system. There are more than 1,200 channels of on-demand entertainment, including 200 movies from around the world, 100 TV channels, more than 500 audio channels, 100 video games and updated news headlines.
Emirates now operates A380s on the following routes: London Heathrow, Manchester, Paris, Sydney, Auckland, Toronto, Bangkok, Seoul, Jeddah and Beijing. Hong Kong will be added to that list from 1st October and on 31st October, Emirates A380 will make a much-anticipated return to New York.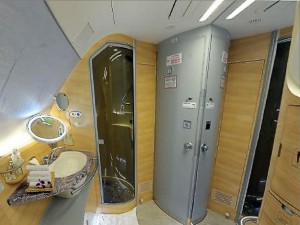 Emirates A380 First Class Shower suite
Emirates is the world's largest customer for the superjumbo and its total A380 order book is 90 - with 78 aircraft still to come. The huge, double-decker A380 went into passenger service with Singapore Airlines in October 2007, and Singapore Airlines A380 flights to Heathrow started in March 2008.
Other airlines haven't been quiet about their A380 launches either.
Lufthansa
is now flying the A380 once a week from Frankfurt to Peking (now renamed Beijing). It already flies the A380 from Frankfurt to Tokyo, and Lufthnasa plans to fly to South Africa with the A380 later in September.
Air France
has started flying three times a week with the A380 between Paris CDG and Tokyo. From October Air France will fly the A380 daily to Tokyo.