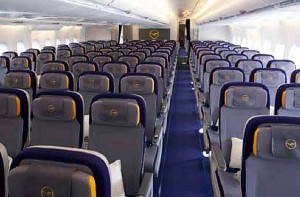 Lufthansa A380 economy class seats
Lufthansa has launched maiden flights with its Airbus A380 superjumbo - and with it, unveil its newly developed First Class.
The A380 has a total of 526 seats, including eight in First Class, 98 in Business Class and 420 in Economy Class. The first A380 will enter scheduled service on the Frankfurt to Tokyo route, and by this autumn, Lufthansa will have taken delivery of four A380s, which will be operated on routes including Beijing and Johannesburg.
The A380 is a vast plane. Lufthansa have dedicated the ground floor to economy, while on the upper deck there is First Class at the front, and then business class. The German airline is making much of the fact that it is the first commercial airliner with air humidification.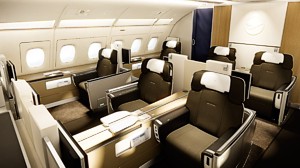 Lufthansa A380 First Class cabin
Economy quite frankly isn't a major advance, but it's certainly up there in the world class. There are slimmer seat backs which makes the seats a bit harder, however this also gives slightly more space - an additional five centimetres of personal space and legroom at knee level no less. Alas seat pitch is a pretty woeful 31inches, although that is 2 inches more than on other Lufthansa planes. There is a decent sized TV screen, which also has a USB port, so you can plug in your own music, films, or documents to read, or use it to charge cameras & ipods. There is also a power connector for laptops, which fits UK plugs, as well as all the other standard variants (except South African). One last inovation was actually created by McDonalDouglas in the 1970s - a beverage holder which works without the table having to be folded down.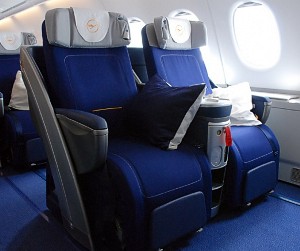 Lufthansa A380 Business Class cabin
Business Class is equally not that inovative. Lufthansa's standard Business Class seat is at least a flat bed, and the seat that converts into a comfortable, two-metre-long bed. It's been tweaked a bit, and has a few extra functions. There is a slightly larger luggage bins, and side storage at the window which is quite good. The TV is large, and like economy has a USB for charging or playing media from your mobile devices. Business class is on the upper deck of Lufthansa's A380 sharing with First Class, and like First Class, boards straight from the lounge into the upper deck of the plane, so you never have to see those in the cheap seats.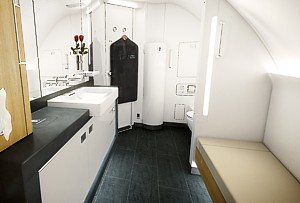 Lufthansa A380 First Class bathroom
First Class is where the really big changes come in. However Lufthansa haven't gone for any of the big changes such as double beds (with Singapore) or inflight showers (in Emirates). Nor are there the individual cabins and sliding doors that make some First Class areas a narrow coridor. Instead, there is a pretty standard clean cabin, with 8 seats, in two rows, of a 1-2-1 layout.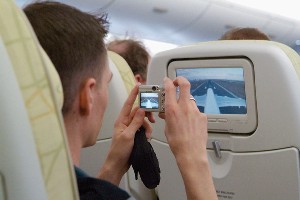 Lufthansa A380 seatback TV screens
The seats are much better than the old First Class Lufthansa seats, is dark brown, and with a vast table. There are no overheard luggage bins giving high ceilings. Instead storage is in the footrest and sides, with a personal lockable closet with garment bag. The seat converts into a totally flat 2.07 metres (82 inches in length) bed, 80 centimetre (31.5 inches) wide, with a large privacy screen between the seats. Opposite the seat is a small leather ottoman. Lufthansa's trademark First Class rose is present. There are the usual amenity kits by Porsche Design with La Mer face creams, which complement the amazing First Class lounge in Frankfurt and Munich, with a drive you to the plane in a Porsche service.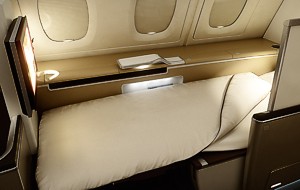 Lufthansa A380 First Class cabin
At the front of the First Class A380 cabin are two areas that each airline has used for a different purpose. Emirates has it's showers. Qantas has a "lounge". And Lufthansa has gone for a vast hotel like bathroom, with wash and changing areas separated from the lavatory area, and even a four seater sofa. There is a huge sink, and even a flower vase, to hold, of course, a Lufthansa rose.
There are personal video screens in every class. Most airlines have had these for years, however Lufthansa had held out for some time in installing them in in economy. Now, however, Lufthansa has not only seatback TV screens in the A380, but also full AVOD (Audio Video on Demand) which allows passengers to stop and start video and music as they choose on the A380 in-flight entertainment system.
The Panasonic eX2 IFEC system has a rack of feature films, some documentaries and short comedies, and a long list of CDs which you can combine into a playlist. The video games have also been dramatically improved, and are almost PC standard. There is the usual moving map showing the flight position as a 3D animation, and there are the usual external video cameras that show the landing and takeoff from the tailfin. Airlines like SAS have had them for a decade, but they are a revolution at Lufthansa.