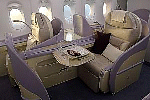 Airline seats: big business
Seatguru, the much criticised seatingplan website, has been sold to the Expedia offshoot Tripadvisor for a reported US$1.2m.
Seatguru started a year after airreview.com and in much the same way. Matt Phatteus founded the site in 2002 with one plane and one map. He turned it into a business in 2004, taking revenue from Google, and has now sold the site to Expedia.
He often tells the story of learning how fare classes work. While travelling in 1997 his flight was cancelled and the airline was forced to rebook them on another carrier, issuing paper vouchers to do so. Seeing a Y written on the voucher, he realised this means economy class, and he changed it to and F with a pen – and was upgraded to first class.
Seatguru has received much criticism in the past for presenting seat maps which are inaccurate and where no one from the company has travelled on the aircraft; for example showing bars on aircraft where there are none or seat rows that don't exist. Critics point out that almost all bulkhead seats as marked as "you will be served food first", however this ignore airlines with the service starting in the rear.
SeatGuru's seat maps are now expected to be integrated into Expedia's ticket selling front end, and used as a marketing tool to sell tickets.