4

out of

10

from

123

Spanair

reviews.


NEWS: Spanair has gone bust. The airline is no longer in the air. Spanair shut down its operations on Jan 27th 2012 because of a lack of funding. Spanair's financial woes were exacerbated by a crash in 2008 that killed 154 people after an MD-82 jet crashed on takeoff in August 2008 as it tried to leave Madrid bound for the Canary Islands.

Spanair was a small airline that mostly flies flying trans-Europe. It isn't well known by many fliers but it operates many charter flights, and it has a small obscure collection of routes around Europe. It operates two class planes, with a no-frills service in economy. In business class it varies between very good, to downright appalling, depending on the outstation. Reviews of the airline Spanair are generally not very favourable.

Staff and service are notorious variable, and on some of the once a day routes technical delays can rack up for many hours. It is notoriously oddball, offering things like an economy class fare (Y class) which it will upgrade at the gate, unless there are too many customers. Inverse seating, ancient planes, boarding from the rear "tail" gate under the engines, and an early-closing bar, do not endear it to many passengers.

Known as "The Flying Spanner" by many European flyers, this is the smaller, Star Alliance version of a Spanish Airline. Pretty obscure by world standards, its hard to get onboard this airline without deliberately seeking some of its odder outposts. It is smaller as bmi - and that's saying something - the airline has always considered, but rejected flying to London, even after bmi pulled out of all it's Spanish routes, leaving Oneworld unchallenged between two of the larger capitals in Europe.

All in all, it's tired, worn, charter airline with some moderately OK scheduled services.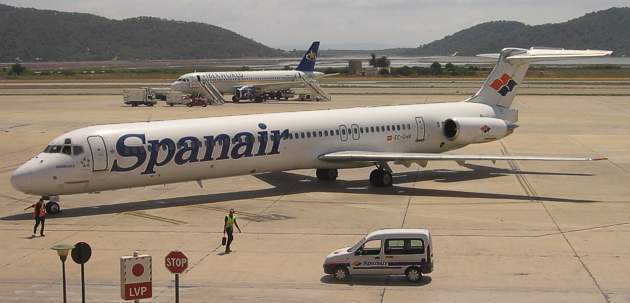 Ibiza a Spanair MD-82 rests in the midday sunshine


Spanair Classes, Seats and Fleet
Presently, Spanair has a fleet of 65 aircraft, comprising 19 MD-83, 10 MD-82, 3 MD-87, 5 Airbus A321, 17 Airbus A320 and 7 Boeing 717s.
Spanair has signed an agreement with the European company Airbus to renew and increase the fleet, to build up to a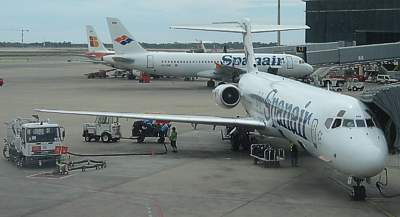 Barcelona Spanair MD83 and A320
standard fleet of 45 aircraft from the A320 family, replacing most of the ancient "Mad Dog" MD fleet. It was decided to name these aircraft after some of the most well known living Spaniards. That means you can end up on a plane named after "celebrities" such as Camilo José Cela (He's an Author), Plácido Domingo (A Tenor) and Juan de Avalos (A sculptor) and the "Marques de Samaranch" (The President of the International Olympic comittee).
Spanair have scrapped all their Boeing 767s, as they have also scrapped their Trans-Atlantic charter flights, and all of Spanair's old Fokker 100s have thankfully followed them to the scrapyard.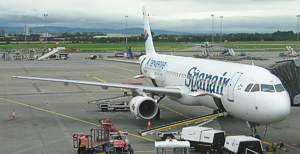 Dublin Spanair A321

Spanair Airbus A320/A321
Spanair have 17 A320s, and 5 A321s in the fleet. All seats are in a 3+3 layout in business and economy, with a business class cabin which is changed in size by moving a curtain. Sadly all seats are of the older, poor Recaro version, with an annoying bump under the seat. It's not very comfortable.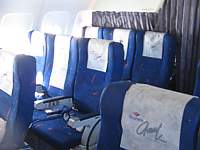 Spanair
A320 business class cabin
The Business Class seat is identical to the economy seat, both in pitch and in width, however if you are in business, and sit on the left, the centre seat is blocked off and the seat arms moved across to give a larger seat - accordingly it is well worth asking to sit in A or C in business. Seat pitch is 32 inches. All models have large 14 inch fold down LCD TV screen under the overhead lockers for both classes.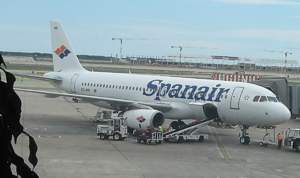 Barcelona Spanair A320

There are 17 A320 (although this number is rapidly increasing) which seat 144, with the variable business class seats extending back as far as row 20, although in normal configuration they are only used with the first 3 rows as business class. Row 9 and row 10 are overwing emergency exits - if you ask to sit here, you will get 2 inches more legroom.
There are only 5 of the larger A321 which seat 181 and are comfortable and modern. Service can be a bit slow, with only a single isle for service. There are no overwing emergency exits, but there is a proper door at row 9 and row 23, so you can as much legroom as you want if you sit in the row behind it, however you do not get an sort of window, and you are seated next to a member of the cabin crew (in seat D). Row 6 also has a blanker at the window, so is to be avoided. This model has some of the largest loos on an Airbus, with 3 in a cluster at the back.



Stockholm Arlanda Spanair MD-82

Spanair MD-82 / MD-83
Spanair have 10 Mcdonald Douglas 82s, and 19 Mcdonald Douglas 83s. This can be distinguished from the MD-83s by having one window between the overwing ejectable windows.
of these noisy, bumpy things. The MD-82 Has two seats on the left of the aircraft, three on the right - so you're better off in seats A and B. There's a wacky formation with the galley halfway up the aircraft on the left - sit just behind it to get more legroom but a bad view.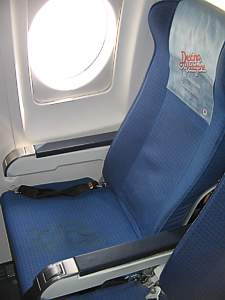 Spanair MD-82 economy seat

Spanair MD-87
Spanair have 3 Mcdonald Douglas 87s, seating 109. These are utterly wacky planes that confound all your expectations. They have two seats on the left of the aircraft, three on the right - however just to confuse you Spanair are the only known operator to have the A seat on the
right facing forwards
, the opposite to all other operators.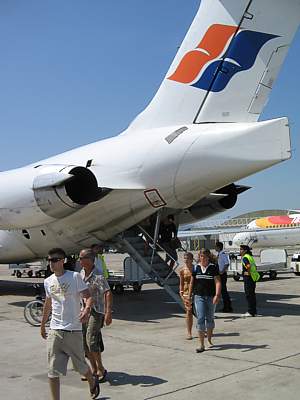 Spanair MD-87
deplaneing via the rear door
Even more unusual are the miniture drop down LCD TV screens in the ceiling. They are one and a quarter inch square - and are so small you can't really see what's on them
There is more room in rows 17 & 16. 16 has the best view. 17 is bigger, but is by the emergency exit over the wing.
The MD-87s have a rear centre drop down boarding stair, between the two engines. Spanair is virtually the only operator to still use this for boarding.
Spanair Boeing 717
Spanair have 4 Boeing 717s.
The 717 was originally developed by Mcdonald Douglas as their newest of their family of rear engined jets. When Boeing took over, it was the only one that the company continued to develop. The rear engines mean they are superbly quiet in flight, and the view from the cabin is unimpeded by jetwash. There are only two doors to the cabin, right at the front, with a strange rear 'tube' emergency exit.



Barcelona Spanair Boeing 717

Spanair have just 4 of the new versions of these, ordered before the plane was cancelled. Seats are in a formation with 2 on the left, 3 on the right.
Always ask for the overwing emergency exit seat on the left, seats 16A or 15A (for preference, as its slightly further away from the wing, so the view is better). Seat pitch here comes in at 40 inches, so you can really stretch out. However staff don't like seating anyone here unless the plane is full, and you get your own safety briefing, on how to open the window like exit.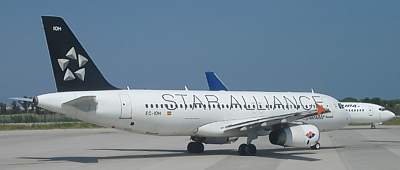 Spanair A320 at Madrid

Spanair onboard inflight experience
Service on Spanair is very inconsistent - just like the rest of the airline. Sometimes it can be amazingly good. At other times it is notoriously bad. Don't worry if you are in economy though - there is just no service.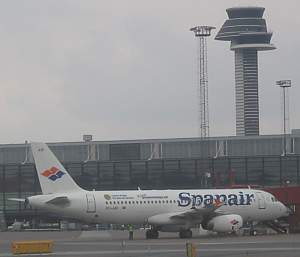 Spanair A320
at Stockholm Arlanda
In Business there are certainly fewer frills than you'd expect. After takeoff a small basket is handed around with wetwipes - and that's about it. Then the food comes round (except on domestic hops) on one complete tray, and your drink order is taken. The crew are often tardy with drinks, and there is usually only one service. If you want any more, you have to ask. The crew will normally keep their distance from you. As a result, if you want a drink, ring the bell.
In Economy you really notice that you are on a no-frills carrier. There is no free food or drink, but even more disturbingly you will find that on most flights there is none are on offer unless you request it. You have to ring the service bell. This is all part of Spanair's regime of keeping it's distance from the passenger. The service then is very leisurely, where the crew will take your order, then wander back with it. The whole process takes so long you should ring the bell early in the flight if you want something to eat or drink.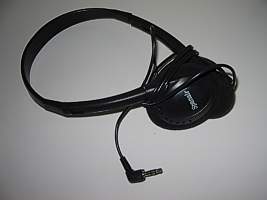 Spanair Headphones

Spanair Inflight Entertainment
On a very few of the longer Spanair services there are inflight movies. You will only get these on Spanair flights to Malabo (in Ecuatoria Guinea), Copenhagen, Stockholm, Vienna, Frankfurt, Stuttgart, Munich. There may also be films from Spain to the Canaries.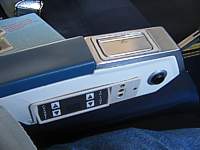 MD87
Entertainment Controls
Films are shown on overhead flip-down LCDs screens on the A320s - and also, oddly, on very old tiny screens on the MD87s. Headphones are of a regular overhead band type, and single mini jack, on the Airbus. In the MD-87 they are of the 1960s speaking tube type.
There is only one film - it's listing and review is in the back of the Spanorama magazine - but there are also (unannounced and unadvertised) ten music channels. You can select them with the channel selector in the armrest.
Spanair Inflight Magazine - Spanorama
The Spanair Inflight Magazine has probably the worst name of an inflight magazine in existence. Spanorama. Then again, it
is
produced by the same people who produce Scanorama, the SAS inflight magazine. Many of the articles are similar, if not the same. Its a reasonable, if not wildly exciting, read.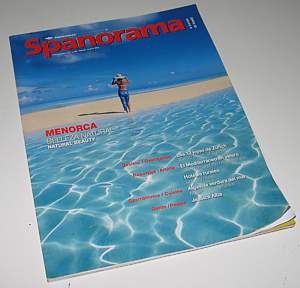 Spanorama
Spanair's inflight magazine
The magazine starts with an introduction from the Presidente De Spanair. Whoever oked his introductory item in the mag deserves to be put up against the wall, and taught good PR. Needless to say, it is not a good read.
However it soon improves. There is the obligatory article on soon to be seen events at locations around the Spanair world. There is a dull seconded article with some minor celebrity, and a regular feature on good books and films. Then there are mind-numbingly dull articles on travel, written by people who were obviously not checked before they were sent the cheque. The terminal of El Prat airport doesn't exactly smack of romance, but according to some of these people it does. Airports are famously rubbish places for learning about a country: big and anonymous, there's no room for what's been, only what's coming next. It's one big Hello and Goodbye factory, pairing and parting people the length of it's production line. But not according to these writers. They rave about the experience of a Spanair flight to somewhere dull, telling you nothing except that they got a good coffee. Oh dear.
It gets worse. In the "Spanair - on board" section, you get to learn about the latest ISO certificates for Spanair, with big smiling photos of - yes, that chap again - the Presidente. There are also fascinating articles that tell you that Spanair has entered the age when you can book flights online, as if they invented it.
Finally in the last few pages are brief reviews of the films on board, and long lists of which charter flights they can be seen on. Down the bottom is a brief mention that on "regular" flights there is also a film. At the back are a couple of route maps, and on the last page the menu for those in the cheap seats.
Spanair Routes
NEWS: Daily flights from Madrid to Algiers and Casablanca and from Barcelona to Algiers have started. The flights will be operated by Airbus A320-200 aircraft. There are also going to be daily flights from Bilbao to Jerez in the summer.
The main hub is at Madrid. There is a shuttle every half hour from Madrid to Barcelona. There is a smaller hub at Barcelona.



Barcelona Spanair MD-82

From Madrid there are flights to Palma Mallorca seven times a day, Ibiza four times a day, to Gran Canaria (Las Palmas) six a day, five a day to Tenerife North, and once to Tenerife South, Fuerteventura, and Lanzarote. Medium haul there is Madrid to Copenhagen once a day in an A320 at 1105, arrives 1420 (returns at 1720 arrives 2035). There is also an SAS codeshare at almost exactly opposite times. Madrid to Stockholm once a day in an A320 at 2130, returning at 0805.
From Barcelona there are flights to Majorca five times a day, Ibiza four times a day, to Gran Canaria (Las Palmas) twice a day, and once a day to Tenerife North, and once to Tenerife South. Medium haul theres Barcelona to Copehagen twice a day in an A320 at 1035 and 1825 (returning at 1430 and 0925) and to Stockholm at 1035, returning at 1500.
There are no services to London LHR - even the codeshare has been dropped now bmi has abandoned the route.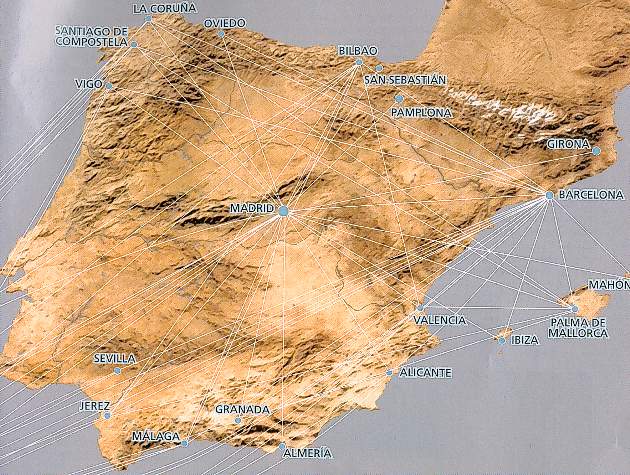 Routemap Spanair domestic routes


Spanair Business Class Lounges
Spanair has a grand total of three lounges - at Madrid, Barcelona, and the rather odd outpost at Bilbo.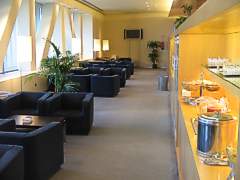 Madrid
Spanair lounge
Madrid - Spanair Business Lounge
Straight ahead security, before non-Schengen area.
Open 0630-2015
Access is given for Diamond Club gold members and Star Alliance gold members, plus business passengers. No guests are allowed in the lounge, regardless of your bmi Diamond Club Status.
The Spanair lounge at Madrid has it's advantages (it's a small, obscure airline, so not many Business passengers) and disadvantages (poor food).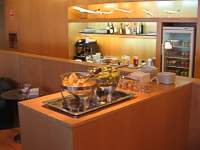 Upstairs Bar Area lounge at Madrid

You enter through the sliding doors straight after security - but note that the lounge is itself in the Schengen area. There are two main areas to the lounge; "on top", where there is a TV and computer area, and downstairs, where there is an OK view of a couple of gates, but not of the main apron.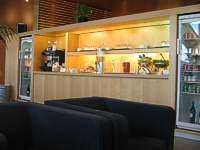 Downstairs Bar Area lounge at Madrid

There are two bars, one in the corridor behind the reception desk, and one big long one downstairs, with two big fridges. Beer is strictly Heiniken, plus the usual miniature cans of soft drinks, and the strange Spanish "Bucklers Sin". There is no Bloody Mary mix, just a jug of Tomato juice, and one of orange. On top, above the coffee machine (if using this, note there are only small cups - so forget getting a Capochino), there are the spirits, with Bacardi, Baileys, Finlanda vodka, a bland whiskey, and a gin. Also on this shelf are two bottles of red. In the fridge are two bottles of white wine, and (only in the fridge by the window) a bottle of sparkling Cava.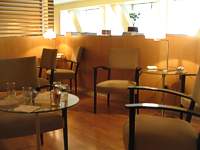 Upstairs Seats lounge at Madrid

Food is very poor in this lounge. There are some olives and apples in a bowl on the shelf opposite the bar by reception, a few pastries, some biscuits, and that's about it. It is one of the few lounges where you can see people bringing in MacDonalds bags.
Newspapers are by contrast very good. There are all the Spanish dailies, the European FT, the UK Guardian and the UK Times. There are some American papers like USA Today, and the International Herald, plus a very good rack of all the German papers.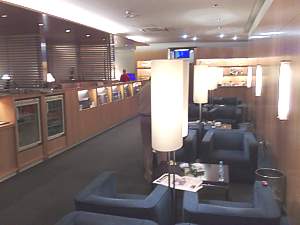 Barcelona Spanair lounge

There is all of one Computer, which has Internet access, but is appallingly slow. The lounge does however have WiFi access, and there are desks (at the far end of "on top") with spaces for 4 computers. There is also a TV and a HiFi (with stern notices about not disturbing other users of the lounge).
Barcelona El Prat - Spanair Business Lounge
Terminal 1, Concourse C, near Gate C16
Open 0600-2300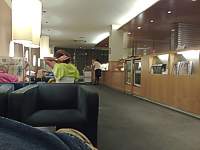 Barcelona
Spanair lounge
This is a small and efficient lounge just inside pier spiggot C. It boasts remarkably comfortable sofas, but only spartan business facilities. There are two layers to it: the uncomfortable ground floor, or if you go up one layer, you'll get to the loungy sofas in three enclaves. Beyond the long central section there is a window at the far end. At the other is a TV room.
There are two bar areas: the main one is right opposite the main desk: here there are the spirits, although a pretty motley collection they are. on the inside of the upper deck there is another bar. Both have the wine selection - which consists of only one red, one white, one Cava. There is also Heiniken in & Bucklers Sin beer in the fridge. Spirits are by the door - where the lounge dragon can keep an eye on them. There's Baileys, Bacardi, Bombay Gin, Martini, two whiskys, and an unknown type of Vodka. Above them are some very nice models of Spanair 767s - a type of plane Spanair no longer flies. To the left is a very good coffee machine. There are jugs of Tomato and Orange juice on the worktop.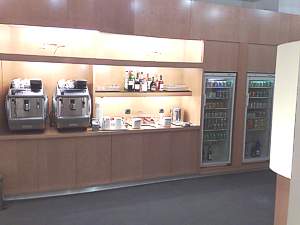 Barcelona Spanair lounge bar by door

There is little food: there are bowls of biscuits, and a huge tub of olives, but that´s about it.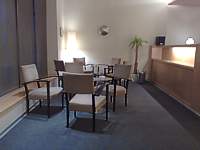 Barcelona El Prat Spanair lounge

There is only 1 computer, and two other work desks (where kids tend to hang out & annoy you when you are on the computer) but that's about it.
Spanair History
Spanair was established in December 1986 as the Scandinavian Airline SAS's charter offshoot for Europeans on package holidays to Spain. It soon found it could sell real, scheduled, tickets on these operations, and began rolling out a regular operation.
It initially had a "fleat" of clapped out Macdonnal Douglas rear-engined planed, but splashed out on a Boeing 767-300 aircraft in 1991, to start long-haul flights to the Washington, Buenos Aires, Mexico and the Dominican Republic. These were axed in 2001. A domestic scheduled operation started in 1994. Spanair joined Star Alliance in 2003.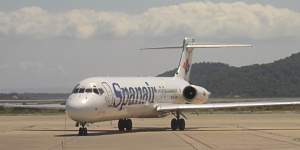 Ibiza Spanair MD-82

At present, 83% of the company's flights are scheduled, while the remaining 17% are charter operations.
Spanair Hints & Tips
Special Fares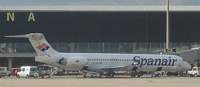 Barcelona
Spanair MD-82
Spanair offers three classes of ticket: Economy, Avant and Business Avant.
Economy is just that (M Class). There are no frills and you pay for your food. Business (C Class) comes with all the business class perks (no free food in domestic), the middle seat is guaranteed free, and it's fully flexible. It is Avant option that's the interesting one, and for which there is little advertising.
In Avant (Y class), you pay economy, but with a small extra fee you get a "free" upgrade to business, while still keeping your economy class status. It is commonly called a Y-UP or Y-Upgrade fare, and tickets in this class maintain their economy class inflexibility, if that's what you've chosen. There are actually two variants of Y-UP Economy class Avant - Flexible, and SuperFlexible, with differing restrictions. If business class sells out you will be downgraded, without compensation, but this rarely happens.



Ibiza Spanair MD-82

In Avant you can use the Business class check-in counters up to 30 minutes before your flight, you can enjoy the Spanair VIP Lounges in Madrid, Bilbao and Barcelona, and you normally fly Business Avant Class with free newspaper and special catering.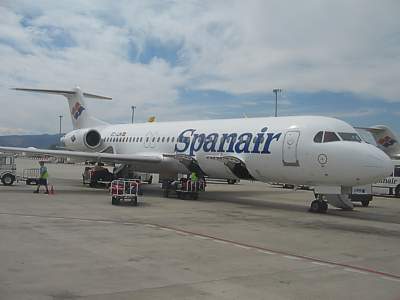 Barcelona Spanair MD-82

The price (including taxes) of Avant is 24€ for Spanish and Balearic Islands flights, 34€ for Canary Islands, and 69€ international, per trip (one way). It is not available on codeshares, or where your ticket is only partially made up of Spanair flights. You only earn frequent flyer points at 150%, not the 300% of full business class, but its better than the 25% of economy.
Operational Upgrades
One of the common questions is "How do I get an upgrade on Spanair to Business or Club class?". Alas, getting upgraded to business class on Spanair really isn't that easy. The airline has the Western, rather than American, model for upgrades longhaul. Which is to say you'll only get an upgrade if your paid for class is full, and then upgrades are processed accordingly to a pecking order of elite frequent flyer status. You are very unlikely to ever get an upgrade unless you are at least a Gold Star Alliance membe.
To start with, make sure you are a frequent flyer, and you do fly frequently: after all, if Spanair are going to upgrade anyone, they will upgrade those passengers who fly with them pretty regularly, and hence will enjoy the upgrade enough to put more business Spanair's way. Then if the flight is full in economy, and someone needs to be moved up, the check in staff will first look at their own elite members, then at other Star Alliance members at the equivalent levels (Gold, and then Silver). Another thing that Spanair look at is how much you paid for your ticket: it's much more likely to happen with a full fare ticket (although occasionally you can get lucky with a discounted economy ticket).
On Spanair there is also another route for upgrading - buying the Y-UP ticket class, where most of the time, but not always, you will be upgraded.
As always, my advice on dressing properly in the pages on how to get an upgrade applies.
Spanair website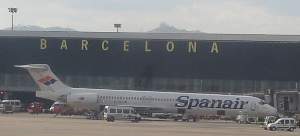 Barcelona
Spanair MD-82
The Spanair website is pretty decent, fast, and has enough information so you can workout what you're going to get on your flight. Booking is pretty easy, although the Avant "upgrade" option isn't always clear.
www.Spanair.com
English Version
Details of the Avant upgrade option


Note that all reviews and opinions on Spanair (JK) food, service, seats, planes, upgrades, lounges, the Red Carpet Club, and the Frequent Flyer scheme is soley at my judgement. No legal liability is accepted if you take my advice.