Airreview > Tablet > Overview
View in Mobile (fewer images) | Tablet | Classic






LAN Airlines (Lan Chile) reviews & opinions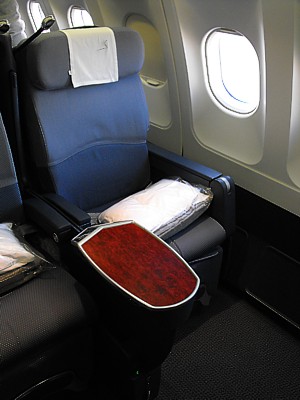 Lan Chile A340 Business Class seat


NEWS: LAN Airlines is buying the new Boeing 787 for its long haul routes such as Auckland, Sydney and European routes replacing its Airbus A340-300s. With this new aircraft it plans to open new routes like London-Heathrow and Paris-Charles de Gaulle.

LAN Airlines (formerly LanChile, or Línea Aérea Nacional de Chile, hence LAN) is a mid sized airline flying primarily out of Chile as its flag carrier. A full service airline, with some odd traits, and out of the way routes, it can be described as a lone star in the South American skies. It isn't an airline many passengers accidentally trip over on their wanderings around the globe, but it is one of the largest airlines in Latin America.

Reviews and opinions on LAN Airlines are not always favourable, if only because the airline does things in a distinctly Latin American way, but at the same time operates some routes far from it's home base: for example, you can be served Chilean food and beer, from Sydney to Auckland, on a Qantas codeshare: this isn't what some passengers expect. And yet it's seating, particularly in business class, can put many other carriers to shame, and if you enjoy the strange cultural quirks of getting out of your regional comfort zone, it can seem charming.

LAN likes to do things its own way, rather than following the big boys in Europe, and as such it has different seating, unusual IT & web systems, and other variants that aren't quite like other airlines. For example LAN Airlines (nee LAN Chile) is a full member of the Oneworld airline alliance, however claiming or using points from other airlines can be a challenge due to the mismatched IT systems at LAN. Equally, LAN can offer some bargains if you book other airlines tickets through it's website.

It's pretty big, with a fleet of 90 aircraft. Many of them are pretty new too, with brand new interiors, seats, and entertainment systems. As the principal Chilean airline, LAN Airline's main hub is in Santiago, with a smaller sub-hub at Buenos Aires, and tiny regional hubs in the outposts of Quito, Guayaquil, Lima, and even a few routes radiating from it's distant outpost in Miami. It serves 60 destinations in some 20 countries.

Customer service is again distinctly Latin American: if you enjoy the distant and cool customer service of Iberia, you'll get it doubly so on LAN Airlines. If you can write this off as a "cultural difference", you'll definitely enjoy it, but opinion suggests if you prefer the fawning chatty service in business of Virgin Atlantic, it probably isn't for you. Equally the quality can bit a bit hit or miss: certainly in premium classes on shorter routes. The hard product - the planes & seats - are generally pretty new and up to scratch, but reviews of the soft product - such as the food and the service - suggest it is either better than you'd expect, or sometimes woeful for shorter economy routes.

It's certainly well worth trying if you're a bit bored with what other airlines offer, and sometimes the company slogan "El encanto de volar" (The charm of flying) can ring true.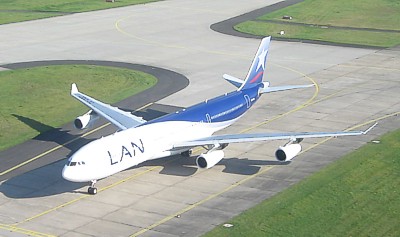 Lan Chile Airbus A340 on the runway at Madrid Airport

LAN Airlines Classes, Seats and Fleet
NEWS: LAN Airlines is buying the new Boeing 787. It has 18 787-800s and 14 787-900s on order. With this new aircraft it plans to open new routes like London LHR and Paris CDG.
LAN Airlines (formerly LanChile) used to be a big Boeing customer: no longer, it's mainly jumped ship to Airbus. In May 2008, LAN Airlines has retired its last 737-200 from service: it was replaced by the Airbus A318. However it still has plenty of its rather elderly Boeing 767s in the sky, and it also has eyes on rebuilding its fleet with the new Boeing 787 for the longest of its long haul routes such as Sydney and Madrid, replacing its fuel-hungry Airbus A340. The fuel efficiency of the new Boeing should mean it can start up "long-thin" routes (ie: routes with not very many customers a long way away) such as London (Heathrow, LHR) and Paris (Charles de Gaulle, CDG).
LAN Airlines has recently renovated its long haul fleet, and like many operators, it has removed First Class. Now, there are only two classes on board. Premium Business Class is certainly no first class, with somewhat below average food, however the seats on the Airbus A340 and the Boeing 767 are a delight: with much more space than you would expect, and larger than many of its rivals.



Lan Chile A340 in old LAN Chile livery at Auckland
The seat goes fully flat with 175-degree recline, and when it's in this position there aren't any unusual bumps in the seat where it folds, and it also has a bit of legroom at the front when flat, allowing the passenger in the window seat room to get out.
Long haul there is also Tourist (Economy or Coach) class, which has pretty standard seats, but long haul there is the latest digital AVOD entertainment system and seatback TVs on all Airbus and almost all Boeing planes.
Short haul LAN Airlines is experimenting with LAN Premium Economy Class, rather than business class. This is only on the Airbus 318, 319 and 320 fleets, operating routes from Santiago to Buenos Aires, Montevideo, Sao Paulo, and Lima. Plus Lima to Quito, Medellín, Bogota, and Sao Paulo. In effect you get the seats at the front of the cabin (with the middle seat blocked and used as a table), a sligtly better wine list, and access to the VIP Business Class lounge.

LAN Airlines A340-300
Lan Chile has five A340-300s, which are used on the longest of long haul flights. They seat 42 in Business Class, and 218 in economy. They are used almost exclusively for the route from Santiago to Auckland, and then onto Sydney, and also for Santiago to Madrid. There are seatback TVs and AVOD in all classes.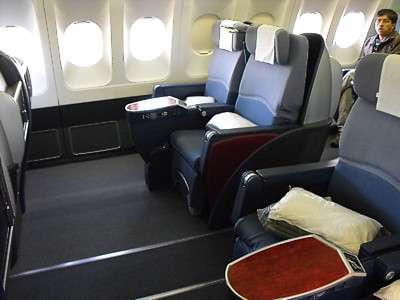 Lan Chile A340 Business Class seat


Economy is very much that - seats come in a 2+4+2 layout (which for couples travelling together actually works out as a better layout than the 747s 3+3+3. It's got a 32" pitch, and an 18" width. The first row of economy is row 12, which is a bulkhead, with the bassinet (screamer) seats, however it does have a bit of extra legroom and a TV in the armrest. Alas 12&13 J&L are reserved as crew rest seats. Row 26ACJL and row 25DEFH is the overwing emergency exit which is a favourite among regular fliers, with a lot of extra legroom and TV screens in the armrests (which alas means the arms don't move up). Here as well the bathroom is just ahead of you.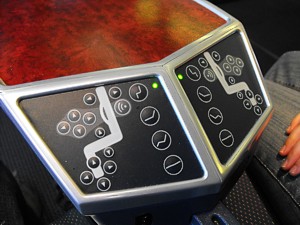 Lan Chile A340 Business Class seat

Business Class comes in two cabins: the main cabin is in row 1 to 5, and after the second set of doors there is a mini Business Class cabin in rows 6 and 7, just ahead of economy. Reviews of this mini cabin are mixed, with some passengers preferring its exclusivity, however other people have the opinion that it can be noisier as it is just ahead of the economy class bassinet seats (the screamer or cot seats, where young children are put on the flip down shelf and often scream thought the flight). There is certainly no reason to take the seat for extra legroom: the seats on the LAN Airlines Airbus A340 are nothing short of brilliant length wise: space is a step up from the normal lie-flat business class seats, with room to walk infront of each seat, even when fully extended, so you don't have to wake up the person next to you when then are asleep and you want to get out of a window seat.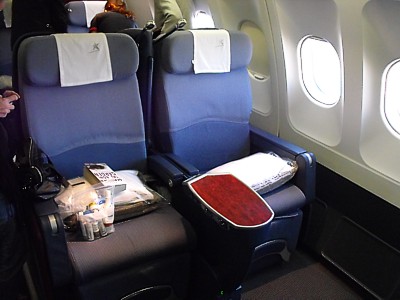 Lan Chile A340 Business Class seat
The seats don't quite go completely level, with a 175 degree of recline, however there is little to tell that it's not the full 180 degree, and you don't slip off the seat, as you do on some other airlines that offer lie-level, but not flat, seats. There is 74" of pitch, and a 20" width. The seat controller has buttons to put it into 4 preset positions, or you can alter each setting manually. Between each seat pairs there is a large cocktail table. There is a large TV screen screwed to the seatback infront of you (or on the cabin wall for row 1). There is a plug for laptop power for US, European and UK/Singapore mains plus: even Singapore don't offer that. There is a computer network port, a USB port (for loading your own music) and the AVOD controller that feels like a normal TV remote. The pocket for the magazines is the vertical slot in the seat infront of you.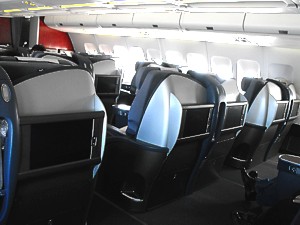 Lan Chile 767 Business Class seat

LAN Airlines Boeing 767-300ER
Lan Airlines has a vast, rather elderly, fleet of 34 Boeing 767-300ER which are used on medium and long haul routes, including all routes to the US. They seat 30 in Business Class, and 191 in economy. LAN has recently renovated its Boeing's 767s, adding amenities like flat bed seats in Premium Business class offering 180 degrees of recline, and seatback TVs with AVOD in all classes.

Economy has been revamped with seatback TVs and AVOD, and a fairly generous 32" pitch and an 18" width, in a 2-3-2 layout. There are two economy cabins: a smaller more cosy one at the front of the plane over the wing, and a vast one at the back. At the front row 12 is a bulkhead with a bit more space, traytables in the armrests: alas it's also the bassinet position, with a high danger of being seated next to a screaming child. In the rear cabin row 20 is the emergency exit, with a lot more room ahead of you. Row 19 in DFH also has more space, with a walkway between the twin isles. Alas, people tend to stand here waiting for the bathrooms.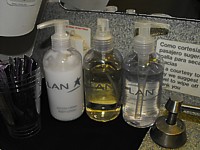 Lan Chile 767 washroom

Business Class has 30 of the new LAN fully flat seats with a 74" pitch, and a 20" width. There is just one cabin of Premium Business Class, with a 2-2-2 layout in rows 1 to 5. The seats go flat, but don't quite go completely level, with a 175 degree of recline, however you don't slip off the seat. The seat controller has a vast array of buttons: the ones on the right put it into 4 preset positions, or you can change each panel with separate buttons. Between the seats there is a large drinks table. The TV screen is screwed to the seatback infront of you (or on the cabin wall for row 1). There is a plug for laptop power. There are two bathrooms ahead of you reserved for business class only, and it is well worth while trying the three jars of LAN moisturiser that are in these washrooms.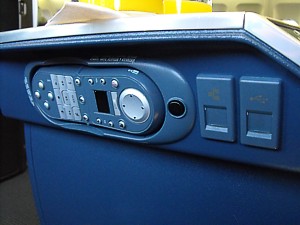 IFE handset & ports on LAN Business Class

LAN Airlines Airbus A318/A319/A320
LAN Airlines (LanChile) now exclusively uses Airbus on its short haul fleet, and has a big collection of three out of four of the sizes of aircraft. LAN has 27 of the larger Airbus A320-200, seating 7 in business class and 168 in economy, there are also 20 of the smaller A319, seating 6 in business and 144 in economy, and the newest variant is the really quite small and stubby A318. Not many airlines fly this plane, however LAN has 15 of them, in an all economy variant seating 126. LAN became the launch customer for the Pratt & Whitney PW6000 engine on the Airbus A318.

All seats are in a 3-3 layout in economy, which has a very standard Airbus seat, with little to recommend or veto it. In business (now called Premium Economy) the seats are pretty much the same, although the middle seat is flipped down to give a small side table.

The A320s seat 168, in economy with Row 10 and Row 11 being the overwing emergency exit - if you ask to sit here, you will get 2 inches more legroom.

The rather squat A319s has only one overwing ejectable windows - sit here, in row 10, and you'll get 2 inches extra legroom.

All models have large 14 inch fold down LCD TV screen under the overhead lockers for both classes. Service can be a bit slow, with only a single isle for service.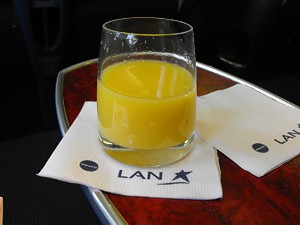 LAN Airlines Preflight drinks in business class

LAN Airlines onboard experience
Apart from regional flights operated by the A318, all flights are run as two class planes with a very good business class service - and little service short haul in economy.

One thing that many passengers notice in the premium cabin is that at LAN the crew will keep their distance from you, unlike BA or SAS where the staff like to chat to you. Cultural differences come to the fore: here, if you pay for top quality, staff will keep their distance. As a result, if you want a drink, ring the bell. Equally, on LAN passengers drink noticeably less than on some European carriers: it will be thought odd if you request top-ups, however many passengers do.

In Business short-haul there are fewer frills than you'd expect, and a highly variable service. Normally there are no hot towels, nor menus. Service is always from the front of the cabin. Short-haul (even on 3 or 4 hours flights) the crew are very tardy with drinks. You have to ring the service bell, and then at their leisure a member of the crew will come out to you, and eventually bring you what you want.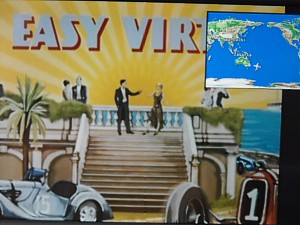 IFE LAN Airlines has an "insert map" feature in films

Long Haul in Business things are better, and the crew are noticeably attentive in the first couple of hours of the flight, and then melt away. There are usually pre-flight drinks after you board, however there is no Sparkling Wine on early morning departures. There is then a newspaper trolley. The crew will come round with menus, hand out cold towels, and take your meal requests. The food is then pretty much unceremonially dumped in front of you, and you are left to get on with it.
The crew are also useless at the clearing the cabins after the service, and will only do so after the coffee service (if there is one), when they come round with spirits.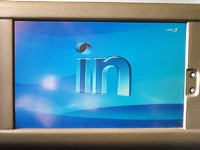 Inflight Entertainment on LAN Airlines is called "in"

In economy long haul soon after takeoff the crew walk through handing out headphones, half an hour or so later they'll slowly start walking though with the food service, and finally there is a drink trolley from front to back, with a free bar on longhaul.
LAN Airlines Inflight Entertainment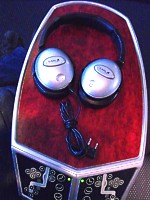 Headphones in LAN Business Class
The Lan Chile inflight Entertainment system is much better than you'd expect it to be, if only because it has a couple of features that after flying with LAN, you wish all airlines would have. It has a feature to put a small map of the flight inlaid into the screen of the film you are watching (so you don't have to come out of the film to see where you are) and it has a remote that feels like a normal TV set remote, rather than something designed by an engineer.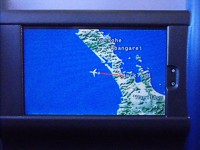 Moving Map on a LAN Chile A340


Other than that, it is a pretty normal airline AVOD IFE (Audio Video on Demand Inflight Entertainment System) which allows you to stop, start, pause and rewind films on demand.

Headphones in business class are good chunky ones, with double 3.5mm pins, however they are not noise reducing headphones: this seems to be a trick that LAN Airlines has missed, considering so many other airlines offer them. In economy, you get a pretty normal overhead band with a small headphone, and again, double 3.5mm jack plugs.

One really annoying feature of LAN is the incessant inflight announcements, which are prerecorded and stop they film. They generally last 3 or 4 minutes, stop for 20 seconds, and then repeat in Spanish. There are normally 4 or 5 as soon as you hit cruising altitude, each one of which stops the film - it is a complete pain, and totally unwanted, to hear yet again, about the delights of LAN duty free.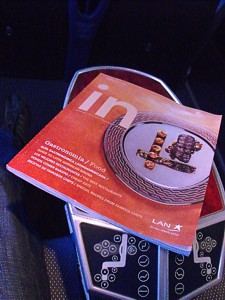 LAN's "in" inflight magazine

LAN Airlines Inflight Magazine - in
You'll find two magazines in the seatbacks. "in", the usual inflight magazine, and "in Premier", which lists the TV programmes.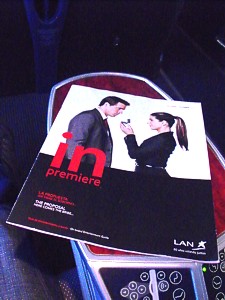 Lan Chile inflight magazine


"in" is a chunky 200 page inflight magazine, which is surprisingly good. Each article is written both in Spanish (the bold text) and in English, underneath the Spanish. It starts off badly, with a corporate introduction written by LAN's Chief Executive, but then gets better. There is a vast amount of advertising, and then regular articles like "Inspiration" (on goodies in technology & art), an interview, a guide to Latin American dining, and three or four travel articles. At the back is InLAN, with news, routemaps, and possibly more information than you could want to know on LAN's latest hanger design. Right at the back is a cut down inPremier, with the inflight movie list if you are unlucky enough to get a plane that doesn't have AVOD.

"in Premier" is the inflight TV listings magazine, which at first sight seems incomprehensible. Skip past the "What's New" section, and you'll get to this month's features: a review of the new films on this month, followed by much more closely typed section with all the films that are available on AVOD, and then more pages with the TV series that are available, sectioned into Comedy, drama, sports and documentaries. At the back is a list of all the CDs available.
LAN Airlines Luggage Allowance
LAN Airlines has a pretty standard luggage allowance for each flight, however unusually it uses the USA "piece" concept (plus a maximum weight) on all flights, not just those to or from the US. This rule can cause confusion on routes which neither go via the US, nor indeed Latin America, such as Frankfurt to Madrid.
Cabin Bags: Economy can take one bag weighing up to 8kg into the cabin, business class and premium economy can take two, to a total weight of 16kg. They must be no larger than 25cm by 35cm by 55cm. You can also take on one personal item, such as a laptop bag.
Check in luggage: On all routes economy is allowed two bags to 23kg (or 50lbs), Premium Economy and Business Class has with three bags (each 23kg max).
Premium Silver and Comodoro Frequent Flyers gain an extra 23kg or 50lbs checked in luggage allowance. Note that nowhere is there a rule about oneWorld Emerald passengers, however most check in agents apply the "extra 23kg" rule without question.
LAN Airlines Routes
NEWS: LAN Airlines is buying the new Boeing 787 for its long haul routes such as Auckland, Sydney and European routes replacing its Airbus A340-300s. With this new aircraft it plans to open new routes to London (Heathrow) and Paris (Charles de Gaulle).
LAN Airline's main hub is in Santiago International airport, otherwise known as Comodoro Arturo Merino Benítez International Airport, Santiago. This mouthful is normally shortened even further to its IATA code, SCL (to avoid confusion with all the other Santiagos around the world). A little factoid for you: Benítez founded Lan Chile in 1929, and so the new airport took his name: now you know! There is a smaller sub-hub at Buenos Aires (Ministro Pistarini International Airport), and tiny regional hubs in the outposts of Quito, Guayaquil, Lima, and even a few routes radiating from it's distant outpost in Miami. It serves 60 destinations in some 20 countries. However, some of the flights stop en-route.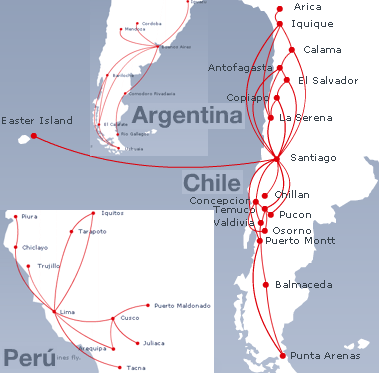 Lan Airlines Chile route map (insert Peru & Argentina)

A flagship route from the old world to the new is from Santiago to Madrid. This flies from Chile at 2025, and arrives at the very reasonable 1325 (leaving plenty of time for decent connections on Iberia to the rest of Europe). This flight carries on to Frankfurt arriving at 1755.
There are LAN Airlines (LAN Chile) flights daily from Santiago to Auckland at 2310, arriving at 4 in the morning, which then leaves New Zealand at 0550 and carries on to Australia, arriving in Sydney at 0730. This uses the latest A340 aircraft - and offers remarkably cheap fares in business class (not on the Qantas codeshare), possibly because the very early departure from Auckland makes it unattractive to many passengers, and LAN really isn't great at being punctual. On the return it leaves Sydney at 0955, arriving in Auckland at 1510, leaving an hour later, and finally arriving back in Santiago at 1210 on the same day, being one of the few routes where you can arrive before you leave.
Santiago to Miami has a flight daily at 2225, arriving at 0510, and another 4 days at week at 2355 arriving at 0640. To get here on a daytime flight, you have to change at another LAN hub. LAN has recently axed direct flights from Santiago to Los Angeles.
LAN flies from Lima (Jorge Chávez International Airport) to New York JFK and to Los Angeles, plus Miami. The New York JFK LAN flight also carries on to Toronto (YYZ) intermittently. There are also LAN flights from Buenos Aires (Ministro Pistarini International Airport) to Miami.
LAN codeshares with American Airlines and Alaska Airlines to some American destinations. British Airways and Iberia to the UK and European destinations, to Brazil (domestic airports only) with TAM Linhas Aéreas, a few flights with Korean Air, and some destinations in Australia with Qantas. Beware that New Zealand codeshares, which used to be with Qantas, are now with Jetstar.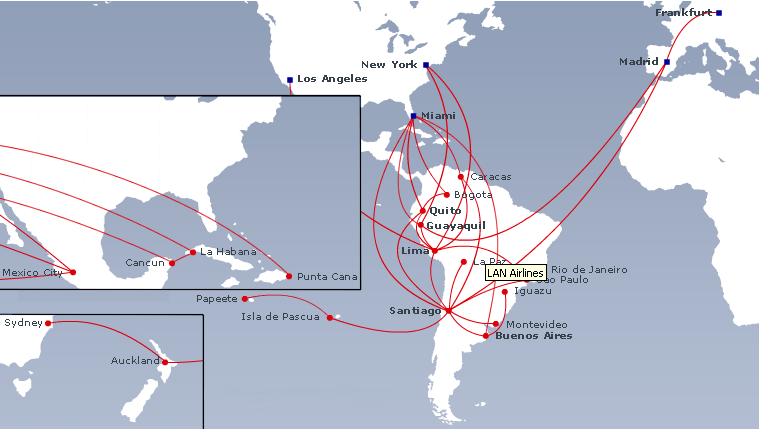 Lan Airlines World routemap (insert Mexico & Australia)


LAN Airlines frequent flyer scheme - LANPass
LAN's Frequent Flyer Program is called LANPass, and is currently part of the OneWorld Alliance.


LANPass operates a fairly normal points based system. You earn points according to your ticket type, and you can spend them on flights or upgrades, however LAN, unlike most airlines, nominates flights by kilometres.
Joining is easy; it's possible to do it online (although alas LAN's website has very poor information on the scheme), and after doing so you'll get a card in the post within the next month, even if you are in the UK. Note the bonus that when you sign up you earn a 5,000-kilometre enrollment bonus by flying 15,000 kilometres or three roundtrip flights on LAN Airlines (LanChile, LanExpress or LanPeru).



Airbus 340 LAN Airlines early morning departure at Auckland

LAN claims just over 2 million members, although under 900,000 are active flyers.
The LAN Airlines website is pretty naff, and information on the programme is well hidden. You can track it down by logging on and going into the LANPass secton.
Earning LANPass kilometers
You earn LANPass points for flights on LAN, and all the other Oneworld group of airlines. There is one kilometer per kilometer flown (or a minimum of 800 kilometers) on all LAN Airlines flights. When flying LAN, and you earn a 50 percent class-of-service bonus when flying in business class, however when flying with partner airlines you only earn a 25 percent bonus in business.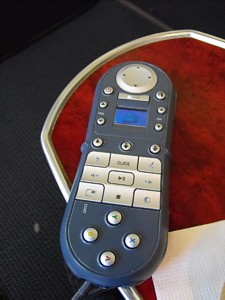 Inflight Entertainment on the Lan Chile A340


Be very wary of booking an LAN flight, and using the LANPass perk of being able to upgrade to free Business Class seats, and then at check in changing to another Frequent Flyer card. Most LAN staff are not able to perform this process, and you will end up with your miles being permanently stuck on an LANPass card, and even worse, you could be downgraded.

LanPass kilometers expire if you do not accumulate kilometers during a period of three calendar years following the last flight that earned kilometers: beware that this is slightly different to the rules on say United, where you just have to have some activity: spending kms on LANPass will not extend your deadline.

LANPass also stick to the calendar year for accumulating miles, like most North American airlines, but unlike the rest of the world.
Spending LANPass kilometers
It must be said that there are better oneWorld schemes if you are just using LANPAss to earn miles, and spend on other oneWorld airlines.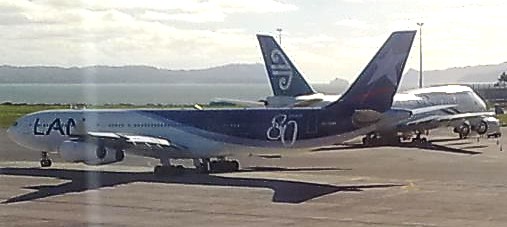 Lan Chile A340 in "80 years" livery passing an AirNewZealand 747 at Auckland

LANPass Base level
This is the basic kilometre earning level. You can earn miles, but that's about it.
LANPass Premium (oneWorld Ruby)
Premium is equivalent to oneWorld Ruby Level. It can be achieved at 40,000 kilometres or 25 segments in one calendar year.

You get to check in at the business class checkin desks, have 10 kilos of excess luggage, gain priority waitlisting (although this is pretty much pointless) and there is a 25% kilometre bonus on all flights. Most crucially, you also gain four upgrade certificates to the next class of service.
LANPass Premium Silver (oneWorld Sapphire)
LANPass Premium Silver is equivalent to oneWorld Sapphire Level. It can be achieved at 80,000 kilometres or 50 flight segments in one calendar year.

You get to check in at the business class checkin desks, and you also get lounge access on all economy tickets, on all oneWorld flights, and can invite one guest. You get an extra luggage allowance of 20 kilos, and there is a 50% kilometre bonus on all flights. There are also eight business class upgrades.
LANPass Commodore (oneWorld Emerald)
LANPass Commodore is equivalent to oneWorld Emerald Level. It can be achieved (although, not easily) at 150,000 kilometres or 100 flight segments in one calendar year.

You get to check in at the business class checkin desks, and you also get lounge access on all economy tickets, on all oneWorld flights, and can invite one guest. You get an extra luggage allowance of 20 kilos, and there is a 100% kilometer bonus on all flights.

Most interestingly, you don't have to worry about those pesky upgrade vouchers: you get an automatic space-available upgrade to business class on an economy fare, but only above certain fare levels: you don't get it on the real cheap bargain basement fares any more. Some LAN agents are not aware of this: you have to point it out to them, and make sure you do so at checkin, rather than at the gate.
LAN Airlines Business Class Lounges
Lan Chile has two lounge in Santiago. Elsewhere, "partner" lounges as used, and these vary from excellent, such as Ibera's in Madrid, to basic, such as all of American Airline's lounges.

LAN in Lima (LIM) uses the Sumaq lounge. It can get very busy heading towards midnight. Food is basic, with sandwiches, olives and biscuits. However the bar is top-notch, with a vast array of spirits. It is worth chatting to the barman here, as there is a vast array of spirits with dozens of whiskys.

In Simon Bolivar International Airport (CCS) in Venezuela LAN use the American Airlines Admirals Club. Food is even more basic than Lima, with only cheese and biscuits, however there is a decent bar.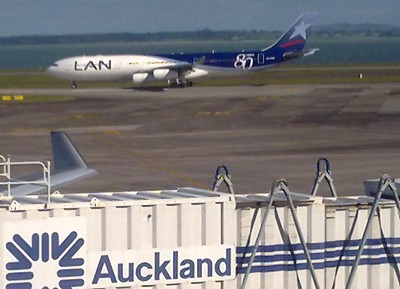 Lan Chile A340 at Auckland

In Buenos Aires (EZE) at Ezeiza Ministro Pistarini airport, Argentina, LAN again use the American Airlines Admirals Club. The bar here has little more than beer, but the breakfasts are well spread out, with muffins, cereal, bread & marmalade. you might be pushing it to get a decent English breakfast with a couple of bangers though.
In Toronto (YYZ) the American Airlines Admirals Club is used by LAN. Here it is vital to get a drink chit on entry, and otherwise it is a very minimal lounge. Food is restricted to a few nuts.
Further details on the LAN use of American Airlines Admirals Club will be in the American Airlines section (when I complete it).
Santiago Lan Chile business class lounges
LAN has two lounges at it's main hub in Santiago. The Neruda lounge is the main business class lounge, and for oneWorld elites. Other members with status, or if you want to buy your way in, are herded into the Minstral lounge. There are also the Pacific VIP and American Airlines lounges which you can pay to use.
Salón Pablo Neruda - Santiago LAN Chile lounge
Near gate 19 and 20, third Level.
Open 0600-2200
Access to Business class LAN passengers, and oneWorld Emerald members.
The new Lan Chile Salón Pablo Neruda Lounge was named in honour of the famous Chilean poet, and it is much quieter than the Minstral lounge, although in the evenings it can still be pretty busy. There is a very good bar, with a long rack of whisky and other spirits to try, plus a buffet counter all along one wall.
The seats are comfy, if rather hard plasticy armchairs in the main room close to the buffet counter. Further up is a more relaxing space with some potted plants and larger beige armchairs. There are showers in the lounge - hydro massage showers no less, and computers with wifi.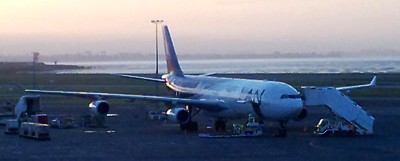 Lan Chile A340 at Auckland

Salón Minstral VIP - Santiago LAN Chile lounge
Near gate 17.
Open 0600-2200
Access to LANPass Premium Silver, oneWorld Sapphire members, and Priority Pass.
This lounge thankfully underwent a revamp in 2009, and it is no longer the rather grim worn hovel it once was. There are some comfy seats, in eye-popping red plastic, but the place gets packed in the evening with all the long haul flights. The kind of 1960s American cafe style bench seats alongside the windows are highly prized at this time. There are 8 computers, with internet connection, fax, photocopier and printer. There is also a TV with CNN, and some local newspapers. That's about it, but it is worth buying your way for a bit of peace and quiet. It costs 25,000 pesos or US$30.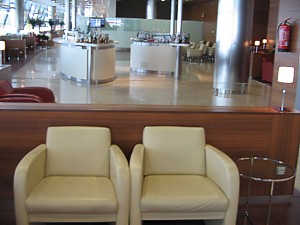 Madrid LAN Airlines use Iberia's Velazquez Lounge

Madrid LAN Airlines business class lounge - Velazquez Lounge
Terminal 4 Satellite, level 1 T4S, for RSU gates Open 0600-0130
At Madrid, LAN make use of Iberia's excellent facilities in the Velazquez Lounge. The entrance is just off the main shopping corridor in the satellite, and then you enter a vast lounge. Windows run all the way along the lounge, with a great view of the gates and runway. The Winebar is a delight with very good Spanish wine. The Spirit bar is equally good, with about 40 bottles strewn over the worktop. The lounge also has a pre-flight dinner service for the late evening flights to Chile, in the walled off dining room on the extreme right of the lounge. It is open from 2100 until 0000, but you need to be travelling in LAN Business Class to get access, although the staff occasionally let in oneWorld Emeralds.

Full details of this lounge are contained in the Iberia pages, under the Madrid lounge section.
Sydney LAN Airlines business class lounge - Qantas Lounge
Pier B, Level 4
Open 0525-0030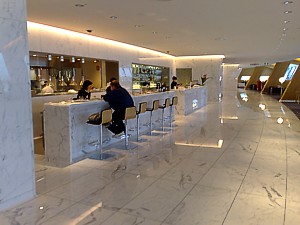 Sydney LAN Airlines use the Qantas Club Lounge
In Sydney, LAN use Qantas' lounge. There is an excellent 24 hour bar, and the standard Qantas food, of soup, salad, cold ham, cheese, and rolls. There is a small business centre with computers. Newspapers can be hard to get hold of although there are usually some copies of the "Australian" newspaper on the pile in the centre, and free magazines.

Full details of this lounge are contained in the Qantas pages, under the Sydney lounge section.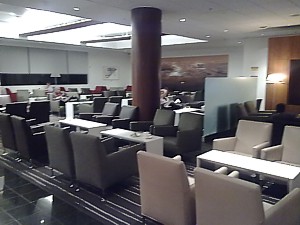 Auckland LAN Airlines use the Qantas Club Lounge

Auckland LAN Airlines business class lounge - Qantas Lounge
Airside, turn right after duty free shop Departures, level 2 Open 0430-1900
In Auckland, LAN again use Qantas' lounge. There is a decent bar, with plenty of Kiwi sparklers, that is even open for the o-my-goodness 5am departure to Sydney, and again in the evening for the flight back to Chile. It has standard Qantas fare, with muffins of toast in the morning, along with fruit and yoghurt. By lunchtime it turns into a salad with ham and cheese. In the evenings sometimes there are hot meat pies. There are three computers in the lounge.

Full details of this lounge are contained in the Qantas pages, under the Auckland lounge section.
Frankfurt LAN Airlines business class lounge - BA Lounge
Terminal 2, via lift at Gate D8
Open 0600-1930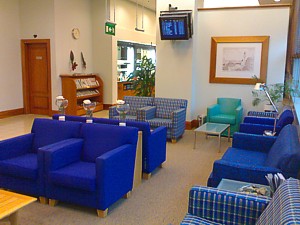 Frankfurt LAN Airlines use the BA Lounge
In Frankfurt, LAN again use British Airways' lounge. There is a good bar for wine, with two decent whites in wine coolers - and Sparkling Resilng - plus two reds on the counter top, however beer is Becks. Food wise there are slices of fruit cake, a plate of biscuits, and the usual German lounge strips of cheese on a stick.

Full details of this lounge are contained in the BA pages, under the Frankfurt lounge section.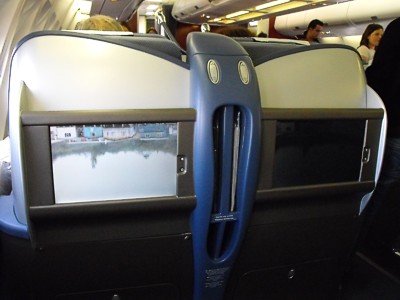 Seatback TV inflight entertainment in business on the LAN Airlines A340

Lan Chile History
You have to go way back to 1929 to find the origins of Lan Chile. A forerunner was founded by Chilean Army Air Services Commander Arturo Merino Benitez (for whom the Arturo Merino Benítez International Airport was named some years later), and began operations on March 5, 1929 as Línea Aeropostal Santiago-Arica. As it expanded, in 1939 it took the name Línea Aérea Nacional de Chile (or LAN Chile).

The airline rapidly expanded after the war, buying DC-3s, Boeing 707s, and finally Boeing 727s. One of the aircraft was involved in a curious incident in 1972, when a homemade pipe bomb exploded in the ice water fountain service compartment of a 727 after take-off from Panama City. A rapid decompression followed. A successful emergency landing was carried out at Montego Bay.

The airline later replaced its 727s with 737-200s, and in 1987 a Boeing 737 while on the approach at Calama/El Loa airport, landed short of the runway, which was moved nearly 1km away due to construction work. The nosegear hit this work, collapsed and the aircraft broke in two. A fire broke out 30 minutes later and destroyed the aircraft. However, only one person was killed.

In 1989 the Chilean government privatised the carrier, selling a majority stake in the company to Icarosan and Scandinavian Airlines System.

A LAN Chile BAe146-200 overran the runway on landing at Puerto Williams in Chile and sank in the nearby waters in 1991. 20 of the 66 passengers died.

LAN took over Chile's second airline Ladeco in 1995: an airline it merged with FastAir in 1998.

The branding was changed to plain LAN in 2004 when Lan Chile and its subsidiaries LAN Perú, LAN Ecuador, LAN Dominicana and LANExpress became unified under the single LAN brand. The old name Linea Aerea Nacional is never used, and its formal name is LAN Airlines. This is said to mean Latin American Network Airlines, however this fudge, of having an abbreviation and then finding words to fit has since been pretty much abandoned.


Lan Chile A340 at Auckland

In 2005 LAN opened its subsidiary LAN Argentina in Argentina and operates national and international flights from Buenos Aires, being the third largest local operator behind Aerolíneas Argentinas and Austral. This subsidiary is also under the single LAN brand. In 2006 LAN Airlines merged First and Business class into a single cabin, named Premium Business.
A famous incident occurred in 2007, when LAN Airlines Flight 801 was nearly hit by a meteor: the first such incident in airline history. The flaming object passed within five nautical miles of the A340 travelling between Santiago and Auckland, and the crew could hear the object breaking the sound barrier.
In 2008, LAN Airlines flight 533 was involved in a near miss incident at New York's JFK airport. The aircraft, bound for Santiago, nearly collided with Cayman Airways flight 792. The Cayman aircraft, arriving at JFK, performed a sharp turn to avoid the LAN 767, under the control tower's direction.
Lan now has 11,173 employees, making it a sizeable company in South America.
LAN Airlines Hints & Tips
Operational Upgrades
One of the common questions is "How do I get an upgrade on LAN to Business or Club class?". Alas, getting upgraded to business class on LAN Airlines really isn't that easy. The airline has the Western, rather than American, model for upgrades longhaul. Which is to say you'll only get an upgrade if your paid for class is full, and then upgrades are processed accordingly to a pecking order of elite frequent flyer status. You are very unlikely to ever get an upgrade unless you are at least an Emerald oneWorld member.

To start with, make sure you are a frequent flyer, and you do fly frequently: after all, if LAN are going to upgrade anyone, they will upgrade those passengers who fly with them pretty regularly, and hence will enjoy the upgrade enough to put more business LAN's way. Then if the flight is full in economy, and someone needs to be moved up, the check in staff will first look at LANPass Commodore members, and then LANPass Premier level, and then at other Oneworld members at the equivalent levels (Emerald, and then Saphire). Another thing that LAN look at is how much you paid for your ticket: it's much more likely to happen with a full fare ticket (although occasionally you can get lucky with a discounted economy ticket). On LAN the airline has heard - probably hundreds of times a day - requests for an upgrade: the general consensus seems to be that if you ask for an upgrade, you're more likely to get it, although opinions differ on an upgrade strategy for LAN.

As always, my advice on dressing properly in the pages on how to get an upgrade applies.
South America AirPass
The term "South America AirPass" describes an airfare that allows passengers residing outside South America to purchase individual one-way coupons for flights between any of the more than 49 South American destinations that make up LAN's network. These can be very cheap, however the purchase of the AirPass coupons must be made at the time intercontinental travel is purchased and outside South America.
Bargain Price tickets
LAN's IT systems have never really quite cut in, in the aviation world, and this has lead to some anomalies when it comes to selling tickets online. One novel feature it used to offer was that you could book an airline ticket from anywhere to anywhere on other airlines in the oneWorld network via the main LAN.com portal. However, LAN would not include some local taxes (such as APD in the UK) and nor would it include the fuel surcharge. The difference in these use to be pretty trivial, however by 2007 the fuel surcharge could add 40% to the cost of the ticket, and APD another 25%.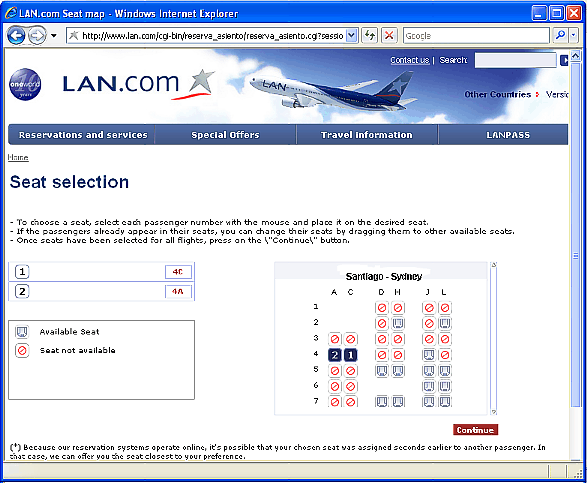 Online Seat Reservations with seatmap on LAN Chile


There was another error in that if you selected GBP as the currency, then the value would remain the same but you would be charged in US Dollars on your credit card bill, giving a considerable exchange rate saving. Hints recommending this started appearing on Frequent Flyer websites. Accordingly LAN was suddenly deluged with unusual ticketing requests: faced with these curious purchases, in one weekend in 2007 LAN changed its entire pricing structure, and stopped selling most other airlines tickets. However a few of these bargain priced tickets remain, including one business class long haul route that is only marginally more expensive than economy.
LAN Airlines website
The LAN Airlines website is now pretty good, and lets you do most of things you'd expect, like buy tickets and join the Frequent Flyer scheme. Alas, novel features it used to offer, such as booking an airline ticket from anywhere to anywhere on other airlines in the oneWorld network, have been removed, after LAN found that passengers were avoiding paying some local taxes (such as APD in the UK) and fuel surcharges.

Unlike other airlines, like BA, this service is free, and you don't have to be an elite member to book the emergency exit seats, although you do have to be lucky to get them, and often have to book seats a long time in advance of the flight.

Main Website: www.lan.com. On entering the website, you will have to select which country you are from. Normally, "other countries, English" will generate somewhat lower fares than "US".
Inflight entertainment.
Guide to LAN Business class.
Guide to LAN Premium Economy.
LAN Premium Silver benefits.
LAN Cabin baggage allowance.
LAN Check in baggage allowance.
Online Seat Reservations
You can now book your seats online, even after you have bought your ticket. Just go to the LAN website, and enter in your reservation number (PNR) and your surname. A map is displayed, and if you click on your name, you can then choose a seat.



Note that all reviews and opinions on LAN Airlines (Lan Chile) (LA) food, service, seats, planes, upgrades, lounges, and the Frequent Flyer scheme is soley at my judgement. No legal liability is accepted if you take my advice.
Go back to top of page
Homepage with list of all airlines reviewed