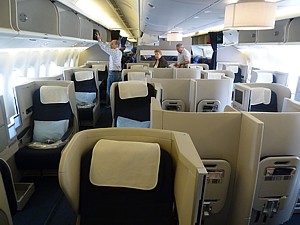 British Airways Boeing 777 Club World seats

Ah,
British Airways
. Once, you knew where you were with the
World's favourite airline
. Only a few years ago you could be sure of quality in flight service going to pretty much every corner of the globe - and the UK - that you wanted to get to. Alas, BA has been on its uppers for the past few years and faced with a massively declining passenger share - not to mention profits disappearing as oil prices rise - it's made huge cuts.
And yet one thing shines through for British Airways: Terminal 5. Although it had a rocky launch, the airlines hub at Heathrow is undoubtedly one of the best in the world, and which features some of the best airline lounges to be found anywhere. British Airways lounges.
If you haven't been on board BA for a while, what you get now may be very different to what you expect. And yet, as one of the most dynamic and go ahead airlines in the business, it hasn't stood still when it comes to innovation: it's is neither a traditional airline, nor one that sticks with what the other airlines are doing. For example, in Business Class, it was the first to introduce a fully flat bed, and has now gone one step further with the latest generation of New Club World, in the famous facing backward seats. British Airways Seats and Fleet.
If you haven't ever set foot on a BA plane, chances are you'll either be foreign or used to a low cost airline, in which case BA may seem charmingly old-world in the way it neither charges you for check in bags, and will give you free drinks (and indeed free food on most flights over a couple of hours long). In Club Europe the afternoon tea with scones and jam can (so long as you don't get it three times a week like some more regular flyers) seem charming, but behind the curtain, shorter flights no longer get so much as a sandwich. The free bar remains, showing the airline has put their finger on what most people want at the end of day: a free drink. This means the airline has actually been more successful than you'd expect in fighting off low-cost airlines. British Airways inflight food.
In short, British Airways can still claim its crown as one of the biggest and (normally) most professional of airlines. After a week or two in one of the (former) colonies, stepping back in the BA lounge and onboard is very much a welcome home, and it is still regarded as world standard airline. British Airways inflight experience.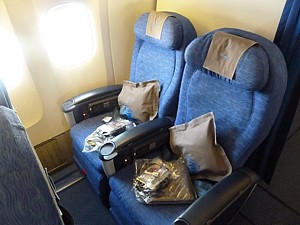 British Airways Boeing 777 WTP seats

Recently BA has had a big drive to get people into Business or First, while at the same time as waving goodbye to many of historical routes. It has removed most of its domestic routes (which has caused it to be named London Airways by some detractors), while other offshoots have been sold to bmi, flyBE, or even Easyjet. There have been massive cutbacks at the second hub of London Gatwick, while there is also a new subsidiary airline called 'OpenSkies' which flies daily between Paris, Amsterdam, and New York.
British Airways is an airline that technically no longer exists. There is instead the International Airlines Group, which operates the brands Iberia and British Airways, following the merger of the two in 2010, leaving BA with a 55% stake in the whole. The combined airline will become the world's third-largest carrier (after Delta and American Airlines) in terms of annual revenue, however BA and American Airlines have also entered into collaboration, allowing them to fix fares, routes, and schedules together, in effect once again becoming the world's favourite airline (group). ... read more.
Note that all reviews and opinions on British Airways (BA) food, service, seats, planes, upgrades, lounges, and the Frequent Flyer scheme is soley at my judgement. No legal liability is accepted if you take my advice.