British Airways Reviews
Overview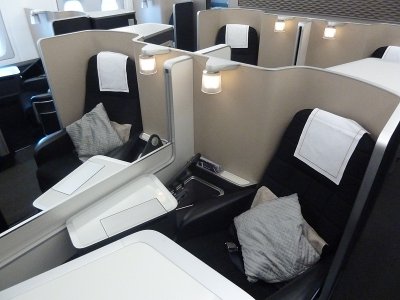 British Airways First Class Seat
Ah, British Airways. Once, you knew where you were with what was once the
World's favourite airline
. Not any longer, British Airways has been engaged in a race to the bottom for many years. It's still not plumbed the depths of United or China Eastern, or come to that Ryanair, but the Easyjet-if-ication of BA has been proceeding a pace.
Where should we start with a British Airways review? Only a few years ago you could be sure of quality in flight service going to pretty much every corner of the globe - and the UK - that you wanted to get to. Alas, BA has been on its uppers for the past few years and faced with a massively declining passenger share, it's made huge cuts.
No longer do you get free meals and drinks in economy. Oh no, on European flights you'll get sales from the trolley. And this single move has, for many passengers, marked the stage where they'll no longer pay the premium fares that British Airway once commanded thanks to its dominating position at Heathrow. In Club Europe BA meals consist of afternoon tea with scones and jam, which can seem charming (so long as you don't get it three times a week like some more regular flyers), but behind the curtain, shorter flights no longer get so much as a sandwich.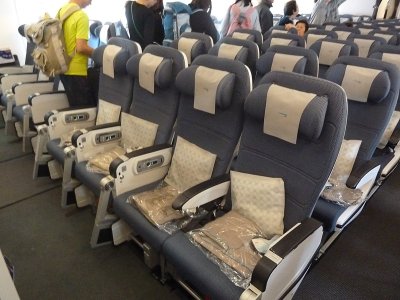 British Airways Economy Class Seat
Equally, Heathrow, which was once one of the best things about British Airways, has had some issues of late. Although it had a rocky launch, the airlines hub terminal 5 at Heathrow was undoubtedly one of the best in the world, however the odd computer failure here, a power failure there, and what usually works well can turn into a total nightmare. Add in grumpy staff and security, and sometimes it just all fails to work. It must be said all airlines have their hickups, and it's very rare to spend the night on the floor of Terminal 5. But it happens.
Talking of Terminal 5, British Airways did once have a terminal which featured some of the best airline lounges to be found anywhere. They are still there, but getting a bit tired around the edges, and then some. The cut back to hot food during the day in the Business (Silver) lounge hasn't gone down well, and even the food in the British Airways First (Concorde) lounge has seen better days. British Airways lounges.
A few British Airways Business Class lounges at outstations like New York, Dubai and Singapore have had a revamp, and now look really good. However, virtually all of the lounges around Europe have been closed, in a sweeping cutback, leaving Business Class passengers in oddball airport authority lounges of variable quality.
British Airways | Fleet | Seats | Lounges | Food
If you haven't been on board BA for a while, what you get now may be very different to what you expect. And yet, as one of the most dynamic and go-ahead airlines in the business, it hasn't stood still when it comes to innovation: it's is neither a traditional airline, nor one that sticks with what the other airlines are doing. For example, in Business Class, it was the first to introduce a fully flat bed, and has now gone one step further with the latest generation of New Club World, in the famous facing backward seats. These were once absolutely cutting edge, but now again seem a bit tired and not the most fashionable. Mind you, the revamp to First Class has gone down well, even though it lacks the bling of, say Emirates. British Airways Seats and Fleet.
British Airways BA Boeing 747-400 at London Heathrow
Back in British Airways economy, long haul, seats are getting much smaller, as BA moves to put in one extra seat per row on the Boeing 777s, making the seats much narrower.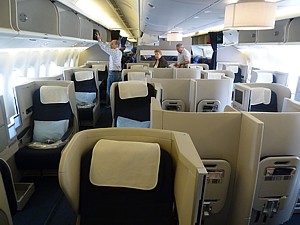 British Airways Business Class
Despite all the cut backs, economy is still pretty much OK, with decent seatback TV, showing new films, British TV, and even live BBC via Satellite on the A380. There are plenty of box sets to watch. You'll still get a hot meal (plus a very small snack), and even a free drink or two. The free bar remains, showing the airline has put their finger on what most people want at the end of day: a free drink.
British Airways inflight food
.
If you haven't ever set foot on a BA plane, chances are you aren't from the UK, in which case BA may seem charmingly old-world in the way it does things, and you may also be surprised by the casual nature of some of the crew. The robotic nature of some of the Asian airlines has no part at BA, that's for sure.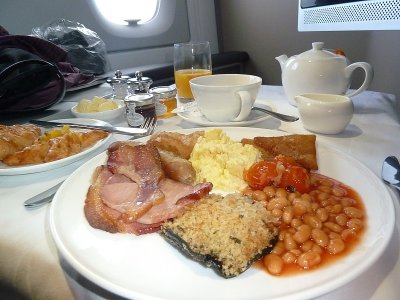 British Airways First Class Breakfast
However, the change to a 'charge for everything' culture at British Airways over the past few years has not gone down well with regular passengers. There is even a charge for booking seats (even in Business Class) or for checking in a bag (if you are on a hand luggage only fare) even for the most regular of frequent flyers. It all has a whiff of cheapness about it.
Recently BA has had a big drive to get people into Business or First, while at the same time waving goodbye to many of its historical routes. It has removed many domestic routes at the second hub of London Gatwick, while there is also a new subsidiary airline called 'OpenSkies' which flies daily between Paris, Amsterdam, and New York. BA has also bought out its main competitor, bmi, which is perhaps why there have been so many sharp cut backs.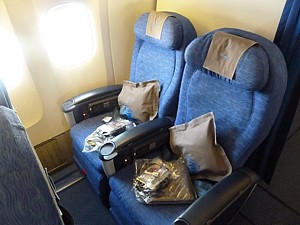 British Airways Economy Seats
British Airways, while still a brand, no longer exists as an independent entity. There is instead the International Airlines Group, which operates the brands Iberia and British Airways, leaving BA with a 55% stake in the whole.
BA and American Airlines have also entered into collaboration, allowing them to fix fares, routes, and schedules together, in effect once again becoming the world's favourite (biggest) airline (group).
However, taking a step back and reviewing the whole, British Airways can still claim its crown as one of the biggest and (normally) most professional of airlines. After a week or two in one of the (former) colonies, stepping back in the BA lounge and onboard is very much a welcome home, and it is still regarded as world standard airline. Read more about the British Airways inflight experience.

Next: British Airways Fleet