Facts at a glance
Frequent Flyer Star Alliance
Fleet 143 (40 long haul)
Seat Pitch Economy 34" Business: Flatbed 6'6" cradle 55"
Food Full service
Drink Full service
Lounges First, Business
ANA First Class

rating 5 out of 10

ANA Business Class

rating 4 out of 10

ANA All Nippon Airlines
Economy

rating 3 out of 10

Latest News:
ANA All Nippon Airlines

Review Overview
Rating

with
1234
images
NEWS: ANA has ordered a fleet of fifty-five Boeing 787s, with which it will replace much of it's large 767 fleet.
All Nippon Airways (ANA, or All Nippon) occupies a niche world aviation, operating a select number of full service long-haul flights (the second largest in Japan after Japanese airlines), and an intense selection of moderate frills domestic flights in Japan, to 49 different destinations.
However few international passengers are likely to use All Nippon because it's long haul routes are really only useful for getting to and from Japan: as a result, flights are very Japanese orientated, and (particularly in economy) most announcements, if they are made in English at all, are at best a spartan English after intense Japanese.
All this adds to an interesting cultural experience. If you want all the experience of Japan, without the trouble of taking the long journey from Narita, then it may be well worth while trying out ANA. Business class on ANA is certainly up there in the world class, with decent flat beds, AVOD, and great food. First Class is decidedly better than some of its Asian neighbours. Alas in economy it's all a bit flat, dull, and predicable, although having said that it is clean and efficient. ... read more about ANA's seats and fleet.
The airlines main international hubs are at Narita International Airport (at or outside Tokyo, depending on how far you like to travel) and Kansai International Airport (in Osaka). It also has a domestic hub at Chubu International Airport (near Nagoya), and New Chitose Airport (near Sapporo). From these hubs it flies to 71 destinations using a fleet of 143 planes.
In addition to its mainline operations, ANA has several subsidiaries: Air Nippon (ANA's regional airline), Air Japan (a charter offshoot), Air Next (a low-cost carrier based at Fukuoka), Air Central (which operates tiny prop planes out of Chubu), and AJV (which does the freight).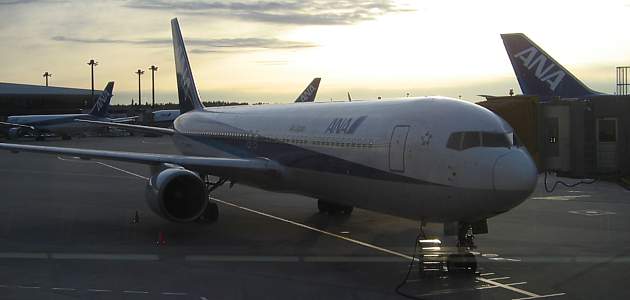 All Nippon Airways Boeing 777 in the early morning sunshine at Tokyo

Note that all reviews and opinions on ANA All Nippon Airlines (NH) food, service, seats, planes, upgrades, lounges, and the Frequent Flyer scheme is soley at my judgement. No legal liability is accepted if you take my advice.